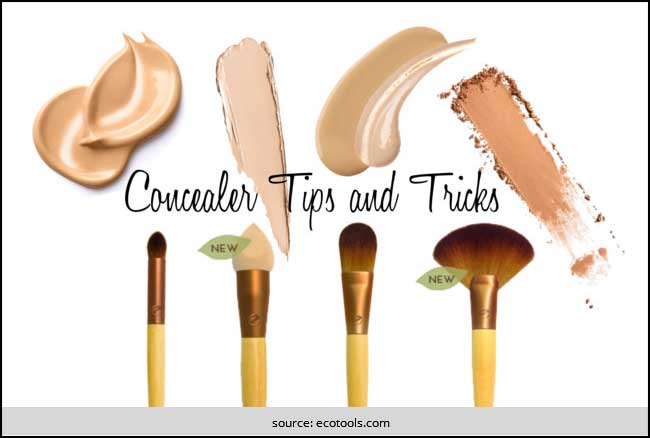 There are always a few tips and tricks involved in order to make your beauty routine a success. Since makeup is not less than art, there are some ground rules to follow so as to avoid any kind of makeup faux pas. Applying concealer also demands a few tricks. Let's go through the top 5 concealer tips you must never forget. These tips will indeed help you get flawless and radiant look. Do have a read!
1. Apply foundation and then concealer
While most of women normally follow the stereotypical makeup procedure of applying concealer followed by foundation, the smart trick is to apply foundation first and then concealer. That's because after applying foundation, you can see if and where you need concealer.
2. Do not just dab the concealer beneath your eyes, instead draw a triangle
While most of us just apply a coat directly under the eyes, the right way is to draw to a triangle with the base, Make sure it is inverted triangle, whose point should end at the cheek. This inverted triangle effortlessly camouflages under eye dark circles, thereby instantly creating an illusion of your face lift. It highlights the focus towards the upper part of the cheekbone.
3. Prime your eyelids with concealer to prevent eye shadow bleeding
Well, we are not pro in wearing makeup, especially eye makeup. Sometimes, eye liner gets smudged and eye shadow settles on the creases. In order to conceal such blunders, you do not have to spend extra bucks on fancy products such as eye shadow primer; instead you can simply take the help of your all-purpose concealer. If you have a concealer pencil like the one offered by Maybelline then it will make your job easier. Just prime your eyelids with your concealer pencil and cover up those makeup faux pas.
[sc:mediad]
4. Cover your pimple with a green concealer, followed by your regular one
I know pimples are the least you would ever want to see on your face. But since they just cannot vanish overnight, you will have to shield them with your makeup. Normally by covering those with your regular concealer won't just help to conceal the redness. For this, you'll need a green concealer. Use a clean brush to apply the green concealer over the pimple and then with the help of a cotton swab apply your regular concealer over the pimple and the surrounding area.
5. Conceal your cover spots on your décolletage and top it with a translucent powder
If you are wearing a deep neck outfit then extend your makeup to your neck and the décolletage section. This will not make your face look out of place from your body's complexion. And if there are any dark spots, blemishes or pimples then concealer comes to your rescue. Hide your flaw areas with concealer and top them with translucent powder to prevent the makeup from wearing off.
[Also Read: Concealer For Different Skin Types]
So these were the top 5 concealer tips you must never forget. Hope it helps!