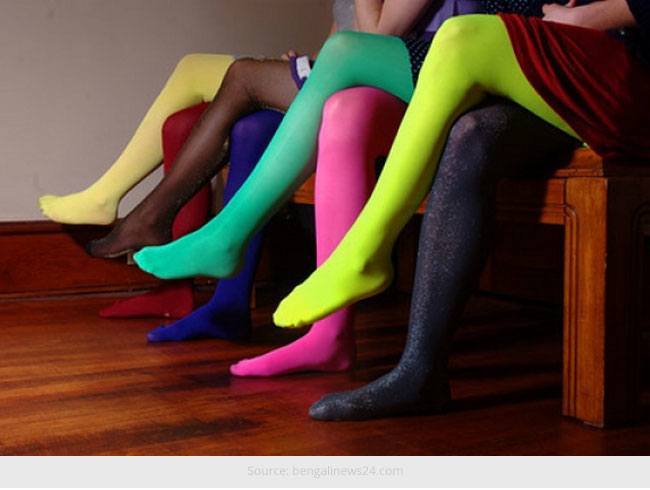 What comes to your mind when somebody says 'coloured tights?' Well, chances are that you would think about models walking the ramp at some international fashion week or some bohemian woman wearing multi coloured clothes. To some, coloured tights would mean only black tights or flesh tinted tights but what you probably don't knowis that there are plenty of colours to choose from.
So how does one carry off coloured tights? What accessories go well it? What are the clothes with which you can team them up? Here is a complete guide to carry coloured tights with élan without looking shabby. So, read on…
Wearing coloured tights may come across as a weird experience for many as it generally means breaking out from the conventional black and skin tone palette. But I guess once you start wearing them quite often you will not feel out of place instead you will feel trendy and up to date with fashion.
The fashion fraternity believes that coloured tights are one of most versatile garments a woman can ever own. It is one accessory that livens up your entire attire in one go!
Go Opaque
Choosing opaque tights over sheer ones gives you an instant boost of edginess. Opaque tights are ideal for all seasons and since they are available in various fabrics, you can choose accordingly. Although make sure you don't opt for opaque skin tones tights as they give a very prosthetic kind of look to one's legs.
Pattern it up
There are many patterns which are ruling the fashion world right now. Floral, Aztec, birds, polka dots, stripes, cats and hearts prints are to name a few. Pair any simple outfit with patterned tights in bright colour and you will surely turn heads around.
Colour it up with Black
Black in itself is a complete colour, it doesn't need any supplement; if you think this way then watch out for this one! Wearing an all back outfit with bright coloured tights is the easiest way to experiment with this trend. Have a look at these photos and see how simple yet stylish this combination can be.
Wear with Layer
Layering any outfit not only will prevent you from getting cold in winters but also will give you an open window to style. Simply layer your outfit with a cardigan, shrug or blazer and wear coloured tights in contrasting colour. Wear them in plain colours and not in any prints or patterns. The rule is simple-When you layer avoid patterns.
[sc:mediad]
Wear it like Boho
We all pretty much have an idea about how bohemians dress up, rugged looks, loose garments, multi colours, mix and match outfits. This is a fabulous way to try out a new style – The Boho style. Wear a printed top, an ethnic print scarf around your neck, a loose midi or skirt and coloured tights with contrasting boots or flat shoes.
Wear it with Shorts
If you wish to try this trend in summers or you are someone who can't part away from their favourite shorts, then this one is for you. Team your shorts with basic colour t-shirt and denim shorts or printed ones and throw in coloured tights. Accessorize it with chunky neckpieces or statement earrings, ring and step into boots.
Wear them to work
Yes, you read that right! You can even wear coloured tights to work. All you need to do is wear a monochrome dress and contrasting coloured tights underneath. Keep the jewellery and make up minimal. You can even wear a trench coat over a dress and pair it with coloured tights. Just make sure that you stick to block basic colours and don't wear patterns and prints to work.
So, just go ahead and shop stock on some coloured tights in your wardrobe!