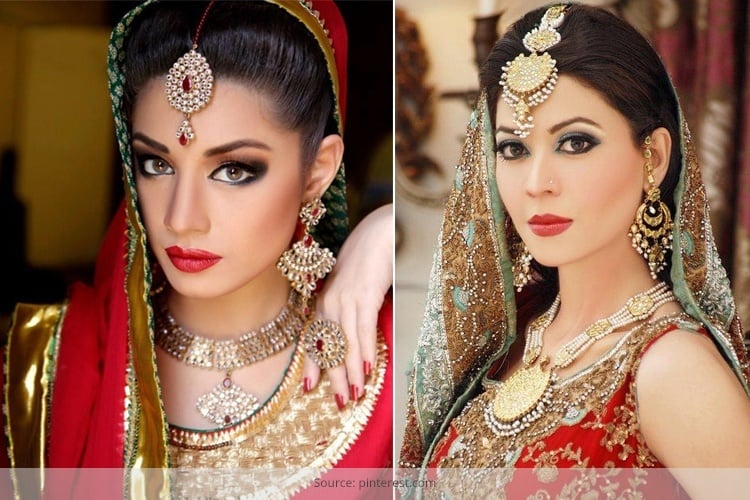 When it comes to bridal makeup, there is something about Asian bridal makeup that is truly special. Asian bridal makeup is vibrant and dramatic, keeping in theme with the bold colored clothing and grand wedding themes.
[Also Read: To Do List for Wedding]
Here Are Some Indian bridal makeups
So what is the allure of makeup that makes Asian brides so very unique and beautiful?
The Eyes
Eyes are one of the first thing that a person notices when they see your face. So it is only natural that eye makeup is one of the most important aspects of Indian bridal makeup. The eyes are usually framed with bold eyeliner to give it a very dramatic effect. As far as eye shadows are concerned, a lot of jewel tones are used to create a mesmerizing look. Gold, bronze, red and browns are popular choices when it comes to eye makeup. The finishing touch is either a set of false lashes or two coats of mascara, or both, to make the lashes look thick and luscious.
The Lips
As for the lips, depending on how dramatic the eye makeup is, the bride may either go for bold red lips or choose to keep it muted with a nude or pale pink shade. While the norm is to keep the lips subtle if you're going to play up your eyes, when it comes to weddings, the bride can break that rule and choose to go all out with dramatic eye makeup paired with bright lips. It's her wedding day after all, and the allure of makeup is pretty hard to resist when you're the bride. All those silly makeup rules don't apply to the bride!
[sc:mediad]
The Cheeks
A few years back all the focus was on the eye makeup and the lips, with the cheeks only getting a few quick swipes of blush for that "blushing bride" look. But since then, contouring has become a pretty big thing in the makeup world. So brides these days are opting to have their face contoured, cheekbones defined and highlighted to create a more three dimensional look, as opposed to the flat look that will result from using just one shade of foundation all over the face. That is the allure of cosmetics, with new trends coming up every now and then, there are subtle changes made to how the bride looks as far as makeup is concerned. Also, while traditionally a pink or peach blush was the most favored, modern brides are leaning towards bronzers for that sun kissed glow look.
The Allure Of Beauty Care
Apart from the allure of makeup, there is one other significant element that plays an important role in ensuring Asian brides look their best, and that is beauty care. Taking good care of the skin before the D day arrives is very crucial. Rather than covering up skin problems such as zits and discoloration, the bride aims to eat healthy and take good care of her skin to make sure that she only needs makeup to enhance her natural beauty. Some common home skincare routines such as cleansing with raw milk, applying a turmeric mask to the face, and using natural rose water to keep the skin glowing are all tested methods that have proven to be effective.
[Also Read: Asian Beauty Ingredients]
And lastly, nothing can bring that natural glow to a bride's face as the sheer happiness that she feels at the prospect of starting a new life with her life partner. That is what makes a bride truly radiant, giving her an inner glow that just gets more pronounced with artfully applied makeup.