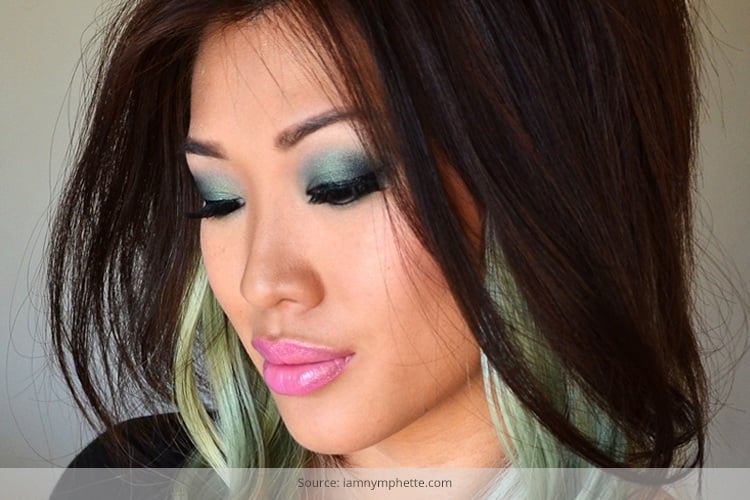 Why should big eyes have all the fun? While dramatic eye makeup always looks better on big eyes, it doesn't necessarily mean that people with monolids cannot have fun! A lot of Asian people have problem with dramatic makeup on their eyes because the dramatic makeup tutorial demands that you blend the eye shadow in the creases. Now what do you do if you do not have a crease at all! Well, the good news is we have something which will work perfectly for you!
[Also Read: Have You Known the Types of Monolids?]
Dramatic makeup looks may be hard for someone who has Oriental eyes, but there is a lot of scope to play around with colours and designs!
How To Do Dramatic Eye Makeup
We have got a dramatic eye makeup tutorial just for the likes of you who have monolids. Don't worry, it's going to be as good as the real deal. Here's how to do dramatic eye makeup like a pro.
Ombre Dramatic Eye Makeup
Celeb stylists vouch by this method for Asian eyes or monolids. Not only does it make the eyes look a lot bigger, but they are also pretty simple to follow. It's not just the smoky eyes that everyone is crazy about! There are tons of other trends which are amazing for Oriental eyes and this Ombre dramatic eye makeup tutorial is just that!
Here is what you will need:
Black gel liner
Tapered brush for the eye shadow
Eye shadow palette
Blending brush
In this tutorial, the main idea behind how to do dramatic eye makeup is to make your eyes look bigger. Use the gel liner and draw the upper lids of your eyes. Now use the tapered brush to draw the brown eye shadow over the lids in a curved shape. Now take a darker eye shadow from the palette and apply it over the lighter colour. Now use the blending brush to blend it all. The same technique can be used for other colours as well. Just use the colours from a dark to light shade to get an ombre effect. The only thing you have to make sure is to see that the ombre is not too jarring and you have blended them well.
[Also Read: 10 Monolid Make Up Tricks]
Eye Makeup Without The Wings
The trick to making Oriental eyes look bigger is not to use winged eye liner or even winged eye shadow makeup. The smoky eye makeup can be done, but try and stay away from the wings because they tend to make the eyes look smaller. Use gel liner to define your eyes, but in the end do not add the wing after you are done with the smoky. This will create an illusion that your eyes are a lot bigger than they really are!
[sc:mediad]
These two models have perfectly demonstrated the eye makeup without the wings!
Silver Smoky Eye
If you are going for a night out, this one is the perfect eye makeup that you can have. The silver just adds to the glamour monolids and the entire look. Draw your eyeliner in a way that it covers the most of your eyelid. Use a silver coloured eye shadow and shimmer to create an illusion of depth.
Bright Statement
To focus more on your eyes, use a bright colour and apply it on your bottom and upper eyelid. Close your eyes while doing so to make the best use of the eye shadow. If you are looking at mixing colours, do not use something which is too bright because it will end up making your eyes look even smaller!
[Also Read: Eye Makeup For Big Eyes]
There you go, some dramatic eye makeup for your monolids!