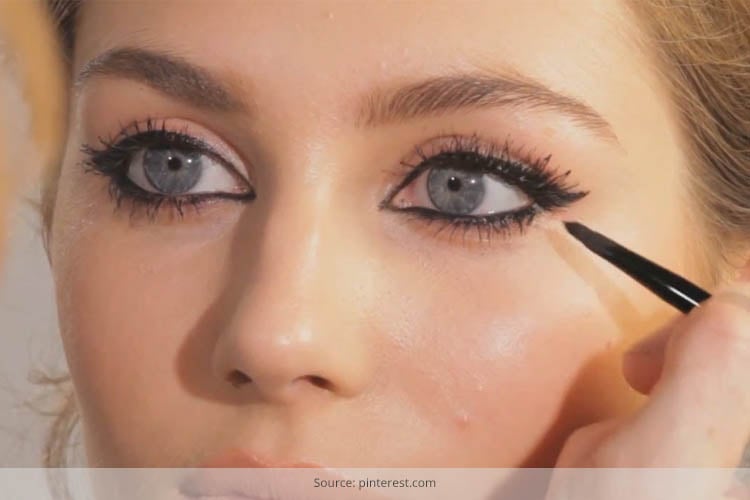 Like they say, eyes are the window to the soul, we women love dressing up our eyes. Women with big eyes are especially beautiful looking. Bright and clear eyes are an asset. But most women who use eye makeup for big eyes do not know how to accentuate and focus the attention to their peepers. Big eyes are essentially the best to style and almost all kinds of makeup looks good on it.
[Also Read: How to Make Eyes Look Big]
Here's How To Do Big Eye Makeup
In this write-up we will take you through some basic tutorials which will make your big eyes look ethereal. Let's get started with out big eyes makeup tutorial.
Eyebrows on Point!
This is an extremely important part of a makeup routine-your eyebrows. In a good eye makeup for big eyes routine, you have to groom your eyebrows so that they look clean. The eyebrows are mostly the focal point of the eyes and unruly and bushy eyebrows can spoil the whole look. If you are not a big fan of threading, you can simply tweeze the few stray hair here and there. It isn't that difficult. Bigger eyes need eyebrows which frame the entire length of the eyes. Make sure you use your eyebrows to the advantage of your eyes!
This flawless and minimal look is perfect for a natural and no makeup look:
Use Your Liner Generously
The thing with big eyes is that they need a lot of accentuation. So, if you are using a liner, draw the entire eye with it. This is how you should do big eye makeup:
If you are using a pencil liner, please sharpen it first so that there are no smudges while you apply the liner
Trace the waterline of your upper lashes ever so gently
Your goal here is to blend the eyeliner into your lashes and not create a huge crease
[Also Read: How To Do Eyeliner Over 40]
Now draw a subtle winged eyeliner tip on the outer corner of your eyes
If you want to make your eyes look even bigger, then use a white liner to draw the lower inner rim of your eye. Be careful not to line the lower rim with black because this will make your eyes look smaller.
Finish off with a good mascara
This is how eyeliner should look like for different eye shapes:
[sc:mediad]
Eye Shadows
One of the most important makeup tips for big eyes is that you have to make your eyes more expressive. If liner and mascara are just basic makeup for you and you would love to do more with your eyes, then eye shadows can be your best friends. Shimmery eye shadows have an innate property of making big eyes really stand out. Just pick up your favourite shimmer or glittery eye shadow and dab it gently on your lids and inner corner of your eyes. This will do the trick of making your eyes look bright and clear.
[Also Read: Arabic Eye Makeup]
See how much of a difference some shimmery eye shadow can make for your eyes!
Some Unconventional Tricks To For Big, Doe-Eyed Ladies
Now that you know the basics of how to accentuate your big peepers, here are a few other tricks and a big eyes makeup tutorial which make your eyes look even better!
Highlight your brow bone
You have prepped up your brows, and you are ready to do eye makeup for big eyes, but you haven't paid attention to the brow bone. It is an equally important part of your eye makeup. Take some white eye shadow and wipe it right below the brow bone and under your eyebrow. The white shadow will help to pop up your eyes better.
[Also Read: Makeup Tips For Small Eyes]
Blend your eye shadow right
Don't go OTT with your eye shadow and even if you have to put tons of colours, make sure you blend them right!
Ladies with big eyes, hopefully you have some good tricks up your sleeve now!