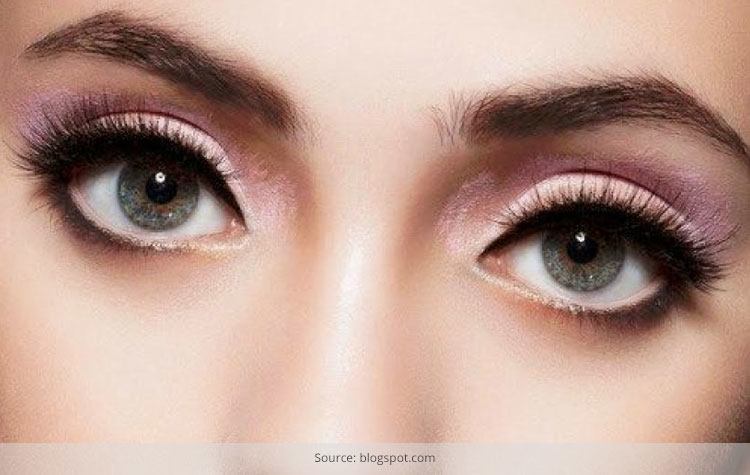 They say eyes are the windows to the soul. True enough, your eyes can express a lot of things. Many of us are blessed with bright and big eyes, but for those of us who aren't that blessed, there are always ingenious tricks to beautiful eyes. So let's get started:
Big Eye Rule 1: Thou Shall Use White Eyeliner
This is an amazing way to make your eyes look bigger without a hassle. Use some white eyeliner and line your lower waterline. The white colour instantly opens up your eyes and gives an illusion of bigger eyes. The whites of your eyes now look a lot bigger. This can also give you a very doe-eyed and subtle look.
Big Eye Rule 2: Give Your Lashes Some Love
Eyelashes play a very vital role to make your eyes bigger. Mascara can really make your eyes pop up, but you need to do some prepping before you actually use mascara. So, first things first, use baby powder with the help of an ear bud and lightly dust your lashes. Then use a curler to give more definition to your eyes. Once that is done, take out your mascara and give those lashes some volume. If you are comfortable, you can even have some false eyelashes to make your eyes look even bigger.
[Also Read: Make Them Shine Bright And Large- Makeup Tips For Small Eyes]
Big Eye Rule 3: Pay Attention to Your Eyebrows
Your eyebrows should be bold because that's in vogue now. You can easily rock a nice thick set of eyebrows provided you know how to maintain them. They should be trimmed and neatly maintained to make your eyes look bigger. Always keep in mind the shape of your face when manicuring your brows.
Big Eye Rule 4: Invest in the Right Eyeliner
There are so many different eyeliner types in the market now that is natural to get confused. But when it comes to the right eyeliner, you should try everything and see what suits you best. So there is gel eyeliner, pencil liners and liquid liners. All three of them have their own pros and cons, but you have to find the one that is easy to use and the best for you. Most women prefer to have the liquid eyeliner because it is very easy to apply and can last for a really long time. Even gel based eyeliners are good and you should definitely go for ones which are smudge proof.
[sc:mediad]
[Also Read: 5 Important Foods That Will Make Your Eyes Look Younger]
Big Eye Rule 5: Don't be afraid to play with colours
Almost everything is done when it comes to getting bigger eyes. But you should also use a lot of colours to make your eyes pop out. Don't just settle on the usual blacks and browns. There are also a lot of other shades which can make your eyes really stand out. Before you go all overboard with colours, make sure you use hues and shades which would suit your skin colour. If you are a little dusky, sticking to earthier tones will make you look a lot better. You can also go for neons, but you should not be too generous with neons. Also, use everything in moderation. If you want to experiment with glitter, make sure you don't look like a glitter bomb exploded on your face! Dab your eyelids lightly with glitter for a glam look.
So, there you go! We have handpicked some of the best hacks to make your eyes look a lot bigger than they are! Which one are you trying today?