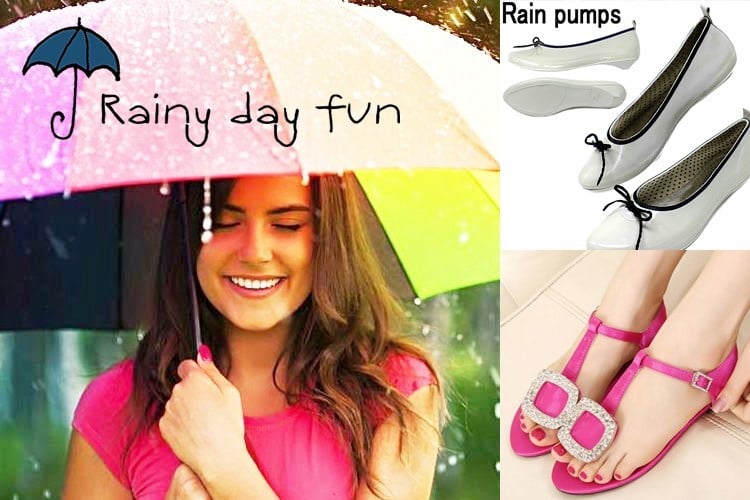 Monsoons this time is here in parts and spurts. It is looking a heavy downpour some days (and nights) and other days it's a parched feeling. But it's a nice sight watching rain drops showering fun, happiness, and having garam garam samosas and chai. What bliss it brings! But when you step out in a heavy downpour be prepared for all the mess it brings. Clothes get muddy, wet, soiled and ruined and hair gets ruffled and messy. Here are some do's and don'ts you need to follow if you want to enjoy rains without fun and gaiety going for a toss.
Umbrella
An umbrella is the first thing you need in order to escape the rains wetting you up. It is a shield from the water-pelting clouds. Make sure you have a strong and sturdy umbrella. But see to it that it is not boring to look at. Therefore, try to buy stylish umbrellas. Transparent ones, black or colourful blues and greens with polka dots, digital patterns on it make the umbrella suave and stylish. Try and avoid old umbrellas and no Mickey Mouse ears jutting out of the rain saviour please. It looks a way bit taddy.
Footwear
On a rainy day, what matters most apart from an umbrella is the right pair of footwear. Stylish waterproof footwear or Slip-resistant shoes are therefore a must. Gum boots and rubber canvas shoes are a great idea as they don't pose a challenge unlike leather-based or suede shoes that can make your heart fail the moment they get wet. Try bright colours such as neons or pastels so that you don't kill your eagerness to flaunt good shoes in rainy season. And yes, don't go for flip flops in the rainy weather. You might end up slipping, falling and losing balance and end up feeling embarrassed.
Clothes
Come rains and most of us are likely to fall a fashion victim to the downpour wetting our starched clothes. Wear comfortable clothes in cotton, denim in dark colours. Avoid wearing synthetic clothes as they will make you feel sticky and humid once they get wet. On the colour front, more whites and spring yellows you wear, more are they likely to get stained by the rainy mud.
[Also Read: Aquatic Colour Trends for the Monsoon Season]
Hairstyle
Glam hair can turn into messy and awful once we get drenched in rains. And managing wet hair is a difficult task. So try to wear a simple hairstyle in monsoons. Short hair is best in wet weather. Try to refrain from straightening or blow-drying your hair. Read here for some easy home remedies for monsoon haircare.
[sc:mediad]
Makeup for Monsoon
Makeup is necessary these days, irrespective of whether you are going to office or party. Before rainy weather ruins your makeup, it is time to take precautions. Keep less of makeup or else it will look stupid and yucks when you get drenched in the pitter-patter. Try to wear waterproof makeup which is easy-to-use. There are beauty products meant for the rainy season too. Also stay away from overusing make up in the form of dark colours or liquid lip colour.
Miscellaneous things to look into during or before rains
Sell off old raddi (newspapers, old notebooks etc.)
Check your umbrella for any rust spots. Get them repaired in time or buy a new umbrella.
Buy extra lingerie when it rains. It takes time for used bra and panties to get dry in rains.
Carry extra pair of shoes and Bermudas with you when you are travelling. If you get wet to the skin, there is something to fall back on.
Beware of pesky potholes and overflowing manholes.
Seepage is a common problem in rainy weather. Fill the wet spots with Plaster Of Paris to fill the cracks. Paint your home only after monsoons end.
Now that we have shared with you few preparatory tips to face monsoons, get ready to monsoon-proof your home and living. Just revel in the rains. It is one thing that all of us eagerly await every year, don't we?