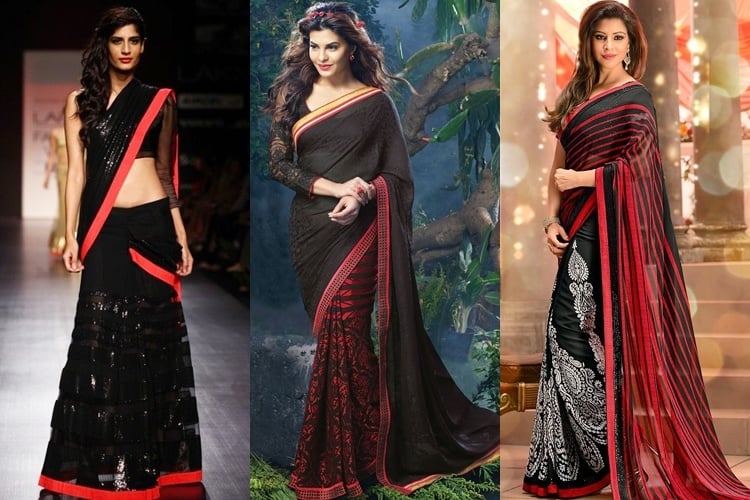 Welcome to the fantasy world of 'black and red' fashion. A fascinating range of sarees which offers you elegance and two of the choicest colours.
If you seek a ravishing look, then black and red saree designs are the perfect wardrobe edge to add sparkle to the traditional Indian wear.
Party wear selection as you know, needs a lot of time and attention before you end up picking the right piece. The best part about black and red saree designs is that there isn't any kaleidoscope of colours, just two primary colours black and red which come in multiple shades. So, the only thing you need to focus on while buying red and black party sarees is embroideries, embellishments, beads and perhaps crystal work.
The impact of red and black party sarees is no surprise at all whether it is a cocktail, engagement, wedding ceremony or a party get-together. In almost all the ceremonial and celebratory dos, the enchanting range of party wear sarees designs stand out. Whether it is
contemporary designer saree or ethnic bridal wear saree, red and black party sarees have a distinctive edge over other colours. That is why, they continue to enjoy patronage from clients in domestic and overseas markets.
[Also Read: Everything About Designer Sarees]
Here are Few Red and Black Party Sarees
If you are a beauty connoisseur, then black and red saree designs give you an incomparable style quotient.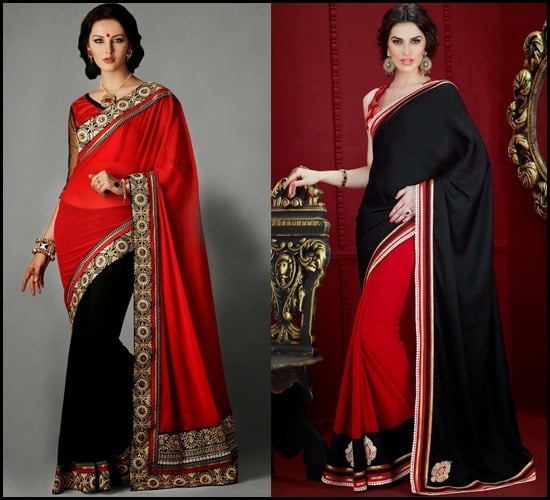 Impact Of Red and Black in Party Wear
Colour wheel as you know, governs our thoughts and decisions. Food and fashion are the perfect examples of how colours help us rejoice in whichever dish or garment we pick.
Incidentally, it is the colour effect of red and black party sarees that makes us glow with beauty, glamour and sensuality. Let us find out more about the effect of red and black in making us look vibrant and distinctive.
[Also Read: Kanchipuram Bridal Sarees]
Red: It is the colour of Valentine love, of celebrations and weddings. Red also depicts passion, sensuality and dominance, which is why women with bold personalities prefer wearing red saree for various occasions.
While wearing red saree, team it up with a gold blouse and gold jewellery. This will beautify you all the more.
Black: It is an equally powerful colour that denotes power, responsibility and chic status. Black also suggests elegance and glam appeal which is why black colour sarees look an evergreen colour for evening dos.
Black And Red As Party Wear Sarees Designs
When it comes to cocktail party or a sangeet, red and black party sarees are a perfect pick. The black colour as you all know makes you look classy and the intricate work on the border and embellishments redefine the saree's elegance. You can further get fascinating patterns done on red and black party sarees such as resham, patch work, stone work, and unique border work etc. to complement the look.
Hold a traditional clutch and wear heels with red and black party sarees and you are ready to create a perfect fusion look. Here are some gorgeous party wear sarees designs.
[Also Read: How to Wear Plain Saree]
Black Red Georgette On Net Saree
Black And Red Color Faux Georgette Saree
[Also Read: How To Style Black Saree]
Red-Black Color Brasso-Georgette Designer Saree
[sc:mediad]
Faux Georgette Black Saree
Red and Black Saree Jacquard Crepe Saree with Antique Gold Flower Sequin Border
Velvet Zari (mix of georgette, net and benarasi silk) with Embroidered Blouse
So look exotic by draping Black And Red Partywear Saree Designs and see how everyone starts to hover around you, including shutterbugs.
Let us know which of the red and black party sarees shown above happen to be your favourite.