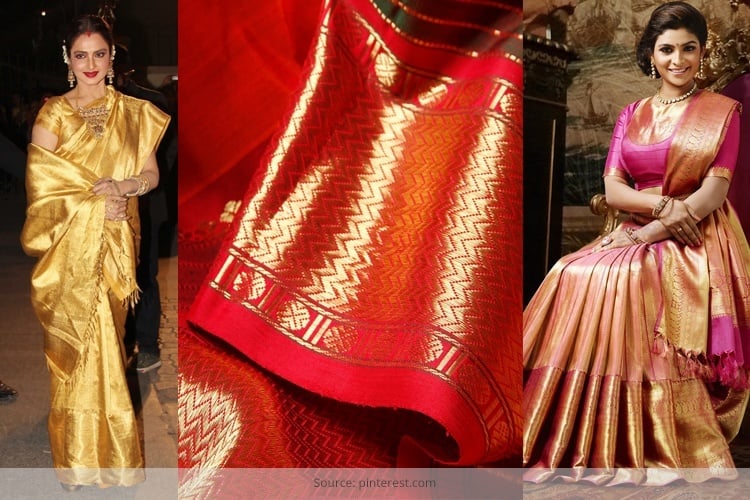 Ever heard of Sage Markanda? He is the master weaver who used to weave for Gods. Such was his craft that he used lotus flower petals to weave a tissue. Sage Markanda was so knowledgeable and alert that he knew the fabric which was the favourite of Lord Shiva (who liked cotton) and Lord Vishnu (who liked silk). Is there any more mystery to it? Yes, it was Sage Markanda who passed his expertise to his descendants, who evolved as Kanchi silk weavers in the present day context.
[Also Read: South Indian Wedding Sarees]
That is how hand-woven kanchipuram bridal sarees originated in Kanchipuram town which is also known as the 'temple city' owing to the thousand temples it has.
Here Look some kanchipuram sarees for wedding
Kanchipuram Bridal Sarees or Kanjivarams are a pious symbol of South Indian weddings, which is why they reflect a state of luxury, pride, and superiority. They are not only famous but each saree can go upto a lakh of rupees depending upon the workmanship and exclusivity that has gone into its making. There might be endless kanchipuram wedding saree designs but each saree is quite a heavy weight in itself. More heavier than the combined star celeb value of Bollywood.
Ancient Folklore Behind Kanchipuram Sarees
The city of Kanchipuram according to history reached popularity status about 400 years ago when two weaver communities, namely the Devangas and the Saligars moved in to Kanchipuram from neighbouring states.
Of particular importance is the fact that both these two weaving clans were masters in silk weaving. That is why, over a period of time the place came to be known as the hub of Kanchipuram Bridal Sarees.
Weaving of Kanchipuram Saree
It takes pure mulberry silk thread to make yards of poetry and craftsmanship called kanchipuram pattu sarees. The other raw materials that go into the making of designer kanchipuram sarees are metallic threads (also called zari) and dyes.
How can you make out a kanchipuram saree from others is easy and simple. The designer kanchipuram sarees have a body, pallu and border. Three single threads of silk yarn and zari are deployed to weave designer kanchipuram sarees or kanchipuram sarees for wedding.
The other thing to note is that the border design of kanchipuram pattu sarees is different from its body and in contrasting effect. Usually the pallu of kanchipuram pattu sarees is woven separately in different shade combinations before they are joined to the saree.
[Also Read: Guide on Picking Bridal Sarees]
Themes And Designs in Kanchipuram Saree
A variety of motifs used in designer kanchipuram sarees and kanchipuram silk sarees for wedding have found a pride of place in the fashion circle.
[sc:mediad]
On one hand there are chariots, lions, peacocks and sun, moon to lend elegance to your kanchipuram wedding saree designs, there are also coins, mangoes and parrots etc to make your kanchipuram bridal sarees a subject of admiration and envy.
When you look at the gallery of kanchipuram wedding saree designs, you will be amazed to see mallinaggu, a jasmine bud motif placed within a round or square frame. There is also Thandavalam which sees parallel lines running across the body of the saree in a structured way.
[Also Read: Types of Sarees]
As if this wasn't enough, you can see scenes from the epics Ramayana and Mahabharata captured on the saree.
[Also Read: Designer Kanchipuram Sarees]
Don't think just the presence of motifs makes kanchipuram pattu sarees stand out. This symbol of accurate and intricate workmanship is ornamented with even pure gold zari.
Now that kanchipuram silk sarees for wedding have become a wedding saree of choice, we hope you will incorporate it as your bridal attire. After all, wearing the tradition and impression of Indian culture leaves its own stamp of vintage memory.