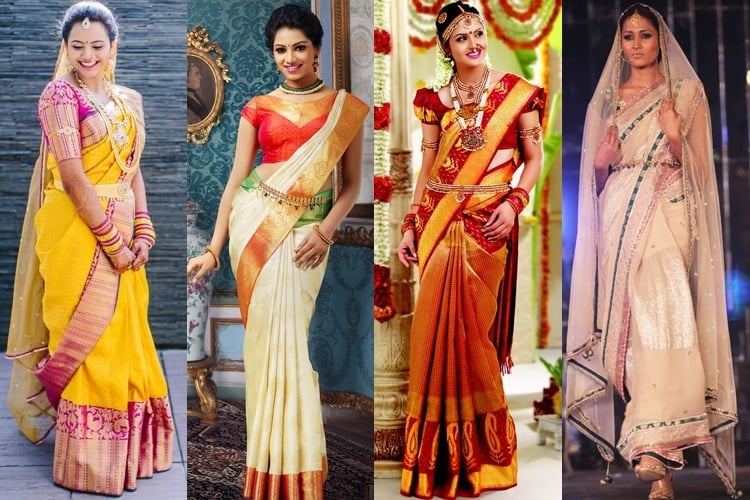 When wedding bells go ringing in an Indian household, tradition takes the front seat. This means Indian wedding sarees become the most looked forward to purchase in an Indian home followed by jewellery, cosmetics, fashion accessories and what have you. Such is the craze and respect for Indian bridal sarees designs that even foreigners who visit India ahead of the weddings in their family and friend circle make it a point to get designer wedding sarees from the nook and corner of India.
[Also Read: Celebrity Sarees Trend]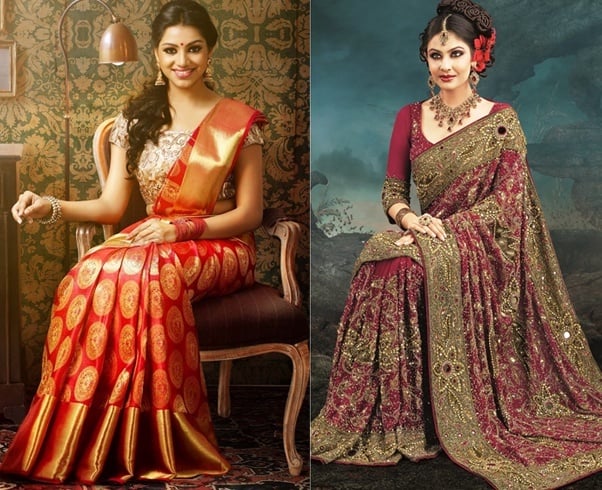 Types Of bridal wedding sarees collection
Look back ten years ago and it was difficult to get the designer wedding sarees. That's because lesser and limited options were available. Today there are different types of Indian bridal sarees, customised to each occasion involved in a wedding be it mehndi, sangeet, saat phere etc. From precious Banarasi Silk to Kanjeevaram to heavy brocade, bead and zari work, the bride and her family has unending choices in Indian wedding sarees. Sarees can be categorized into the following varieties.
[Also Read: South Indian Wedding Sarees]
1. Kanjeevaram Saree
Pride of South Indian women, Kanjeevaram sarees are an absolute native of Tamil Nadu. The temple borders make these bridal wedding sarees collection look elegant and exquisite.
2. Net Saree
Net sarees are more popular in the North, just like Kanjeevaram is in the South. They can be worn with different types of embroidery on it. The one feature that sets Net saree different from the rest is that it is transparent.
3. Banarasi Saree
Hailing from the city of Kashi, Banarasi saree coming from Banaras has silk as the core fabric, while the golden work that you see on it is sourced from Bengal. The magnificence of a Banarasi silk is incomparable.
4. Sambalpuri Saree
The state of Orissa might have umpteen sarees galore such as Bomkai and Katki. But one thing that completely stands out is Sambalpuri silk saree.
[Also Read: Kanchipuram Bridal Sarees]
5. Assam Silk
Also called Muga silk, Assam silk is one of the finest silks for Indian bridal sarees. On a conventional note, the Assamese brides wear white silk saree having red borders.
6. Gota Saree
Gota is a kind of lace which is attached to the pallu and hem of the saree. This makes the designer bridal sarees look extravagant and pompous.
[Also Read: Designer Kanchipuram Sarees]
7. Zardosi Saree
The common thing between silk and net sarees is that both of them are compatible with zardosi work. This is what makes zardosi saree one of the best designer bridal sarees.
[sc:mediad]
8. Paithani Saree
The city of Aurangabad in the state of Maharashtra has something nice and fascinating for the Indian brides. It is the Paithani silk saree. Folk lore has it that the Paithani saree is made with real gold thread work.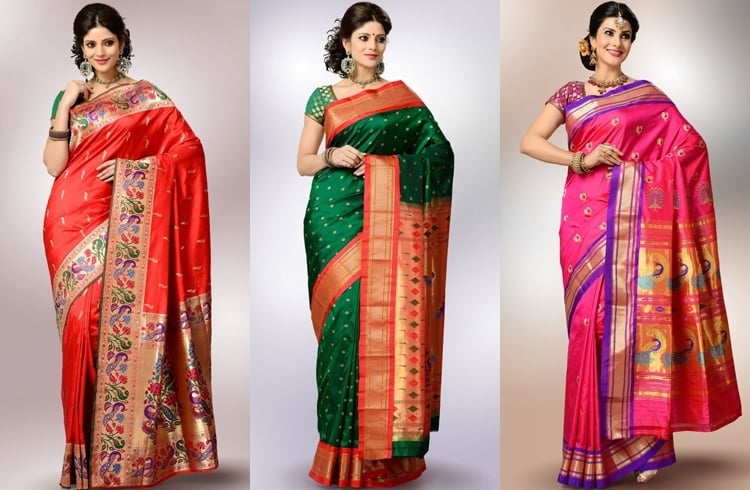 9. Bandhani Saree
A true specialty of Rajasthan and Gujarat, Bandhani saree is made out of a traditional method called the Bandhej, where it goes through a tie and dye technique. A variety of patterns unfold in a bandhani saree making it befitting for bridal wedding sarees collection.
10. Pattu Saree
A Kerala creation, a Pattu saree is noted for its white and gold colour combination. It is a favourite amongst Christian brides. 'Pattu' means red dots done in a decorative pattern and so the gold-bordered sarees have dots that are set in an off-white background.
[Also Read: How To Buy Your Assamese Traditional Sarees]
11. Brocade Silk
It's easy to identify brocade silk going by the shimmering material used in the borders and pall of this silk saree. This is why brocade silk is blessed with shining abilities.
12. Light Designer Bridal Sarees
When it comes to Indian wedding sarees, it is quite logical to expect yards and yards of heavy saris being draped over the bride. But because of the hot and humid weather, managing the bridal saree can become a tall task.
Lighter fabrics in the form of designer chiffon and georgette sarees come in as a convenient option. These type of sarees are not only light-weight but equally resplendent and can be carried off with ease during searing hot temperatures.
There are cotton blended sarees too with a bit of silk thrown in that make the Indian bridal sarees designs stylish and comfortable. Promising you comfort with no sweat as you go through the wedding ceremonies!
The tissue sarees are yet another favourite option for the Indian brides. They are not only delicate and light, they are airy and comfy too. With a bit of embroidery, the tissue sarees look royal and regal.
13. Lehenga Sarees
From delicate to rich patterns, a lehnga saree adds the right pizzazz to a bridal outfit. It looks very contemporary and in vogue. From vibrant reds to glowing goldens, there is a lehnga saree waiting for every bride.
Now what are you waiting for? Pick Indian wedding sarees to suit your taste, occasion, budget and tell us how you looked an awesome beauty in Indian bridal sarees designs. Looking beautiful on the wedding day is every bride's prerogative. Hoping we have made this dream come true.