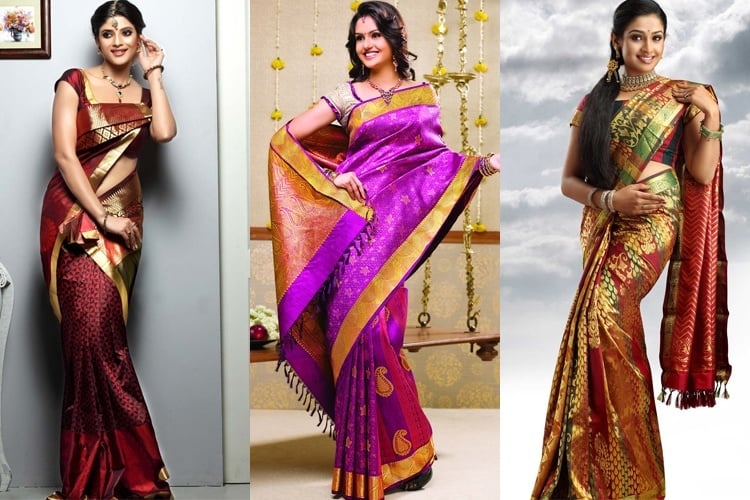 Now that summers are on their way out, and the festive season is nearing, the onset of winters and wedding season is food for joy.
Having said that, silk is that eagerly awaited fabric that is bound to create noise and flutter in saree showrooms. To cut the long story short, it is time to be draped in fascinating south Indian wedding sarees.
Golden borders, gorgeous colours, booties, embroidery, there is so much of lavishness in south Indian bridal sarees that the hang-over is almost never-ending. After the dry and parched summers, you get to flaunt rich and bright bridal colours, and a dash of glitter in the form of gold waist belt that makes you look traditional and glamorous both.
We come up with an impressive range of south Indian style saree that would enhance your social standing impressively. Here is the south Indian bridal sarees collection to woo your husband and in-laws.
[Also Read: Indian Wedding Sarees]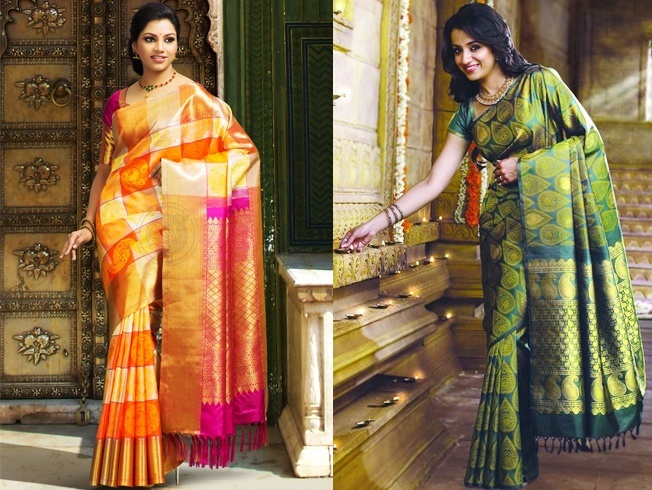 Types Of South Indian wedding sarees
Silks are a major component in south Indian wedding sarees. There are four types of silk that are largely used in Indian wedding sarees.
Mulberry
Muga
Eri Silk
Tussore
The mass production of silk sarees in India happens in three states in south India namely Karnataka, Tamil Nadu and Andhra Pradesh.
[Also Read: Designer Kanchipuram Sarees]
Coming to the craftsmanship bit, the south Indian style saree such as Kanjeevaram, Mysore, Konrad and Pochampally Ikat are some exemplary creations that deserve a standing ovation.
Popular Sarees of Tamil Nadu
1. Kancheepuram Saree
Dipped in 150-year old legacy, this type of south Indian bridal sarees is known for its imaginative colour contrasts and the motifs. Temple borders arranged in pyramid fashion, stripes, checks, floral booties and mulberry silk make a traditional Kancheepuram saree.
Ever wondered why a Kancheepuram saree is expensive? That's because it involves interlocking of three different kinds of woven cloths – the border, body and pallu. As one can see, the designing of this famous south Indian style saree is a time-taking and laborious task, which is why it is so very precious to any Indian girl and woman across generations.
[Also Read: Kanchipuram Bridal Sarees For Your Trousseau]
Starting from the basic price of Rs 2500, a Kanjee silk saree can go upto 10-12 lakhs per sari. Whoa!
2. Konrad Saree
This particular saree also known as 'Silk Temple Sari' is based on Indian deities. It has a wide border and traditional motifs. With changing times, the Konrad saree is getting to feature paisleys, diamond, lotus, parrots, peacocks, and elephants to further its design value and appeal.
This south Indian style saree is characterised by wide borders varying between 10 cm to 40 cm in width. The saree ends have spaced zari stripes and the popular available colours are browns, grey and off-white, with some bright colours thrown in.
[sc:mediad]
3. Mysore Saree
One of the true masterpieces in south Indian bridal sarees collection is Mysore silk. It's got lively and vivacious colours and is minimalistic in nature. Easy to wear, the Mysore saree is super-versatile in nature.
The Mysore saree is marketed and retailed by the Government of India as KSIC saris and are hologrammed to showcase their purity.
[Also Read: How to Buy Assamese Traditional Sarees]
4. Chettinad Saree
This south Indian style saree hails from Chettinad district of Tamil Nadu. The saree is popular for its bold stripes, checks, and contrasting hues.
Popular Sarees of Andhra Pradesh
1. Gadwal Saree
Gadwal town situated in Telangana in Andhra Pradesh is known for its silk weaving. And why, because it enjoyed the patronage from the royal family of Gadwal!
The average length of Gadwal sari is about 5.5 meters. Interestingly, the body of a Gadwal saree is woven in cotton, the border in zari and pallu in pure silk. Then all the three components are interlocked by a weaving pattern. Yellow, pink, parrot green, and beige are the popular colours of a Gadwal Saree.
2. Pochampally Ikkat Saree
[Also Read: Make a Statement With Designer Half Sarees]
Hailing from a small town called Pochampally near Hyderabad, this south Indian style saree engages about 5000 weavers in the creation of this masterpiece.
A Pochampally Ikkat is woven in silk, cotton as well as their blends, and is smoother and lighter in weight as compared to its counterparts woven in other states of India.
3. Venkatgiri Sarees
Produced in Nellore district in Andhra Pradesh, Venkatgiri Sarees was patronized by the ruling Venkat Giri Rajas. This explains why they were fondly called 'Rajmatha Sarees". The sarees have parrots, asharfis (gold coins), stylized leaf etc. as patterns and motifs.
[Also Read: Bridal Lehenga For Reception]
Now which of these south Indian wedding sarees do you plan to pick for the upcoming wedding in your family. Drop a line and let us know. Happy choosing the Indian wedding sarees from the Indian heritage.