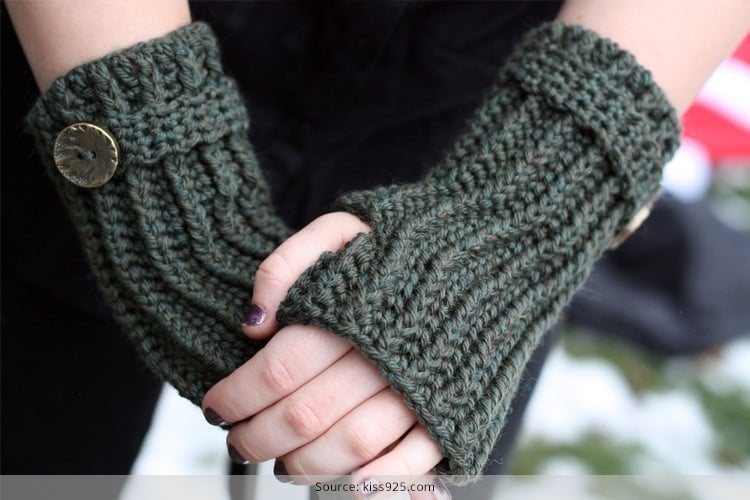 The season of FALL is here, and you know what that means? It means you can get all fashionable and chic, with a little layer on you! Do we hear you say YAY! But wait, we aren't talking about pulling out the woolens yet, in fact let's focus on your lovely manicured palms and nails, and doll them up with grace, let's wear crochet gloves, shall we?
Let's look at some Crochet gloves patterns
Hang Up Those Gloves
Yes, hang up those pretty crochet gloves, and let's create super fashion statements at work or at play, with oomph and style, what say! Here are many reasons why you would love to wear crocheted gloves, with or without fingers. Read on pretty damsels!
You Would Make Those Designers Work Less
This is because crochet gloves are less cumbersome to make than the knitted counterparts you see. There are compulsive crocheting queens out there who agree with the same, and at home you could ask grandma too, and she wouldn't disagree.
[Also Read: Crochet Pattern Skirts]
Big Dents are So Cool
Some Crochet gloves patterns have large dents on them, which makes haute fashion statements and can be worn with street-style fashion or the elegant cocktail gowns too. We leave that choice to make on you!
[sc:mediad]
Just One Hook
Crocheting experts work wonders with just one hook, while knitting needs two needles. So why make them work on the double, when single is the way to go and you can flaunt the sensual crochet gloves with fingers in total vintage swag style!
You Wouldn't Cringe at the Patterns
Crochet gloves take lesser time to make than the knitting ones, and you wouldn't cringe at the end result too. The design you dream about, could be made in no time, and one doesn't have to daydream about it. This is one of the reasons why crochet gloves are gaining more popularity across the globe.
[Also Read: Make Your Own Crochet Purse]
Easier to DIY and Wear Too
The ease of making half finger gloves crochet patterns and styles can never be underestimated. Having said that, when you have more gloves crocheted than knitted, the versatility of the piece can be flaunted with almost everything in your wardrobe!
Back to Front of Front to Back
Could you wear knitted gloves back to front? The answer is NO! However, if you are in a hurry to rush to work on a Monday and the air is nippy out there, you could blindly wear those chic crocheted babies and run out. No one would notice, because the adorable designs camouflage the error and create a fashion statement too.
Pair Them Up With Chic Accessories
The best thing about wearing crocheted gloves is that you could wear your chic bangles, wristlets or a nice metal watch with them, and the styles individually would be displayed with oomph!
What to Team Them With
Crochet gloves without fingers or with fingers can be worn with saris, lehengas, anarkalis, patiala suits, street style ensembles, beachwear too, and you wouldn't go wrong flaunting a look! Pair them with the same colour hats and scarves for the morning at work, or with afghans and blankets by the evening as the sun sets over the horizon, while out on a girls fun time, the look would come through with finesse!
Crocheting precious gloves or any ensemble for that matter wouldn't take all week, and there are many styles to choose from as well. You just have to DIY and learn a few, and who knows, we may just be writing about your designer creations in the near future.
What are your thoughts about crochet gloves without fingers or with fingers? Which is your style mantra that calls to the fashionistas soul? Do write in and let us know!