Raise your hand if you're tired of adhering to ridiculous sartorial bridal choices. Us, too! But it is never too late. For this reason, we have rounded our favorite golden bridal lehenga designs to inspire your choices. The key with gold is more is more so be ready to embrace the hue in its full galore. Failing that, merge it with subtle pieces you own and style it out in full Indian eccentricity.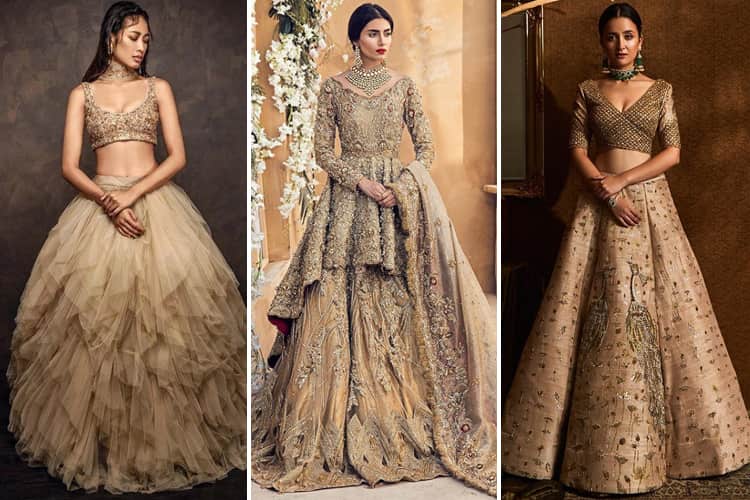 How to Wear and Style the Most Versatile Golden Lehenga:
Below, we've offered a refresher lesson on how to wear your gold lehenga this season. Sashay away in style:
1. All-Gold Lehenga:
With its flattering silhouette, you can be inspired to pair it with a matching set with a more formfitting blouse, when in fact a bateau neckline makes for a perfect accompaniment. Try yours with all-gold-out just like the image below.
2. Tonal Lehenga:
If your lehenga is tonal hued, then consider pairing it with bright jewellery. Not only will keep it your look connected and balanced, but also keep the focus on the lehenga.
3. The Ultimate Classy Golden Suit:
By nature the golden bridal lehenga designs with its delicate folds and intricacies is ultra classy. Be true to form by pairing it with a jewel neckline and some delicate accessories for good measure.
4. Floral Embroidered Gold Lehenga:
While floral embroideries are typically associated with all-things summer, it looks stunning on lehengas too. Pair yourself with a matching blouse as anything contrasting risks looking overly sheeny.
5. Light Golden Ruffled Lehenga:
Jump head-first into the hand work blouse design by doubling up with a ruffled lehenga in a slightly demure tone. Gold depictions makes lehengas appears their absolute richeness-so take advantage with a contemporary style this wedding season.
6. Lace Work Gold Lehenga:
Should Indian Fall days hits your area, take your favorite lehenga from summer. Balance the heavier gold with a lightweight lace work. For a chic way to show off your svelte waist, wear the lehenga minus dupatta.
7. Sequin Embellished Gold Lehenga:
Get a head start on the season's golden lehenga trend by styling yours with an off-shoulder blouse and neutral makeup. While we love how the classic light gold hue makes for a classy choice, a pop of jewellery can be an unexpected alternative.
8. Applique Work Gold Lehenga:
Applique work gold lehengas with full hemlines makes for the perfect transitional ensemble combo. Top yours with a matching dupatta when the temperatures drop.
9. Beige And Gold Lehenga:
Play with subtlety by styling a golden blouse with ankle-grazing lehenga with gold depictions like this one here. This look embraces a bridal look with a strong statement making blouse, and understated lehenga.
10. Full Gold Lining:
For the ultimate gold sparkle, go full throttle. As one of the season's lehenga trends, golden hues are sure to be everywhere this time of year.
These golden bridal lehengas are worthy to wear all festive occasions. Be ready for some rave reviews.