Weddings are the most ethereal moments in any bride's life. Everyone wants their wedding dresses to be unique, wonderful and one of a kind. Here are sixteen best wedding gowns in the world for some wedding day inspiration. We have scoured the internet and selected some of the most awesome wedding dresses ever and trust us, these will give you some real Wedding-Lusting!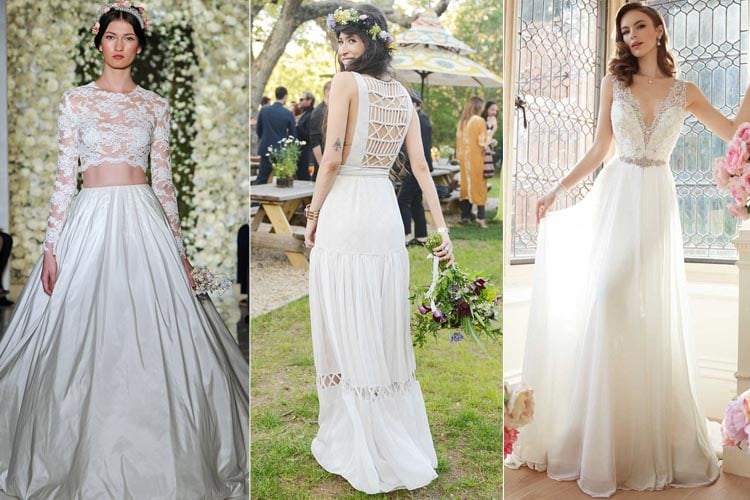 The Best Wedding Gowns In the WORLD!
1. Carolina Herrera's Eva Wedding Dress:
The great designer doesn't even mention the price of this amazing wedding dress and any website you check; the ominous 'Price on Request' tag comes up on this. The dainty, lace dress with black floral motifs is what dreams are made of.
[Also Read: Indian Wedding Hairstyles]
2. Lauren Conrad's Wedding Dress:
Lauren Conrad gave us major goals with her flowy, dreamy and amazing unique wedding dress. She literally brought tears to our eyes with her gorgeous ensemble and pretty little wedding.
3. Caroline Sieber's Wedding Dress:
The Chanel Gown took our and her husband's breath away. Take a look at it!
4. Olivia Palermo Wedding Dress:
The USP of her wedding dress was undoubtedly the blue pumps she chose to wear with her Carolina Herrera gown. Look how happy she is!
5. Marchesa "Poppy" Wedding Dress:
The delicately embroidered mesh and lace work on the gown is jaw-dropping and unique. We can't take our eyes off this work of art!
[sc:mediad]
6. Kim Kardashian Wedding Dress:
Trust the Kardashian's to make it work and Kim blew our minds with her amazing and unique wedding dress. And that dress showed her ample assets pretty well!
[Also Read: Bridal Shoes Ideas]
7. Kate Moss's John Galliano:
Perfection in every form, that is all we can say about the wedding dress that Kate Moss wore on her wedding. Look at the train – can it look better than that?
8. Miranda Brooks in Oscar De La Renta Wedding Dress:
We saw Oscar De La Renta's magic come to life in the beautiful wedding gown that Miranda wore. If only dreams came true *sigh*!!!
9. Kelly Clarkson Wedding Dress:
Not only a dreamy dress, but a dreamy wedding too – The Voice crooner took our breath away with her sweet little wedding.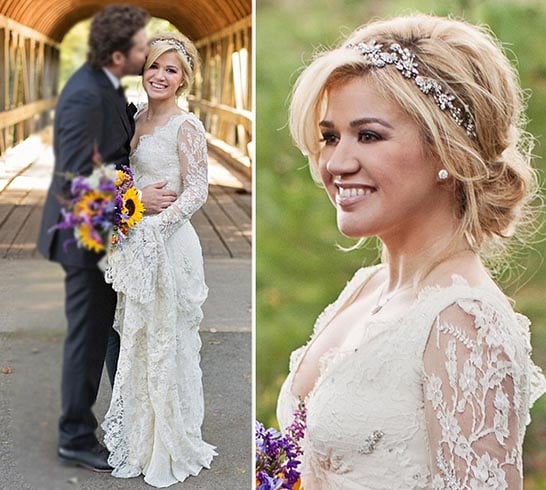 10. Keira Knightley Wedding Dress:
She wore a no fuss wedding dress with FLATS. Yes, with flats and we couldn't love her more.
11. Kate Middleton Wedding Dress:
Can you imagine a list of best wedding dresses ever without featuring our Duchess? Kate Middleton is undoubtedly a royal beauty and her gown was equally gorgeous too. The white, pristine design and the way she posed – everything was literally perfect. All hail the DUCHESS!
12. Hilary Duff Wedding Dress:
Another one from our favorites – Hilary's gown hugged her at all the right places and she couldn't have looked better. The singer chose a high bun for her hairstyle and kept everything very classy and magnificent. We too want a wedding like that Hilary!
13. Pamela Love's Boho Wedding Dress:
When Pamela Love wore her custom made Boho gown from Mara Hoffman, we couldn't take our eyes off from her. The very hipster bride stunned one and all with her crochet-inspired gown and flower crown. Guess she will always be a wild child!
14. Salma Hayek's Encrusted Wedding Gown:
Salma Hayek loves her wedding gown so much that she wears it everywhere – even on the red carpet!
[Also Read: Japanese Bridal Makeup]
15. Alexi Ashe And Her Carolina Herrera:
We couldn't be happier if we had a wedding gown like this – Alexi wowed us with her no fuss but dreamy wedding gown.
16. Jennifer Lopez Wedding Gown:
The feathery gown is magical and we love it. No wonder Jennifer totally slays in her gown. We hope we look half as good as her at that age.
Tell us your favorite outfit from celebrities in the comments box below. For more fashion updates stay tuned!