Any Punjabi girl reading this blog might get a mischievous smile on her lips. Doesn't she know of the Hindu tradition where the bridegroom's shoes are stolen at the shaadi mandap by the friends of the would-be bride? Such kind of 'chori' is permissible, don't you think.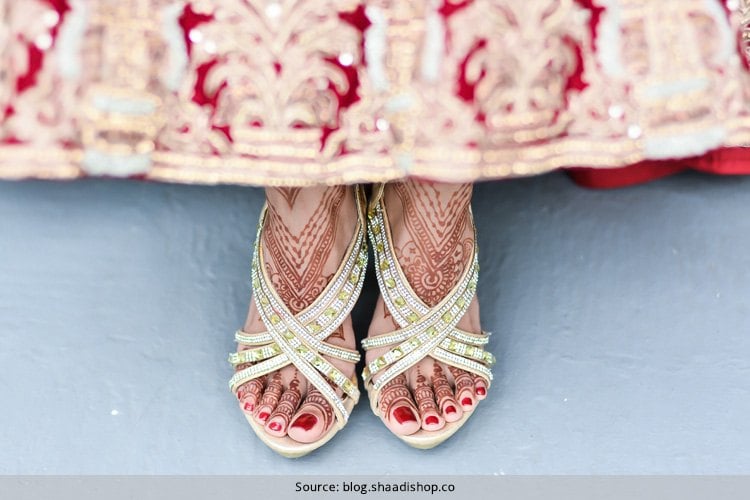 What about bridal shoes? They aren't meant to be stolen, sweetie, but kept in an exclusive and happening shoe wardrobe. Ya ya…just as a bride has the right to buy extravagant lehengas, sarees and jewelry for her wedding, she also has to shop for wedding shoes in order to complete her wedding trousseau.
Talk of the level to which shoe shopping must be done for the bride, and I would say that there should be a shoe pair in every colour and every style. After all, she is not going to walk bare foot in her sangeet, mehendi, marriage, and reception do's.
[Also Read: Most Expensive Shoes in the World]
Different Shoes For Wedding Every Girl Must Own:
That having said, let us find out shoes for wedding which can range from comfortable wedding shoes to even low heel wedding shoes. Shoe closet for an Indian bride should be worth looking and admiring, after all.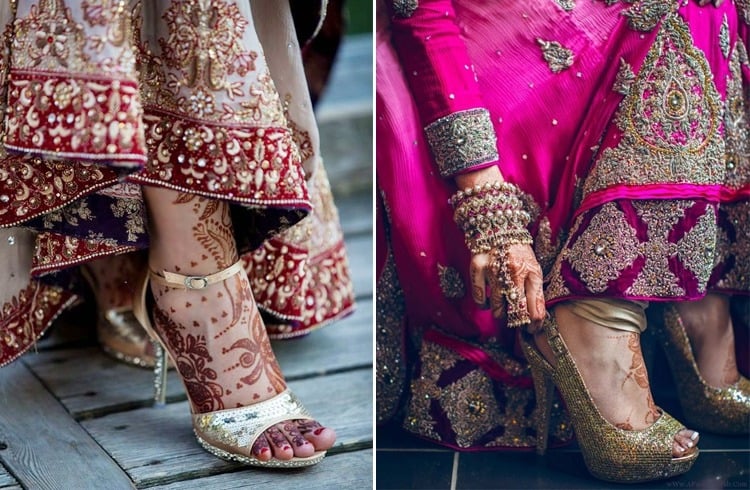 Mojaris And Juttis:
Being traditional footwear, these make as good bridal shoes when having stunning embroidery work and ethnic pattern on them. Plus, they look extremely chic too. Today, there are several designs with attractive colors to lure you.
Best Paired With: Mojaris and juttis are ideal low heel wedding shoes which the bride can wear with Patiala suit, salwar kameez, A-line kurta or anarkali outfits. But puhlease for heaven's sake, don't pair them with saree.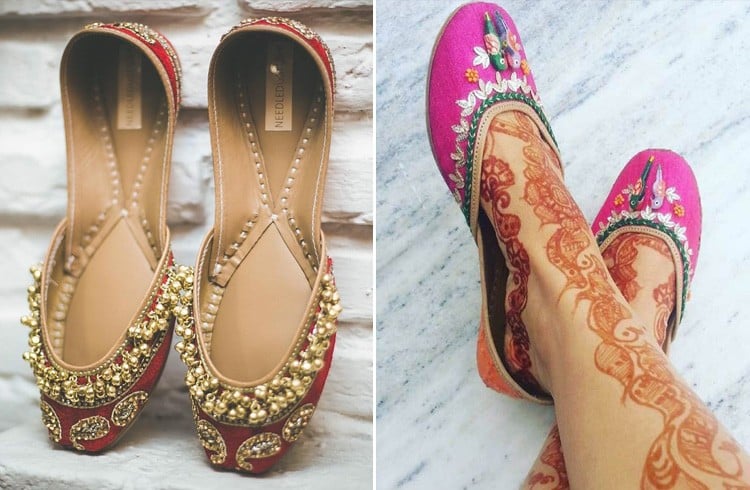 Kitten Heels:
Am sure you agree that an Indian wedding is all about bling and embellishments. And wedding shoes can't be plain Jane. So the shoe closet of a bride has to have a pair of embellished sandals with kitten heels which add a touch of glam to your look. They are not only stylish and elegant, but can look sexy too when paired wisely. In fact, kitten heels look great with western outfits as much as Indian wear.
[Also Read: Designer Juttis]
Best Paired With: For brides who are not very comfy with walking in high heels and stilettos, there are kitten heels to sport with sarees and anarkali.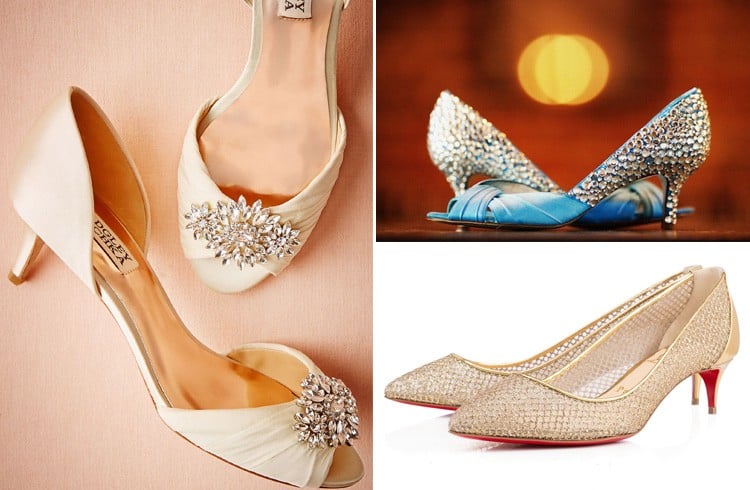 Neutral Pumps:
Glossy or matte looking, bachelorette bashes and cocktail parties are incomplete without a pair of neutral pumps. The beauty of these Shoes for wedding is that you can wear it on casual days too. After all, they are extremely modern and contemporary looking, and can make any Indian outfit for wedding look chic and classy.
[Also Read: Outdoor Wedding Shoes]
Best Paired With: A chic outfit especially during the day ceremonies. It would be a package of sorts if nude pumps are paired with a designer saree of the likes of fashion designer Masaba Gupta. Want to give it a further fashion twist? Then team up neutral pumps with dashing looking dhoti pants.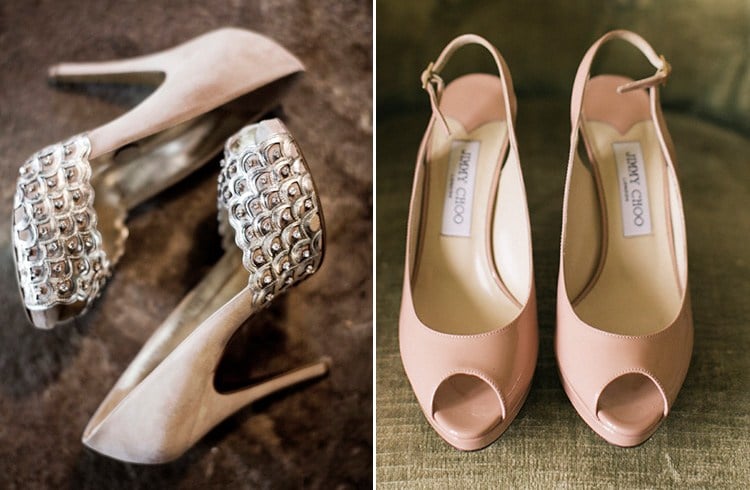 Heels In Gold And Silver:
If you are choosing a plain fabric with simple embroidery, then it makes sense to glam it up with bling-on heels. Golden and silver heels give the necessary glitter and glam when it comes to bridal shoes.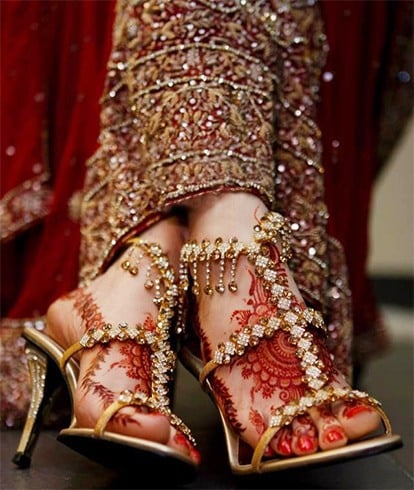 Best Paired With: Whether it's a saree, lehenga or anarkali, wearing heels in gold and silver surely pump in the glam quotient.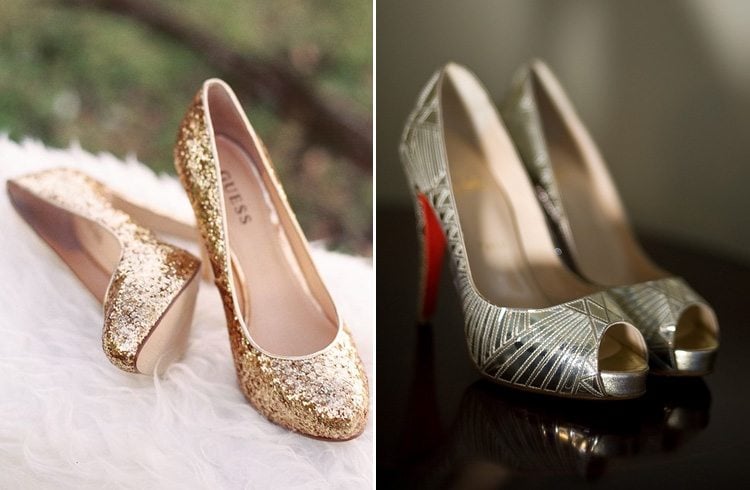 Wedge Heels Or Platforms:
Staying in heels and stilettos is not an easy task since a ceremonial wedding is bound to take hours. If you are keen on getting height, then slip into wedges and platforms bridal shoes. They give you the necessary height with comfort. Apart from gold, you can go for silver and black colors too.
[Also Read: Types Of Shoes For Women]
Best Paired With: Chic western outfits such as gowns. Wedge heels and platforms can look nice with anarkalis and lehengas too, when well-studded.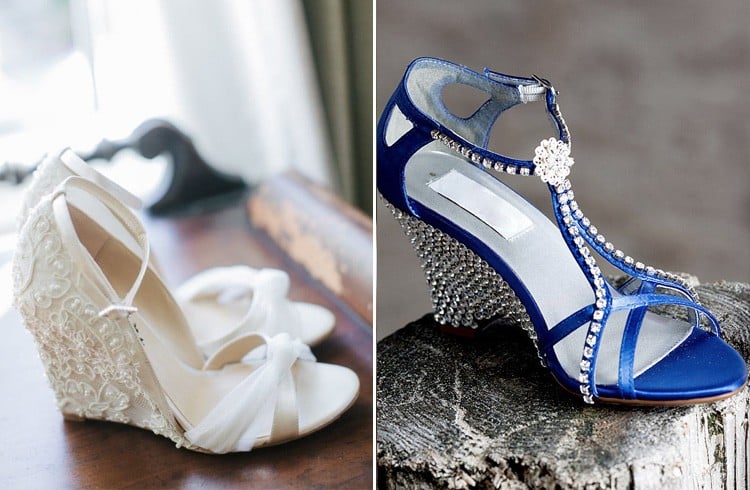 Glam Slingbacks:
When it comes to bridal shoes, a girl also needs a bit of comfort. Slingbacks give all that with their strap that goes behind your heel to hold them in place.
Best Paired With: Anarkalis or kurtas especially for mehndi and sangeet functions, when there is a lot of dancing to do.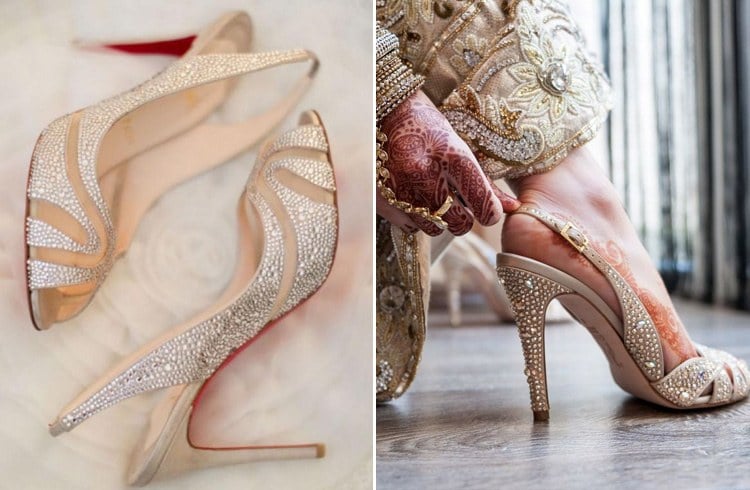 Hope you enjoyed reading about the various kinds of bridal shoes. Share with us your favourite style of wedding shoes.
Images Source: pinterest.com