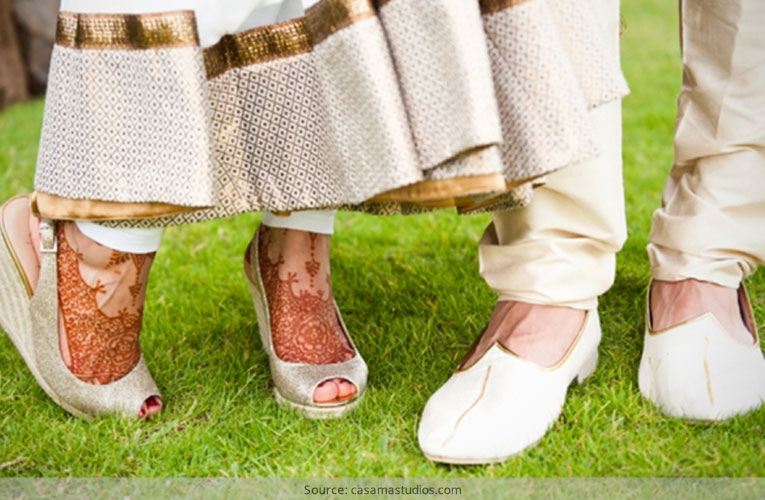 Aren't outdoor weddings just perfect? The perfect locales, the wind gently blowing on your neck as you sip your favorite cocktail! Oh, we all love outdoor weddings. But one thing that might put every fashionista in a dilemma is deciding the shoes for outdoor wedding. Your perfect outfit is ready, your makeup is flawless, but you don't want that sinking feeling as you totter down on heels, one of the shoes you shouldn't be wearing for an outdoor wedding in the grass! So, in this article, we will give you the lowdown on how to shop for shoes for outdoor wedding on grass and sand and still rock your outfit!
Golden Rules Of Shoes For Outdoor Wedding
We get it, stilettos look so tempting with your attire and you were always looking to wear your pointy heels with this dress, but you wouldn't want to sink in the sand or the grass while talking to that hottie right? Stilettos are a big NO-NO when it comes to shoes for outdoor wedding guest. They are the perfect recipe for disaster and not only will you sink, but you also risk staining those pristine heels with grass marks. Now, now, you wouldn't want that right?
The biggest misconception that most women harbor is that wedge heels are not sexy enough for a wedding. We are here to dispel that myth – some of the best looking bridesmaid shoes for outdoor
wedding consists mostly of wedges! Take a look at these beauties:
[ Also Read: Designer Jutti Brands ]
[sc:mediad]
In fact, this above collection looks fit enough to be worn by the bride herself! So, please don't undermine the wedges – they are your absolute savior shoes for outdoor weddings. Here are some more shoes you can wear with élan at an outdoor wedding:
These Suede-Fringed Beauties
Suede sandals are perfect, in any form and when they are fringed – oh, we love them more. Fringes are in so much fashion right now and the small block heels will make sure you don't sink!
Here's Something You Can Wear At A Beach Wedding
Beach weddings are literally the most beautiful of all weddings you can witness – the sun, the sea, the sand and of course two people swearing love to each other for the rest of their lives. You would like to look perfect too right? Beach wedding also calls for shoes that will not slip and sink in the sand; our bet – channel some hipster and Coachella vibes and invest in some flats like these:
[Also Read: wedding shoes]
Not only are they uber stylish, but also they are very comfortable to move around, especially in the sand.
And if you are planning to have some golden in your outfit – check these Zara flats out:
Here's Something You Can Wear At The Garden Party Wedding
Flowers, margaritas and a whole lot of grass – all make up a garden party wedding. Most of us will stick to floral motifs and designs when it comes to a wedding like this. Also, just like sand, there is a risk of sinking in the grass and of course those ominous grass stains. Here is some shoe-spiration to wear at a garden party wedding:
This beauty which will match with any of your outfits.
These little ones that you can mix and match with even the hues of a rainbow! Whether you want to stick to pretty little floral dresses or you want to get your Bohemian goddess out, these shoes for outdoor wedding have got you covered and don't worry if you turn more heads than the bride!
What About This Red And White Dolce And Gabbana?
Sand in your heels – problem solved, grass stains – no problemo! We have got you all covered for an outdoor wedding!