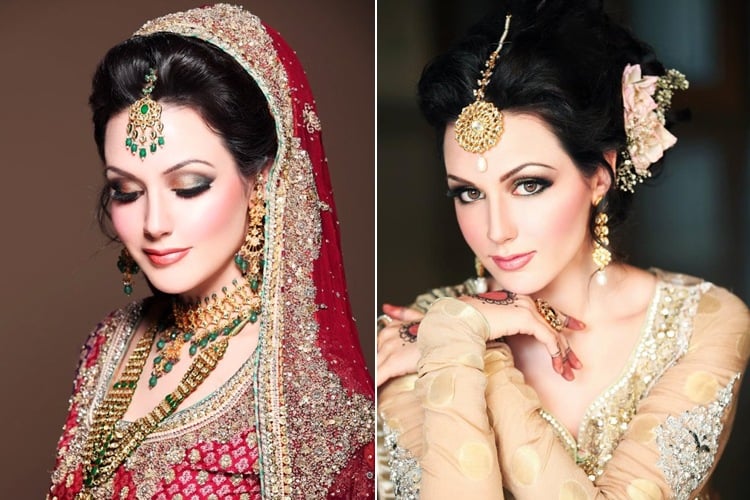 Most young girls across the border and from our fashionably friendly neighbor Pakistan are very conscious about how they would look at their weddings. Seems legit, who doesn't want to glow like a princess at their D-Day? This is why, the Pakistani bride chooses her Pakistani bridal makeup artist with utmost care and diligence.
[Also Read: Famous 5 Pakistani Fashion Designers We Want In India Soon!]
It Is A Special Day
The market is filled with a range of makeup products and cosmetics, which can be used for Pakistani bridal makeup. However, we would suggest using only branded makeup and cosmetics that you are sure off, or else the skin would take a beating once the big day is over and done with.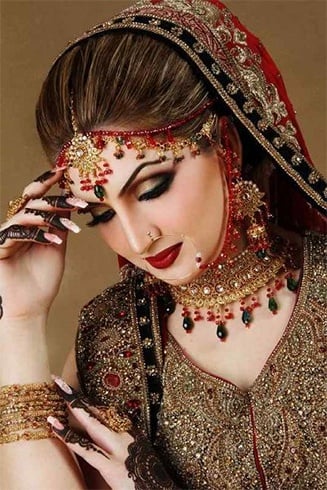 Just as you would check for the skin type you have, the shape of your face and also which colors would compliment your undertone too (check our color wheel guide), the same would be for the Pakistani bridal makeup as well. You have to keep in mind what you would be wearing, the colors especially of your ensemble with your wedding or engagement look, or else it would be a painful eyesore to bear.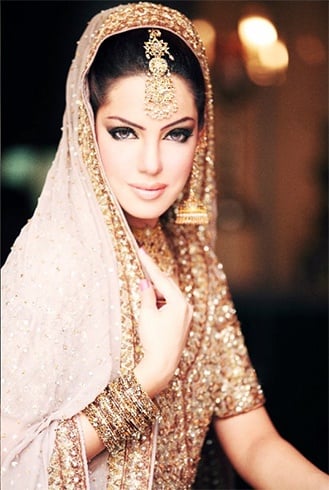 Contouring Is A Must
Not all of us are blessed with outstanding features, but makeup can help create that illusion too. Refer to our posts on nose and cheekbone contouring, which makes the face defined and sharp or maybe slims the face down a tad bit to make it supple and very feminine.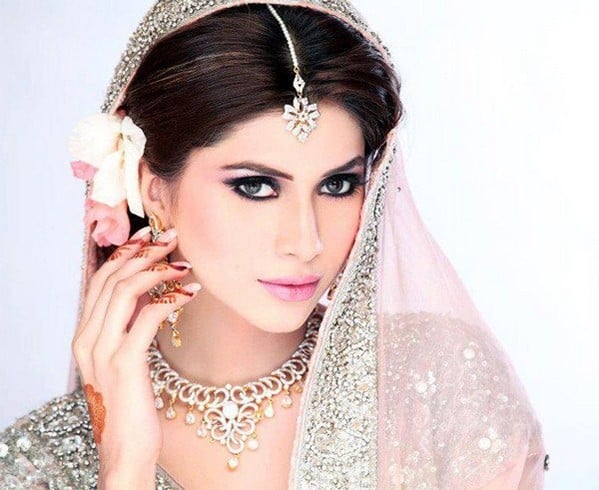 Choose Your Eyeshadow Colors Wisely
If you notice, our Pakistani sisters choose their eyeshadow shades with utmost diligence. And in most cases would choose from a mix of dark and light shades. They match the shade of their eye shadow with that of their wedding or engagement ensemble, just like we do. In some cases, if the ensemble is heavily worked upon, the makeup on the eyes and the lips are chosen in matte tones or vice-versa, to balance the makeup equation here.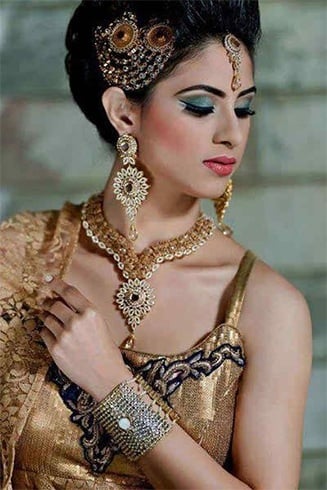 Makeup Tips Used Across The Border
For engagements and bridals, the Pakistani party makeup scenario is pretty much the same as we have it here in India. Here are three major rules they follow!
Most opt for the smokey eye bridal look, especially at the barat, which is when they sit with their makeup artist and decide on the kind of smokey eyes they want to flaunt. This would be one that would best work with their overall look and in sync with the ensemble they would wear. Not all smokey eyes are monochromatic; some are in teal, blues, pinks, reds, wines and taupes too, along with shades of metals as well.
[sc:mediad]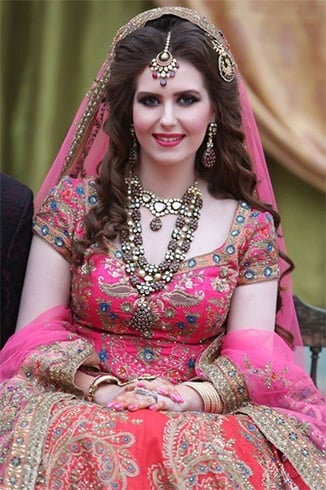 If you have chosen a warm toned wedding ensemble, you then should look at Pakistani bridal fashionistas and bridal Pakistani eye makeup that shows you how to play with warm colors such as peaches and pinks and light orange on the eyes with hints of silver to balance the bridal makeup equation- quite quirky and trendy!
[Also Read: 20 Latest Pakistani Mehndi Designs]
If you do want to play with cool toned makeup, such as greens, blues, light magentas and more, there could be a play of glitter and shimmers in it, which brings about a touch of Arabic eyes too.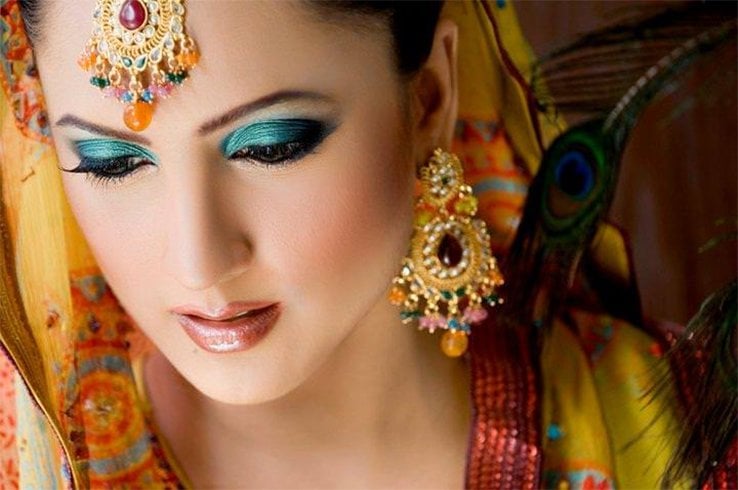 Primer Is A Must
Primer or the foundation tone chosen, should be closest to your natural skin tone, which is the first thing you should do after cleansing, toning and moisturizing your face. This helps the makeup last and stay longer on the skin. You don't have to worry about smudges.
[Also Read: Japanese Bridal Makeup]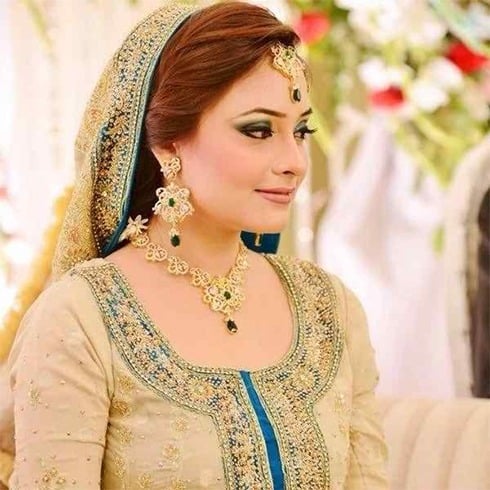 Blush Or Bronzer
You get to choose this, since even in the Indian wedding makeup scene the makeup artist would look at your ensemble and then decide with you if it is a healthy dose of pink or peach or maybe a bronze touch that would make your skin glow.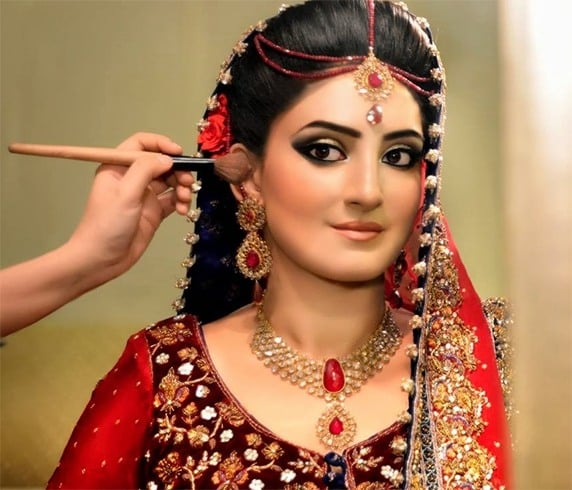 Lips
Peach, pink and reds are so passé, and the Pakistani makeup tips we've learnt so far talks about glossy metallic touches (not full lips) being the hautest trends for 2016.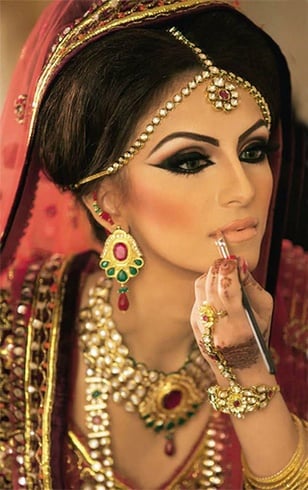 With that we end this post on Pakistani bridal makeup tips, and how to emulate looks from our sisters across the borders. Your thoughts please?
Images Source: pinterest.com, globalemag.com