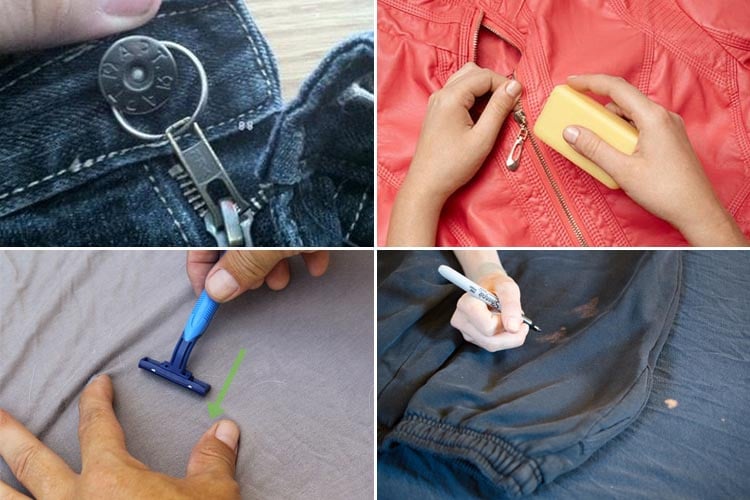 When it comes to clothing, there is absolutely no reason to hate a few fashion hacks that don't require sewing, crocheting or anything cumbersome and time consuming. It makes sense to know a handful of clothing hacks that could help with your quandaries regarding bra straps, worn-out jeans or a scratchy shoe. Especially if it just requires a few cuts and ties here or there at most and you are ready to go. These clothing hacks DIYs will assist you in creating stunning trendy clothing items in a jiffy and require only the most basic skills.
Fashion Hacks
We have rounded up a list of fashion hacks and clothing tips everyone should know.
1. Ingenious Zipper Hack
Have your favorite jeans become too tight? Do you find it hard to zip them? If yes, don't worry. We have got you covered. All you need is a penny sized key chain ring to keep the pesky zipper from slipping down. Just attach the ring onto the eye of the zipper and allow it to hang from the top button. This would ensure that you don't get caught with the fly down.
Tip: Remember to conceal the ring under the denim to prevent it from peaking.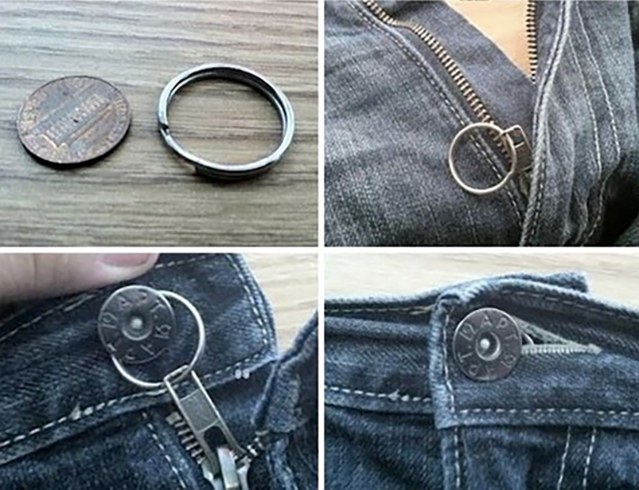 2. De-pill Clothes With Razor
Are you tired of handpicking all the lint off your favorite trousers and sweater? Then, try removing it with a razor. Carefully run the razor on the pilled cloth and jerk off all the lint. You might want to run a piece of cello tape to collect all the pieces of lint from flying around.
Tip: Run the razor along the direction of the weave of the cloth. This would prevent the cloth from pilling any further.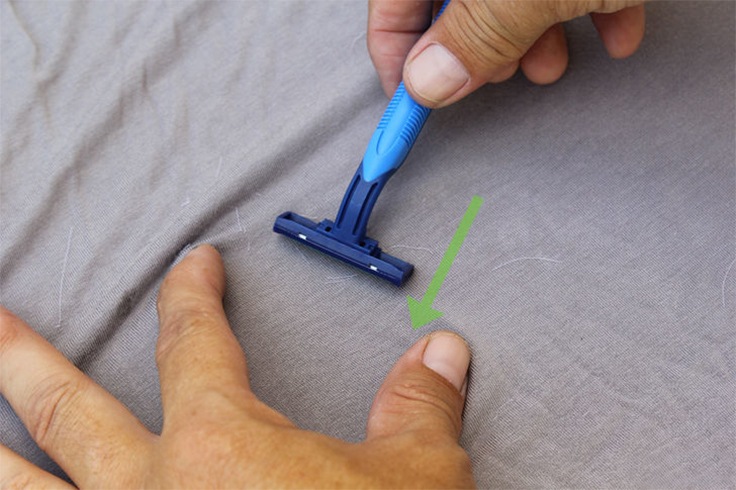 3. Slimming Trick For Layering Up Buttoned Shirt
This is a clothing hack DIY that we feel every girl must know. Swing on a fitted tank top on top of your button-up shirt before wearing a sweater. The tank top would press down the outlines of the buttons and hide the bunched up shirt fabric, which makes it baggy. Ta-Da! You would look slimmer.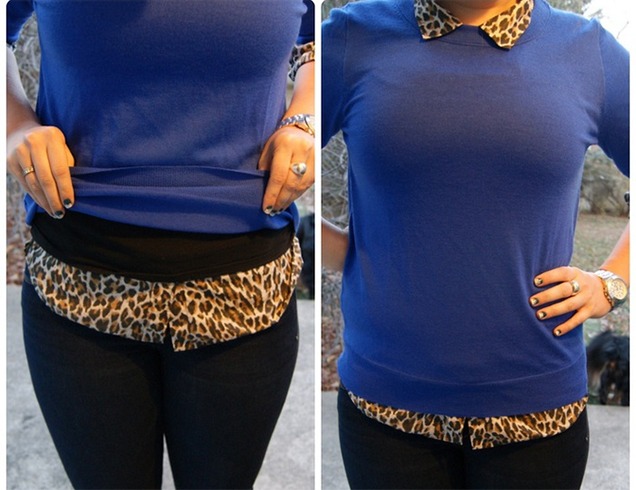 Tip: Remember to choose an appropriate length tank top such that it doesn't peep from under the layers.
4. Lace Up Shirt Dress
Has your favorite t-shirt become too tight? Has it become too loose or baggy? Don't worry; we have a no-stitch clothing hack DIY for you. Just cut the t-shirt along the side hem, punch a few holes parallel along the side stitch and thread a ribbon. Voila! Your very own lace-up t-shirt cum corset is ready.
[sc:mediad]
Caution: This hack is suitable for slightly thicker fabrics that undergo minimum wear and tear on punching holes.
Tip: For best results, leave at least half an inch of cloth on either sides of the split up side hem to prevent the fabric from breaking down under the stress of the fastened ribbon.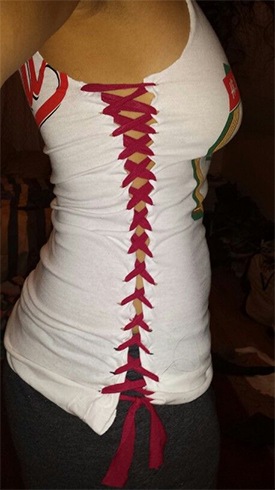 5. Ribbon Up Your Loose Socks
Are you tired of pulling up your socks time and again? Do they just refuse to stay up? Fret Not. Just punch a few holes on the ends. Thread a ribbon or lace through the holes. Just fasten the strings as per your comfort and finish it up with a neat bow knot.
[Also Read: Hacks On How To Stretch Jeans]
Alternatively, you could also use a thick woolen string over a ribbon for hand-knit woolen socks. Add a few tassels to the stray ends and who knows you could start up a new trend.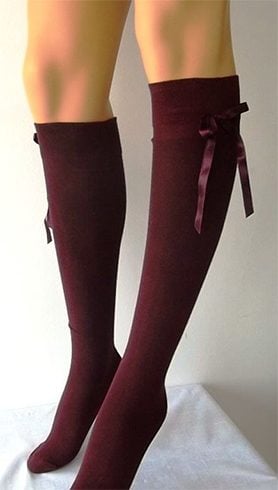 6. Fix Bleach Stains With A Felt Pen
Has the fabric bleach washed the colors off your favorite sweater? Are the stains noticeable? If the answer is affirmative. Then, just grab your sharpies and color the stain to match the rest. This DIY might sound childish but it works flawlessly every single time.
Tip: Remember to bloat the bleached area before filling it with a sharpie. Also, keep a sheet of thick paper between the layers of fabric to prevent the color of the pen from ruining the other side.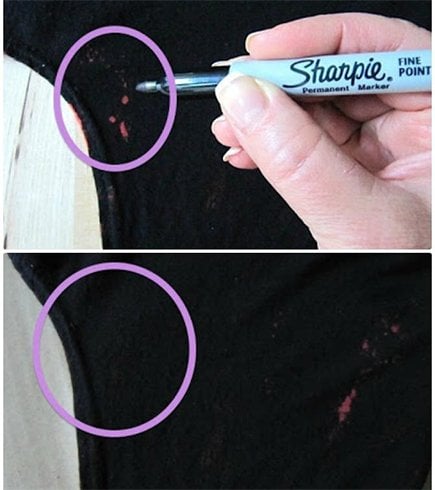 7. Tights Before Ripped Jean Hack
Are the holes in your ripped jeans getting broader with every wash and dry cycle? Are the grungy gapping slits making you feel uncomfortable? Then, just wear a pair of fancy sheer tights beneath your favorite grunge jeans. This would not only control the excessive skin-show but would also add a fashionable twist to your ensemble.
Caution: If you have a run in your tights or stockings, just fix it immediately with a coat of clear polish. Allow the polish to dry before sliding on the ripped jeans.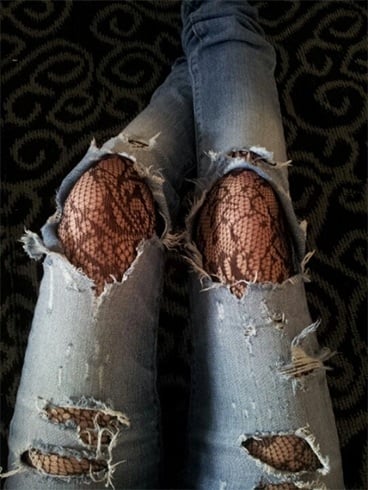 If the above clothing hacks for women gave you a "Why didn't I think of that?" moment, feel free to share them with your friends, colleagues and family members.
Images Source: pinterest.com