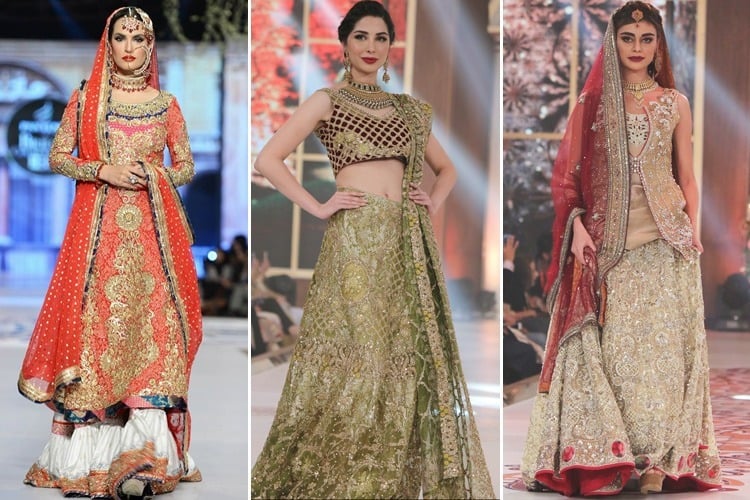 From across the border, Pakistani fashion designers are breaking all stereotypes in small ways, which is a big thing to do, and making waves with the bridal scene. High edgy cuts, lower necklines, slits on the thighs and more, you haven't seen anything if you haven't followed these very talented five Pakistani fashion designers on the social media accounts.
[Also Read: Pakistani Fashion: Haute Looks By Fashion Designer, Niza Adwer]
Pakistani Bridal Designers
Do not worry if you haven't found them all as of now, we are here to show you what magical bridal dresses these five Pakistani bridal designers, came up with in 2015. Take a look and let's hope they soon come into Indian waters to make a mark too!
Bunto Kazmi
Bunto Kazmi is a name that resonates with timeless creations and masterpieces, especially with bridal wear in Pakistan.
Bunto knows how to amalgamate chic royalty with eloquence, which is why her designs are magnificent and a dream or a desire for most brides-to-be, to have.
Bunto is an epitome of all things regal in bridal touches, with intricate detailing done to her work and meticulous designs flaunted as well. Bunto Kazmi is known for her love of textures, and she works them through and through on every bridal silhouette she conjures.
If you have to place one word to her artsy touches in bridal haute couture, the word would be AURA- one that is majestic and creative at the same time. It thus comes as no surprise when you ask around for the best Pakistani bridal designers, Bunto's name comes as top three!
Nomi Ansari
Nomi Ansari is a designer based out of Pakistan and for the very adventurous brides-to-be, that are ready to flaunt their sassy styles on D-Day without exaggeration.
Nomi Ansari believes in making women powerful while taking their vows, and hence would create or curate masterpieces for the brides so that their D-Day look comes nothing short of a fairytale ensemble.
[Also Read: Trendy Pakistani Pant Styles]
Sans the flamboyancy as such, Nomi Ansari's style is of a sensible notion, playing along with plenty of embroidery and intricate traditional touches with a modern twist.
If you are someone that loves colorful tapestry, Nomi Ansari is one of the best Pakistani designers that would fulfill your dreams.
Asifa and Nabeel
Duo designers, Asifa and Nabeel are a famous team and known as 'bridal wear experts' across the nation of Pakistan.
A tag as such given to them for many good reasons- they juxtapose regal touches with finesse, bring detailed attention to every gown, and they know how to play with mix and match styles too.
Asifa and Nabeel are the epitome of royalty on every bridal garment they create, and which makes for an eye catching number too.
The fabrics used are of high quality for a luxe touch, and the embellishments on each couture is one of a kind. This is what makes Asifa and Nabeel one of the most sought after designer duo team in the nation.
[Also Read: Latest Pakistani Mehndi Designs]
Saira Rizwan
From 2007, the year when designer Saira Rizwan came into being and went on to become a big name in 2011, fashion weeks have been her platform.
Almost every bridal season awaits the creation of Saira Rizwan, and her amazing artsy touches are talked about all year round thereafter.
Playing with the traditional bridal scene with a contemporary touch is what Saira Rizwan believes in.
In addition to that, Saira Rizwan also works on very chic yet regal and luxe numbers to make brides feel like queens on their D-Day; making her as most wanted and most popular pakistani designers.
[sc:mediad]
HSY or Hassan Sheheryar Yasin
The very talented and handsome Hassan Sheheryar Yasin, HSY, choreographs his own shows for his own bridal creations.
With many accolades to his name and making a large mark on the brides in Pakistan, Hassan Sheheryar Yasin has his exclusive line at your service ever since he launched in 2000.
Also placed in the top 6 South Asian brands, Hassan Sheheryar Yasin also dapples with bridal jewelry and hence the HSY brand to say so!
Do let us know which of the five caught your fancy with their collections, and which of the Pakistani designers collections should come to Indian soil too!