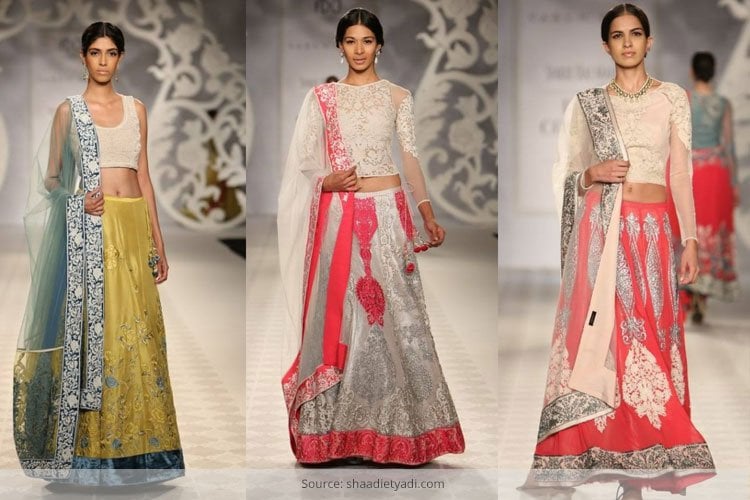 The headline might be a little misleading for you, after all crop tops are not essential bridal material now are they? Well, for those of you who love their crop tops, it is official that most crop tops have taken over the bridal market! They are everywhere and every modern bride is trying various styles and options for the best crop top and lehenga combo.
Crop-tops and lehengas are just like a blouse and a lehenga, the only difference being that unlike the blouse which usually is shaped in the form of a brassiere, the crop tops are of a more free form and are better than most conventional lehengas and cholis. Let's give you a cheat sheet on how to wear crop top lehengas based on your body type:
[Also Read: How to Wear Crop Tops!]
If You are the Voluptuous Types
Crop tops look gorgeous on any figure, but when you have a slightly voluptuous figure, you will have to choose a crop top which is sized right. For instance, to flatter your figure in a better way, wear crop tops which sit right at your navel. Also, invest in a good high-waist lehenga because that will actually camouflage your wobbly bits. Also, this combination will ensure that only a slim part of your body is visible and it creates an illusion that you are thin! Also, opt for lehengas that are made of materials like georgette and chiffon. These are flowy materials which also make you look thin.
If You Have a Very Athletic Figure
Since you are genetically blessed and have a toned midriff, so it would make it much easier for you to wear crop tops. You can easily wear crop tops which bare your tummy. In fact, if you have really toned abs, you can wear a low waist lehenga too. After all, if you have it, why not flaunt it? When it comes to choosing the right lehenga fabric, make sure that you choose something which is stiff and well-flared. This will accentuate your slim figure more. Raw silk would be the best material for a woman with such a figure.
[Also Read: Wedding Lehengas for the Pretty Brides]
For Someone With a Small Bust
Don't worry, we have you covered too! Even for women with a small bust, lehengas can look gorgeous. You should know the right way to wear the crop top and you are set for the day. To accentuate your figure more, wear something which has heavier embellishments on the top. The lehenga that you wear below should be light and should not have many designs. A plain lehenga is what would make your dress standout. Since you have a small bust, a high neck top would be best suited for your figure. But this will restrict you from wearing jewelry. But you can always wear some nice earrings and bling up your look.
[sc:mediad]
For Ladies with a Heavy Bust
Just like the rule for the women with the smaller bust, this is the complete opposite. You have to wear something which will not have heavier and embellished stuff on the top. This will accentuate your bust more and you certainly don't want to do that! Go for really lightweight fabrics and crop tops which have simple designs. You can actually opt for a heavier lehenga so that the attention is focused more on the lehenga than on your top. For the fabric too, you can choose something which does not really make your entire look too heavy. Go light on the fabrics too.
[Also Read: Fool-Proof Fashion Tips for Large Bust Women]
Let's look at crop top and lehenga styles.
1. Blush pink printed lehenga
2. Print crop shirt with printed full circle skirt
3. Grey embroidered crop top with matching lehenga
4. Off-white dye cut handwoven jacket lehenga
5. Pink and red floral sequins embroidered lehenga
[Also Read: Ethnic Outfits For Indian Wedding]
6. Sea green and gold floral sequins embroidered lehenga
There you go! Your complete list of crop tops to wear for your wedding and other functions.