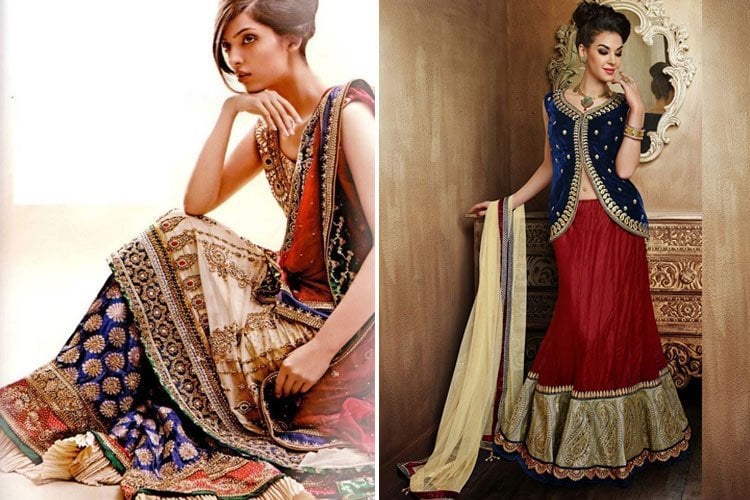 So, you are finally getting married, is it? That's great to hear! The preparations must be on full swing. What is your bridal costume going to be – saree or lehenga? It has to be lehenga looking at the way bridal fashion is on the upswing.
There are many questions that come to a would-be bride. What should be the colour of the lehenga? What should be its length? What should be the embellishments? What should be the fabric? And most importantly, is it budget-friendly? Gawd, they all seem to be valid questions. But first let us get a grab of the existing fashion designers behind wedding lehengas.
Big Names, Exorbitant Prices
Top notch designers in India will obviously command their price. Bridal lehengas from them will never come cheap, whether it is Ritu Kumar, JJ Vallaya or Manish Malhotra. An average bridal outfit from renowned labels such as these would come around 2-4 lacs, depending on the quality of workmanship.
Lesser known Designers
Their names may not be very popular but each city, for instance Delhi, Kolkata or Mumbai are known for their own breed of popular designers. Some of them designers work in their home based boutiques and some in proper shops in the fashion commercial hubs of the city. Though they might not be that well known but they are feasible enough when it comes to customising your bridal lehenga. The average bridal outfit from them falls in the range of Rs 70,000 – 80,000 and can even go up to 2 lacs.
Choosing a designer
Often brides-to-be chose a wedding lehenga that they have read of in bridal magazines. Chances are these might make a dent in their pocket. Remember, a brand name will always be overpriced, because of the name factor attached to it. So, keep discovering little known designers and showrooms. This way you can shop for great lehengas at half the price.
Watch the lehenga weight
If a budget wedding lehenga is on your mind, then pay attention to the weight of the lehenga. A 20 to 30 kg lehenga will cost you a fortune so avoid going for heavy pieces. Comfortable lehenga and its price should be top of your mind. In case your choli and lehenga are heavy, then go for a simple dupatta to offset the price.
Don't just get carried away by Design
Designer lehengas are expensive because of their embellishments such as Swarovski crystals, gold and silver thread and semi-precious stones. If budget is on your mind, try and go for a lehenga which looks good on you and falls in your budget. Thread embroidery and artificial stones can also be used to make your lehenga stand out and they fall in the affordable price tag.
[sc:mediad]
Setting a budget
When it comes to bridal lehenga shopping, one can get easily carried away by the fabric and the costume. It is important to have a budget fixed in your mind in the first place. There are designers that might charge you between Rs. 30,000 to few lakhs for a wedding lehenga. So, know the amount you are willing to spend before you end up breaking your wedding budget.
Affordability is Best
If budget is on your mind, then there are many places where you can shop for wedding lehngas that will not be extravagantly priced. Delhi has a couple of places such as Chandni Chowk, Shahpur Jat that offer you beautiful lehngas in comfortable price range. As for Mumbai, places like Colaba, Marine Lines, Kalbadevi, Kemps Corner, and Breach Candy offer mid-budget lehengas.
Things to keep in mind for budget lehenga shopping
Chandni Chowk in Delhi is known for its lanes and by lanes that only 1 to 2 persons can fit in the same time. Navigation can be a big problem while shopping in CC but not your pocket-friendly spirit. Ask anybody of the famous lehenga store in Chandni Chowk and you will not need a guide to tell you. You will automatically find the store.
Watch out for the lehenga agents who have been paid the commission to fetch customers. Never ask them for directions as they might take you to a different store you never intended to visit.
Bargaining works like anything in Chandni Chowk. This is one reason why the place is the standard for budget shopping of bridal lehengas.
You can ask for colour change in lehenga and its dupatta but don't ask the store to change the garment.
Most lehenga shops have small 'masterjis' who do a tuck here and there. There are bright chances you will find the same-to-same lehenga in Shop 1 and Shop 3. Keep roaming around the place and you will hit upon the right store when it comes to giving you the best lehenga at rock bottom price!
Look out for 'end of season' sale when it comes to bridal lehenga shopping. Some stores give discounts up to 60 per cent. This way, you could pick your dream lehenga at a steal.
Let's now look at some ideas for Indian Bridal Lehenga:
1. Off – White Lehenga
This pretty off- white net lehenga choli can be worn with gold jewellery on sangeet functions. Since it is light in colors, this would best suit summer and spring months.
2. Bhagalpuri Silk Lehenga Choli
A lehena choli with such deep hues, would look extremely pretty on an evening function like a traditional pre-wedding dinner. Fair skin tones will be able to flaunt this lehenga with most ease.
3. Red & Green Lehenga Choli
A velvet lehenga choli in bridal colors – red and green is a perfect idea for Indian bridal lehenga. Velvet lehengas can be worn for Winter Weddings.
4. Latest & Contemporary Wedding Lehenga Choli Design
A new design like this fusion bridal lehenga, can be worn for cocktail parties. Just make sure that you do not drape the dupatta completely. The blouse is the high-light in this bridal lehenga.
Now that you know things to look out for while buying budget wedding lehengas, go ahead and make an informed choice. It will benefit you in the long run. Happy shopping for purse-friendly lehengas!