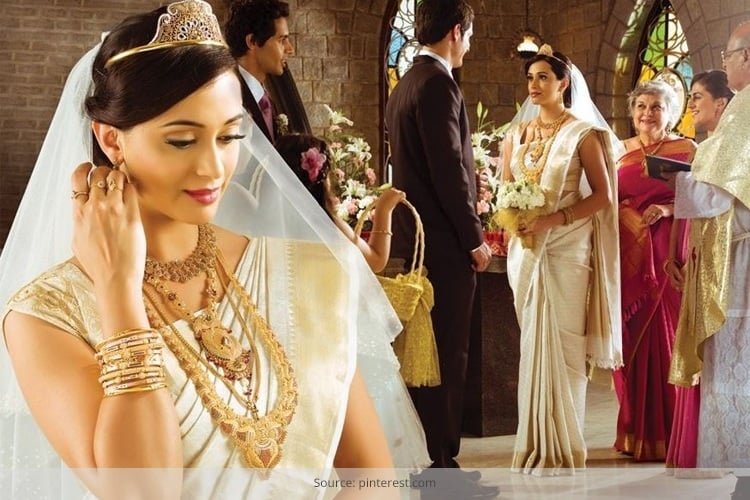 First Indian, then Christian, then Keralite. If these code words are running at the back of your mind as a would-be bride, then you have all the more reasons to rejoice when it comes to choosing Kerala Christian wedding sarees.
Here Are Some christian wedding sarees
While tying the knot, the tradition that Indian Christian brides follow is fascinating. White is the ethereal bridal colour so you will see a lot of white Christian wedding sarees, unlike North India where the bridal dress is a mix of stark pink, red, magenta and in-between.
As a matter of fact, christian wedding sarees add that unmistakeable elegance and grace to the bride. The fabrics, embellishments, and the styles further add to the beauty and glam quotient.
Though white Christian wedding sarees are the ultimate for any Kerala bride, the real magic unfolds when jasmine flowers (mullappoo) are adorned in hair accompanied with traditional jewellery.
[Also Read: Red Isn't The Only Color For Weddings]
At the end of the day, it is the simplicity of the saree that makes the Christian wedding saree collections look stunning as ever. While preparing for the D-day, you need to go to a trusted tailor or boutique in order to make the saree look piece de resistance. And don't forget the blouse in the wedding preparations as you can make it look regal with custom embroidery, sequin work and motifs.
What Makes Christian Wedding Sarees Popular
Two key elements that make Kerala Christian wedding sarees steal the show is textured silk (either raw silk or tussar) and zari.
Different shades of gold come into play in Christian wedding saree designs. Dull gold, as a matter of fact, is a winner. It makes a simple saree look outstanding with a matching embroidered blouse, jasmine flowers, and big gold earrings. Here are some of the trendiest kerala christian wedding sarees for your preview and selection.
[Also Read: Ethnic Outfits For Indian Wedding]
1. Gold Bridal Christian Wedding Sarees
[Also Read: Unique Wedding Dresses]
2. Yellow Silk Christian Bridal Saree
3. Off-White Silk Christian Wedding Saree Designs
[sc:mediad]
4. Silk Christian Wedding Saree Collections
Silver zari on a silk saree is a good option that can be considered. When you wear a silver zari, it gives you the chance to explore platinum or silver jewellery as a bridal accessory.
5. Bridal Hand-woven Tissue Silk Saree
That Aishwarya Rai Bachchan is an iconic beauty is no new story. But what makes her look enigmatic as ever is this cream coloured tissue silk saree designed by none other than Ritu Kumar.
[Also Read: Kanchipuram Bridal Sarees]
6. Tussar Silk Christian Wedding Saree Designs
Customisation Of Christian Wedding Saree Collections
Amidst all the attention that goes in selecting Kerala Christian wedding sarees, customizing a saree also needs to be looked into to get that stylish edge.
[Also Read: Bridal Lehenga For Reception]
To do that, buy a simple silk saree for yourself in gold or cream shades, and get custom embroidery or a lovely border stitched in at a fashion boutique. Consult your tailor too for those extra hidden tips before you buy white Christian wedding sarees.
So, whether it is a white, gold or cream hued bridal silk saree, Christian wedding saree designs truly make a fashion statement. Indulge in this pride and experience a whole new dimension in wedding.