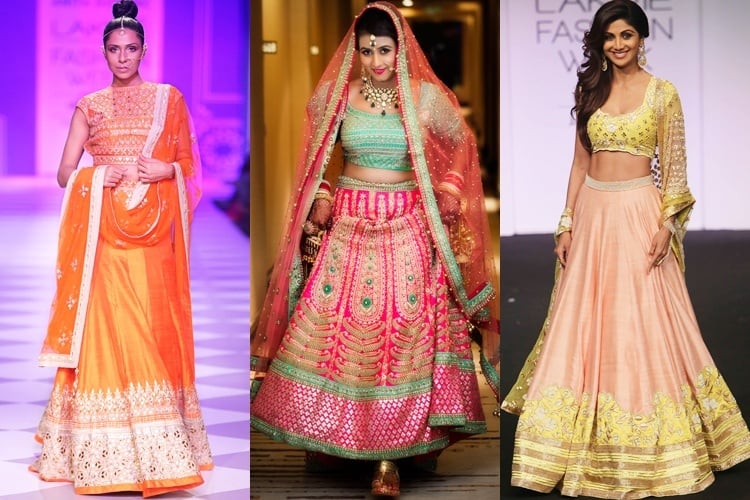 Most of you might have grown up seeing your aunts and cousin sisters dressed up in red and pink bridal lehngas on their wedding day. It's a trend that most of the unmarried girls even dream of today. After all, which bride would mind showcasing the intricate embroidery done on her pink-red-gold bridal lehenga for reception?
[Also Read: Sabyasachi Bridal Lehenga]
So there is nothing to complain when one sees Soha Ali Khan dressed up in Sanjay Garg's designed hot pink and gold lehenga, a creation from his Winter Festives 2014 collection.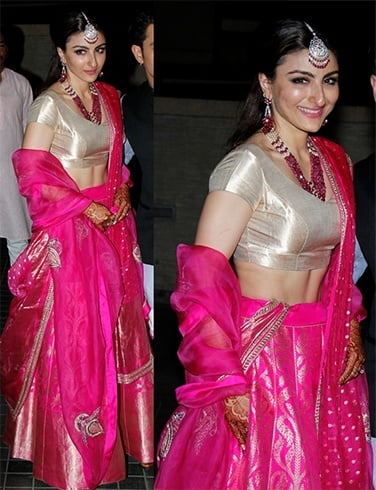 Winter Wedding Dresses
Only thing is how can one make a bride-to-be look truly stunning in wedding dresses for winter? Given the fact that tradition being the same, the colour code and preferences might vary?
Here are a few examples of winter wedding dresses that can make you exceptionally gorgeous and picture perfect when it comes to winter wedding outfits.
[Also Read: Wedding Color Palettes For Spring]
1. For all you Sonam Kapoor fans, this one is an absolute delight. There is no denying the regal beauty that she looks in this Abu Jani – Sandeep Khosla red and gold bridal lehenga that she wore at the Bridal Fashion Week. This heavy weight Indian bridal wedding lehenga speaks volumes when it comes to the cleanliness of the embroidery. Difficult it is to take one's eyes off this bridal masterpiece, won't you agree?
2. The next one coming up as bridal lehenga for reception is the one designed by Soumitra Mondal. Take a look at the red and pink bridal lehenga and you will know what simplicity designed in elegance is all about.
[Also Read: Bridal Lehenga]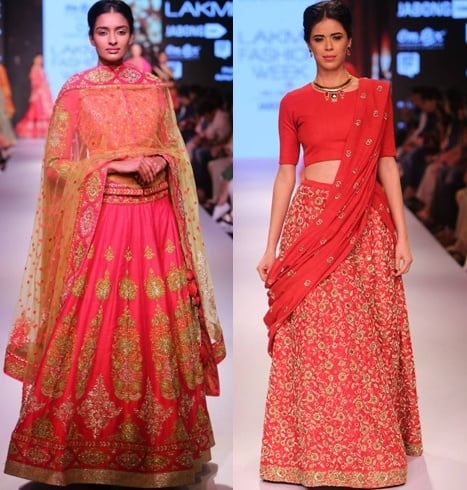 [sc:mediad]
3. We mentioned the word 'pink' at the start of the article. And that's one colour which will make each Indian bride blush with joy (as much as it would make each fashion designer blush with pride). Suneet Varma and Jyotsna Tiwari have tried out their mastery in pink, which is pretty laudable, what say?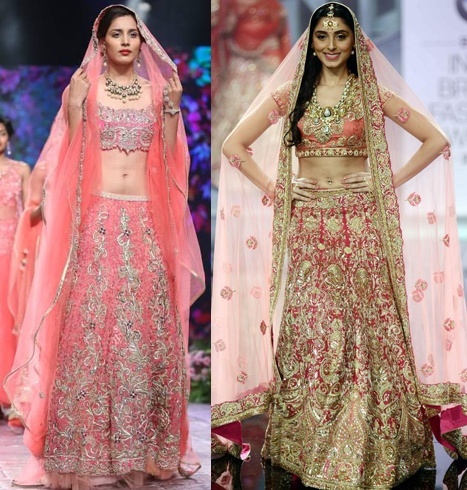 4. Talk about winter wedding outfits and there's no way one can miss out on two names that have made Indian bridal wedding lehenga a statement in itself – Ritu Kumar and Tarun Tahiliani. See for yourself their awesome designer creations that will take you to a new league when it comes to wedding dresses for winter.
[Also Read: Wedding Dresses]
While shopping for wedding dresses for winter, gold or silver isn't the only embroidery that is seen on bridal lehengas. Somewhere down the line there is a gorgeous white and pink too which is used to give an interesting flavour to dresses for a winter wedding.
The Colours Of The Winter Bride
Red
You know it's not without logic that red is the eternal colour of the Indian bride and that goes back to ages. Red is considered auspicious and attractive. So this has to be your first choice when it comes to dresses for a winter wedding.
[Also Read: Designer Floral Lehengas For Winter Weddings]
By all means, you can go bold and experiment with various contrasting shades such as gold, copper and off-white. And this applies to other bridal purchases you make whether it is jewellery, footwear, even designer clutch.
Gold
Golden lehengas have become equally sought after by the brides who want pure royalty for their wedding reception. Gold is incidentally one colour that looks good on Indian women of any complexion (as long as she's not a Negro). The other good thing about this colour is that it can be paired with kundan jewellery. So all in all, gold is bound to look irresistible as an option for winter wedding dresses.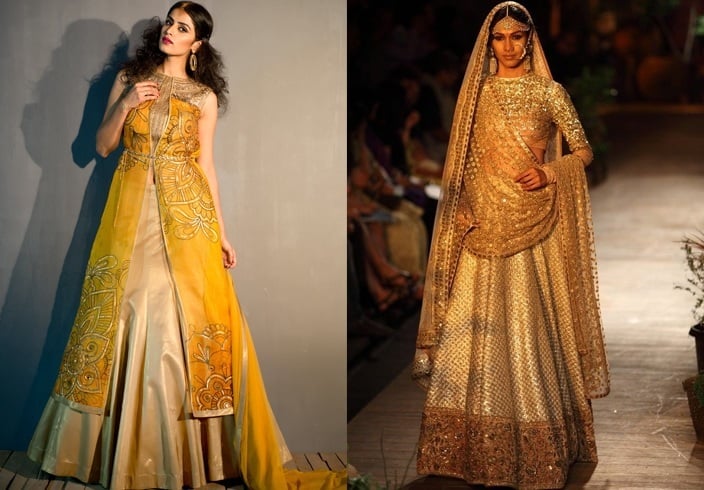 Neon
If experimentation is on your mind, then neon colours is the latest colour that's making a rage in Indian bridal wedding lehenga. Whenever you are going for neon, then choose a darker colour in the mix so as to tone down the look. Or else you will end up looking a light bulb.
Now that you have seen various permutations and combinations in bridal lehenga for reception, go ahead and try them out. Wouldn't you want your Indian bridal wedding lehenga to become the cover story of a fashion glossy or for that matter on Fashionlady?