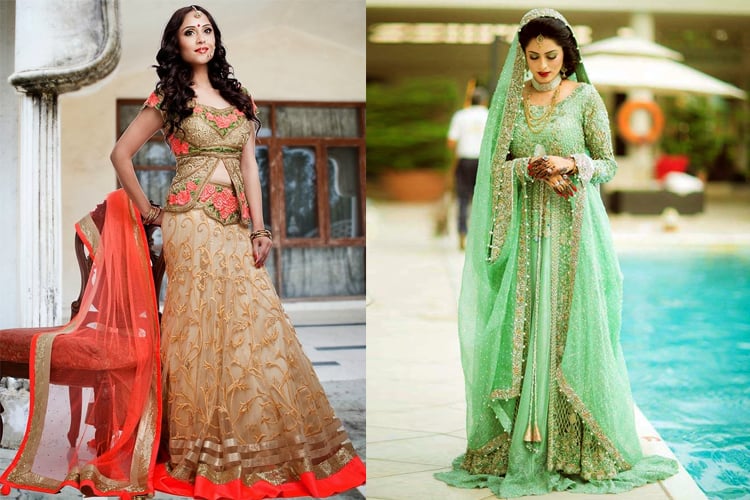 Too much noise and excitement is brewing in the air. Do I see frowned faces? Chill yaar, wedding season is in full swing. So you will get to see bold and stunning colours, glorious shaadi attire and heavy jewelry increasing the decibels.
This is a wonderful choice for brides-to-be to find themselves spoiled for choice when it comes to hunting for lehenga colors for wedding.
Needless to say, on your D-day, you want to look beautiful and elegant. And red becomes the obvious choice. But dear, the only way to look different from other brides is to break the convention of wearing a red lehenga. There are many Bridal Lehenga Colors other than red that will surely help you realise your dreams.
[ Also Read: Best Bridal Lehengas: Feast for Your Eyes ]
It's time to spice up things at your wedding and make a statement with the great new colours showcased by fashion designers. Since rules are meant to be broken, let's check out how.
Sequined Champagne Lehenga
For a bride, there are various ways of looking gold – the obvious choice being jewellery. But this latest bridal lehengas shows how you can strike a golden touch in a sequined champagne lehenga. By jove, this one is a rich lehenga colors for wedding.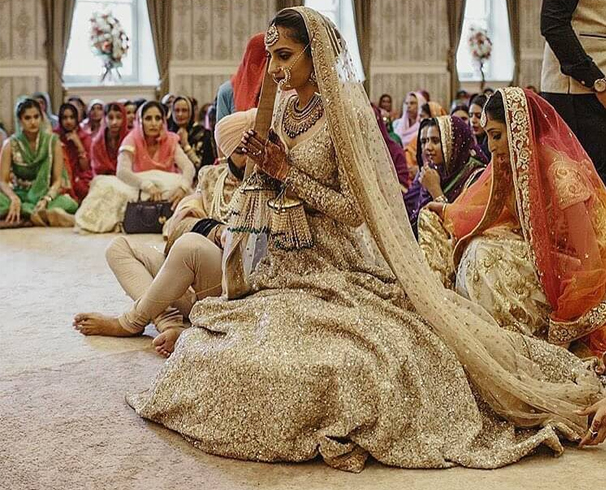 Faded Champagne Lehenga
To each her taste as they say. There is also a section of brides who prefers light and faded bridal dresses when it comes to colorful lehenga. So when you decide to go for a faded champagne lehenga, you can always wear bright jewellery to bring in a dash of colour.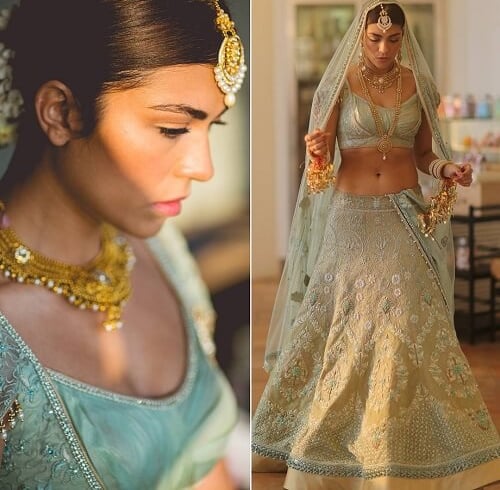 Purple Lehenga
Purple colour my dear is not reserved for the young teens, it is very much a Bridal Lehenga Colors that signifies royalty and makes you look a princess in purple.
[ Also Read: Crop Top Bridal Lehenga Saree Styles ]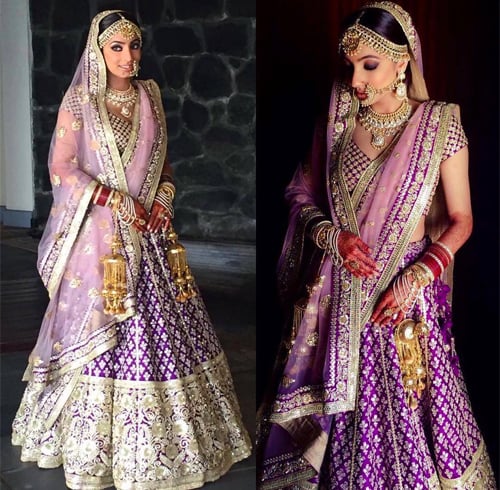 Colourful Lehenga
Not always is red the most colourful colour on the wedding horizon. You can always go in for a colour blitzkrieg by adding more colours in order to get a true blue colorful lehenga.
[sc:mediad]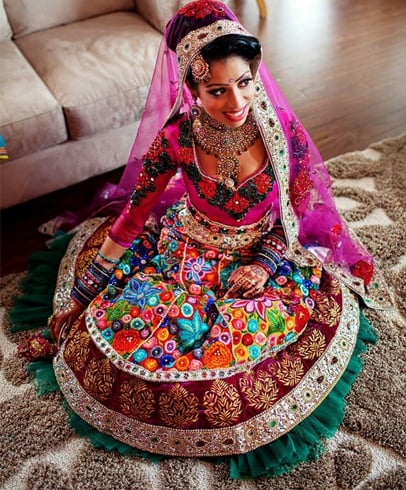 White Lehenga
Looking good is the need, but in order to look sensationally different on your wedding day, you need to find ways and means. White is the Gen Next lehenga colors for wedding which won't disappoint you, provided how you carry it.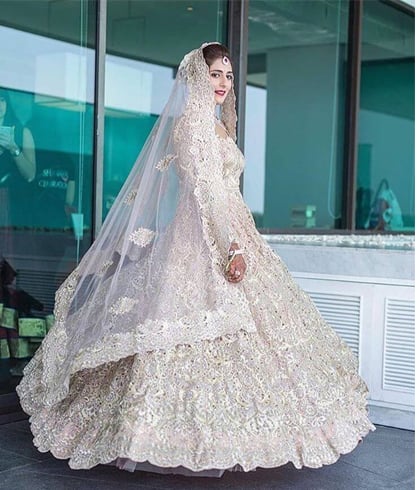 Peach Lehenga
Peach is a Bridal Lehenga Colors that gels with the Indian skin tone. Go wear peach lehenga colors for wedding and complement it with floral jewellery in order to get a delicate and dainty look.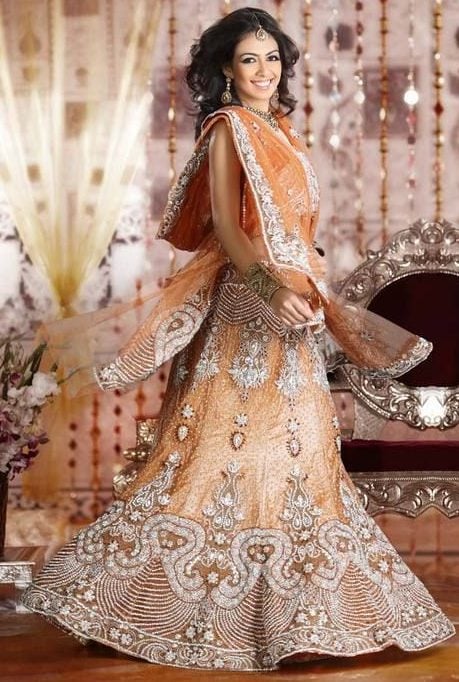 Mint Lehenga
Mint is the classiest lehenga colors for wedding that will place you in a different and admirable league. See the beauty of this mint-colored lehenga with golden work on it and the peplum choli. Too hot to resist na!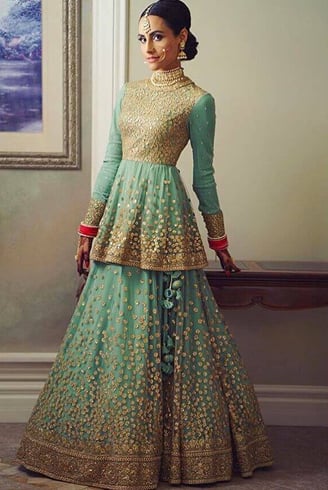 Orange Lehenga
Can't say whether orange is the sister cousin of red, but it is surely the lehenga colors for wedding. When you get good embroidery done on it, then you further increase its mesmerising appeal.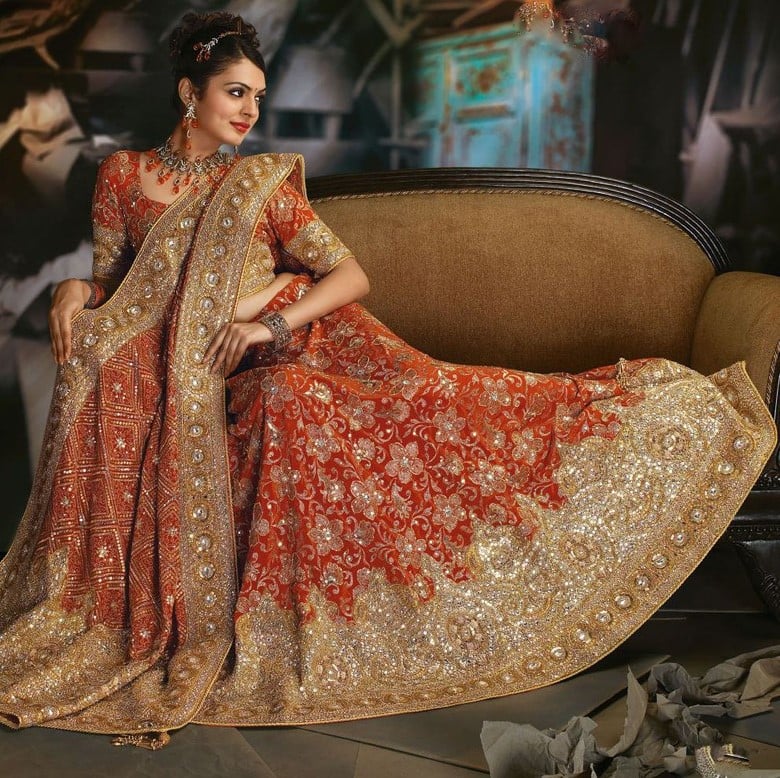 Pink Lehenga
Pink is always a lovely and feminine colour and latest bridal lehengas which gives you the benefit of color and elegance both.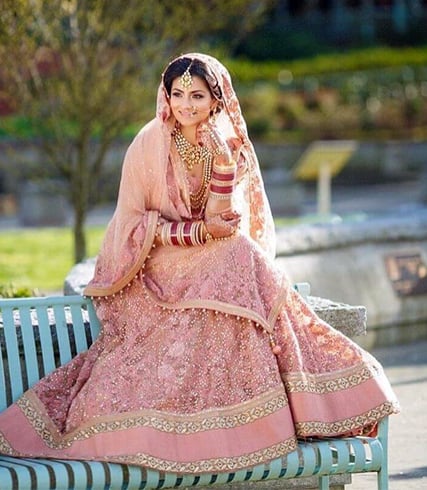 Subtle Pink Lehenga
Add some bling to your already pink colorful lehenga by going in for a subtle pink. Shades of brilliance it is!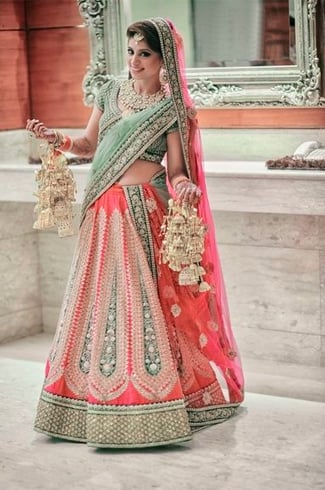 Power Pink Lehenga
Indulge in the powerful pink on your D-day. It gets you all the charm and elegance you had dreamt of before tying the knot.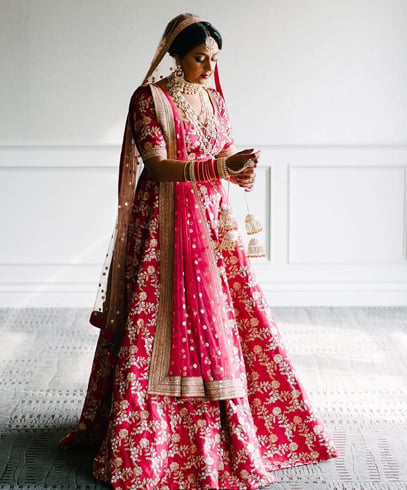 So which Bridal Lehenga Colors pleased you the most? And there was no traditional red mind you! Drop in your comments and tell us the colorful lehenga you are going to go for out of the ones shown. You are surely going to have some fun with colours besides red at your wedding.
Images Source: pinterest.com