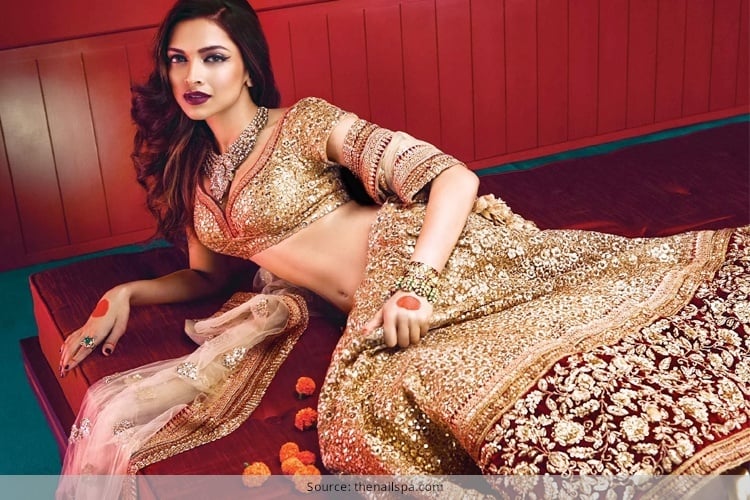 For a bride to look gorgeous on her wedding day is not a tough task. It just needs the right amount of grooming, jewellery and wedding attire, but most of all Sabyasachi bridal lehenga to look the stunning bride one reads in magazines.
[Also Read: Bollywood Actressess in Sabyasachi Sarees]
Sabyasachi Bridal Collection
There are so many examples of Bollywood celebs who have been fans of Sabyasachi bridal collection that one would lose count of. The latest is the preggie Rani Mukherji who chose to wore a Sabyasachi lehnga on her wedding day. So much so that this famous Indian fashion designer not only attended Rani's wedding, but also made it a point to style her personally for this occasion.
But Rani Mukherji is not the only loyalist of Sabya's creations. Leading Bollywood ladies Sridevi and Vidya Balan share equal love when it comes to wearing this Kolkata-born designer's collection. For many brides-to-be, Sabyasachi is the dream couturier who has excelled in the field of bridal fashion with passing years.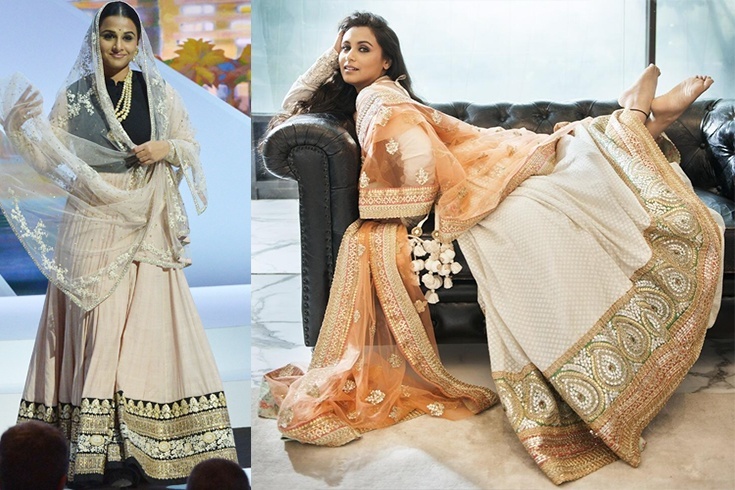 Wedding Lehengas Of Sabyasachi
What is so special about Sabyasachi bridal wear? Two words depict his bridal lehenga collection whole-heartedly and they are ethnicity and tradition. This reflects in his fabrics, cuts, textures and designs, which is extremely important for the survival in the fashion business.
Shimmering embellishments, understated colours and rich embroidery are the toppings in sabyasachi bridal lehenga. Like to know more about what makes Sabya's bridal collection tick? Well, it's the amalgamation of colours such as black, gold and red that make his bridal couture stand out in royalty, elegance and sophistication.
[Also Read: Lehenga]
One can safely say that Sabya's bridal portfolio is all about a diverse colour palette. When it comes to his fabrics, you will see velvets to Benarasi silks in good measure.
[sc:mediad]
Red is the color of the bride. These three Sabyasachi bridal lehengas are sure to take your breath away!
All that glitters is gold' is an old adage. The new adage is – all the glitters and shimmers is a designer lehenga by Sabyasachi
The newly married Bipasha Basu looked ethereal in her designer bridal lehenga by Sabyasachi.
Another lady who completely rocked her wedding lehenga designed by Sabyasachi was Bollywood actress Asin.
Who says that the Sabyasachi wedding collection is only for the brides. This elegant pink saree is perfect for the mother of the bride.
Winter Bridal Lehengas Of Sabyasachi
Winters have almost arrived. And that is one good reason to wear designer bridal lehengas by Sabyasachi when it comes to winter weddings.
Check out this gold embellished jacket lehnga worn by Karisma Kapoor, yet another hallmark in Sabyasachi bridal wear that looks great for wedding reception.
[Also Read: How To Wear Lehenga To Look Slim]
This peachy orange lehenga is such a break from the traditional red lehengas that we see Indian brides wearing.
This red and green bridal lehenga teamed up with gold embellishments makes Genelia such a rocking bride. Yet another piece in the repertoire of bridal lehenga designs by Sabyasachi.
[Also Read: Sabyasachi Mukherjee's Bridal Collection]
When it comes to mehndi function, this white and gold lehenga from Sabya's collection won't disappoint you. And it's a promise!
For smaller bridal ceremonies such as sangeet or engagement, this coral pink bridal lehenga just fits the bill. The pearl work done on it makes it look further gorgeous.
We cannot decide whether we love the stunning Kareena Kapoor Khan or the stunning royal blue Sabyasachi lehenga.
This gorgeous lehenga proves that Sabyasachi designs always cater to the current trends.
Sabyasachi bridal collection is an epitome of royalty and you can live your dream of becoming a princess on your special day with exquisite bridal lehenga.
This Sabyasachi bridal lehenga is what dreams are made up of. We just can't take our eyes off this amazing creation and we guarantee you that your guests won't be able to do so too!
Like we said earlier, Sabyasachi collection is not just for the brides. Here is what you need to wear at your bestie's sangeet party. Time to burn that dance floor.
This Sabyasachi lehenga would be the perfect choice to stun your hubby and guests alike, at your reception party.
If the traditional red and maroon is not your cup of tea, then this ensemble from the Sabyasachi bridal collection would match all your expectations.
Want to be the talk of the town and don't mind being the bold bride? If your answer is yes, then we are sure it's a yes from you on this beautiful Sabyasachi bridal lehenga.
Feast your eyes on these ensembles from the latest Sabyasachi bridal collection.
[Also Read: Lehenga Sarees Blouse Designs]
The Journey Of Sabyasachi
The career graph of each fashion designer is not a smooth cakewalk. A lot of grinding and dedication comes into the forefront which makes the designer more seasoned and mature.
Sabya has a similar story. In the year 1999, Sabya graduated from the NIFT not just with the degree but three awards.
Thereafter it took him all of four months to start designing his clothing label in close partnership with three people. Having grasped the Indian fashion nuances and customer preferences, success was not far. Today, Sabya is a name to reckon with on the global map with several NRI clients lapping up his ordinary to bridal creations with great love and fanfare.
As years passed, Sabya came to be in the fashion limelight not just with his designer creations but also with several awards. In 2001, he won the Femina British Council's most outstanding young Designer of India award. This took him to London, the world's fashion capital, where he got the awesome internship opportunity with Salisbury-based designer Georgina Von Etzdorf.
It is after returning to India that Sabya got into retailing in some of India's leading and premium fashion stores.
In the year 2002, Sabya showcased his debut collection at the India Fashion Week (IFW) to rocking reviews from national and international audience.
[Also Read: Sabyasachi's 70's Inspired Lehengas]
Now that you have seen a glimpse of sabyasachi bridal lehenga, get it done to your measurements if you are a bride-to-be. Won't you want to look regal, exotic and traditional at the same time on your D-day?
Don't forget to tell us which of the bridal lehenga designs by sabyasachi are your all-time favourite.