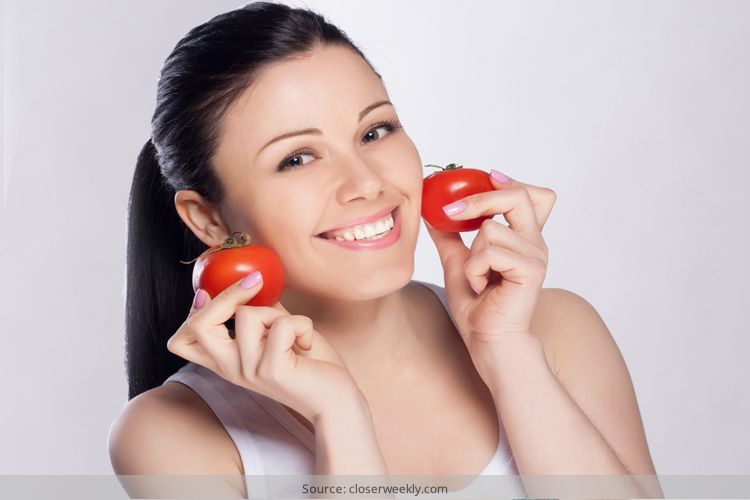 If you've grown up in an Indian household, you should be well aware of the presence of tomato in your everyday lives. Time and again you have been reminded of the benefits of tomatoes by your mothers and grandmothers. Tomatoes are used for a myriad of purposes in the Indian kitchen. Tomato is considered both, a fruit and a vegetable and can used in making a wide variety of snacks, vegetarian as well as non-vegetarian dishes. It is used in all types of cuisines around the world, in pizzas, sandwiches and cocktails too.
Top Beauty Benefits Of Tomato
Being a rich source of Vit A, Vit K, Vitamins B1, B2, B3, B5 and B6, with minerals like magnesium, phosphorous and iron, it has been scientifically proven to have wide array of beauty and health benefits. These nutritional benefits ensure that tomatoes belonging to the nightshade family of vegetables can beneficial for Skin and Hair both.
Skin Benefits Of Tomatoes
Benefits of tomatoes for the skin include the following:
Treat Open Pores
Tomato can be used in a variety of ways to enhance your beauty. For treating pores, just add four drops of tomato juice to 1 tbps of water and apply it on your face using a cotton ball. Gently massage this into your skin and leave it on for 15 minutes to dry. Wash it off with water. Regular use of this juice mixture will shrink the pore sizes on your face.
[sc:mediad]
Glowing Skin
Tomatoes are not just good for keeping up with a healthy diet but also works wonders on the skin. Just portion your tomato in two halves, take the skin off and smash it a little bit before applying in onto your skin. This revives the natural glow of your skin and leaves you with healthy looking skin. The high amount of Vitamin C is known to brighten skin.
Prevent Signs Of Aging
The high content of Vit C in tomatoes enables the skin to absorb oxygen and the antioxidants get rid of the free radicals and therefore prevent the signs of aging. It is one of best examples of the multiple benefits of tomato juice for skin as it provides an amazing natural skin treatment which makes the skin look younger and healthier with minimal effort. Just juice some tomatoes and apply it on a daily basis and you're pretty much good to go.
A Natural Sunscreen
Tomatoes naturally contain an antioxidant called lycopene which is known to act as a great natural sunscreen. So next time you need some skin protection from harsh UV rays go and get yourself some tomatoes.
A Stress Reliever
You might be thinking, what has stress to do with beautiful skin? But, if you don't feel good you don't look beautiful. Tomato extract can be used in a variety body massage oils to combat any visible sign of stress on the skin. Tomato extract can also be used in eye creams, which leaves eyes looking fresh and revitalized.
Perfect Astringent
The astringent properties of tomatoes make it an excellent choice for all skin types. A pack made from mashed tomatoes soothes the skin and cleanses it well to give you a radiant complexion. Tomatoes contain natural astringent properties which provide an antiseptic and a moisturizing effect to the skin.
Clear Skin
When your mom contested Tomato for clear skin day in and day out, she really had some hard facts behind it. Tomatoes contain properties that help achieve smooth and glowing skin in no time. It is also known to remove dead skin cells and leave you with beautiful clear skin. Tomato cools the skin to make the skin soft and supple.
Benefits Of Tomatoes for Hair
Some of the benefits of tomatoes for your hair are given below:
Hair Loss Remedy
Tomato nutrition along its stimulants for healthy hair is considered to be an excellent remedy for hair loss. The application of tomato pulp on the scalp can help prevent hair loss. Tomatoes are known to contain a certain protein for hair growth that induces natural hair growth.
Natural Conditioners
Tomatoes are amazing natural conditioners that come in straight from your kitchen. It provides natural shine to the hair and makes it soft and manageable. Just take a few drops of tomato oil and apply it on to your hair. This should act like a leave-in conditioner and keep your hair manageable and frizz free. Tomato juice application leaves your hair super smooth and shiny as it contains pretty high amounts of protein in it.
To Remove Odors
Tomato juice acts as a soaking agent for your hair to remove odors. Apply freshly juiced tomato on the scalp and massage in to your hair and leave it for 30 minutes and then wash it off when dried.
Now, that you are aware of the benefits of tomatoes, 'never underestimate the power of the common tomato' ever again.