We Indian women have a myriad range of ethnic options to choose from, to wear. From our weddings to our besties bash and more, we are spoilt and pampered for choice.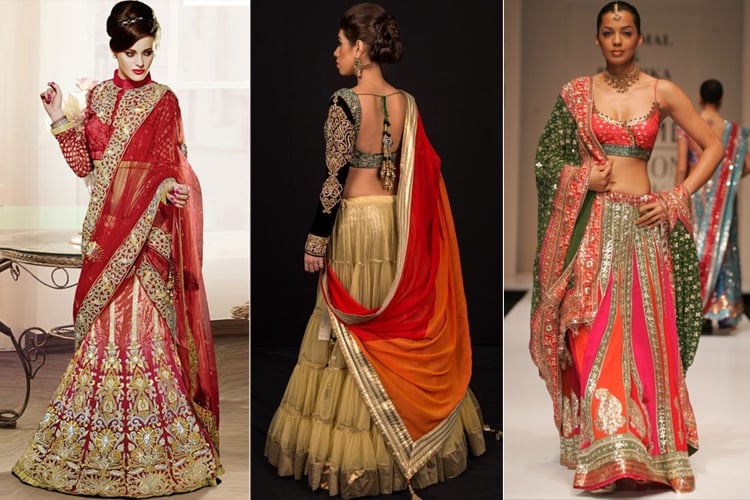 Now with that being said and if you have zeroed in on the lehenga choli look, you better keep yourself curvy and in shape. But sometimes, no matter how hard you try, the look doesn't come as what you see in the magazines or find elsewhere. This is because you aren't wearing the lehenga right.
[Also Read:Bridal Lehenga For Reception]
Learn How To Drape Lehenga To Look Slim
It is not only about learning how to wear lehenga to look slim, but also about how to drape lehenga. In this day and age, if the saree can be draped a million ways to make it look modern and chic, or to make the plus sized beauty look slimmer, so can be the ways on how to wear lehenga to look slim.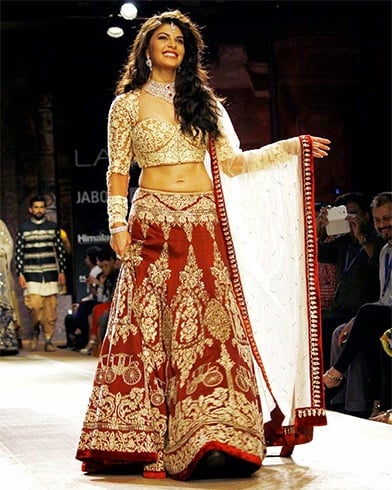 1. Choose Easy To Wear Fabrics
When shopping for lehengas, look for fabrics that do not stick to the body. For example, you don't want to buy fabrics such as satin and lycra that can stick to you. These are fabrics that wouldn't make you look slim. Look for brocade, tussar, cotton and chanderi fabrics.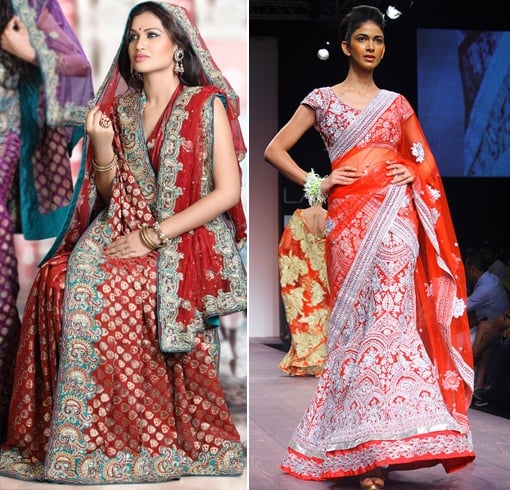 2. High Waisted Lehenga
The empire lehenga or the high waist lehenga would be an ideal choice to camouflage the stomach that bulges. You may add a slim kamarbandh or a chic chunky belt with the same, so that the navel is camouflaged and the crop top stops at the slimmest area just beneath your bust line. This would be an ideal way to understand Ways to Drape Lehenga Dupatta and play with different ways to drape lehenga choli before the final day comes by.
[sc:mediad]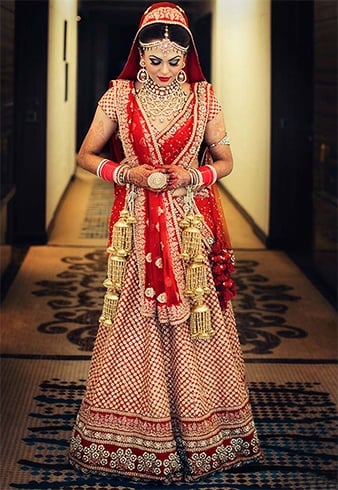 3. Embellishments Matter
You have to choose the embellishments you want to see on your lehenga, which is why you have got to be due diligent for the same. Keep the karigari on the borders and the ensemble light. This is important or else the embellishments used in too much excess would make the lehenga look heavy and your body, heavier. Too many embellishments makes the body look heavy volume wise, which is exactly what you don't want. You would then know how to drape lehenga voni style too.
[Also Read: How to Wear Saree to Look Slim]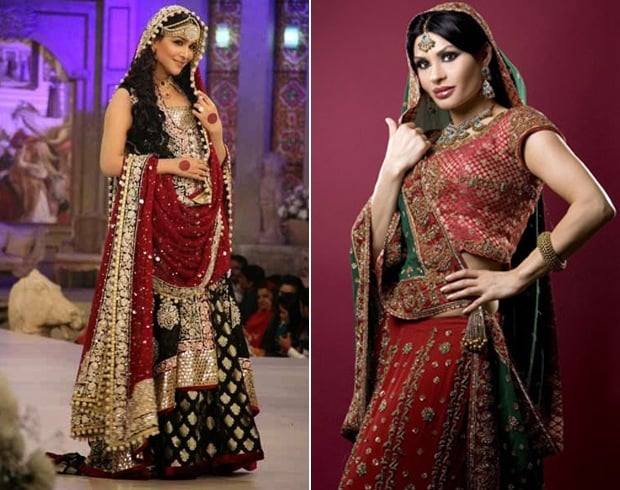 4. For The Sleeves
Since your arms aren't slim or athletic toned, you would need three quarter sleeves or semi sheer sleeves to wear on the blouse of the lehenga choli. But ensure that the sleeves are tight fitted and in georgette or net only, all the way till the elbow which brings around an elegant touch. Bulky fabrics makes the body look bulkier! This would also give you an idea on how to drape lehenga according to the sleeve cut as well.
[Also Read: Fish Cut Lehenga]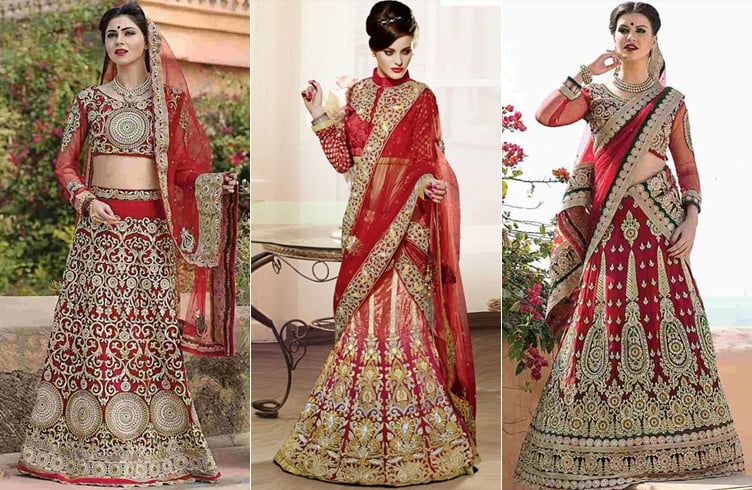 5. Solid Dark Hues Are Your Best Friend
You may go ahead with vibrant colors on a subtle note, but not the whole look. Plus sized women need to create an illusion of slimness, which is why whites, greens, blues, yellows and baby pinks aren't feasible to wear. What you should stick to are, dark solid hues on the problem areas- the bust line, the stomach and the hips especially. Lighter colors make the body look flabbier than what it is and more prominent too.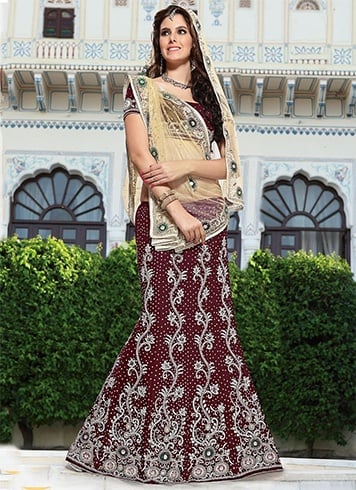 6. Panelled Style
If you want to know how to wear lehenga to look slim, then you need what styles would suit you the best. The cut of the lehenga is very important and in order to look slim, we suggest you opt for panelled lehenga or kali-wala lehenga.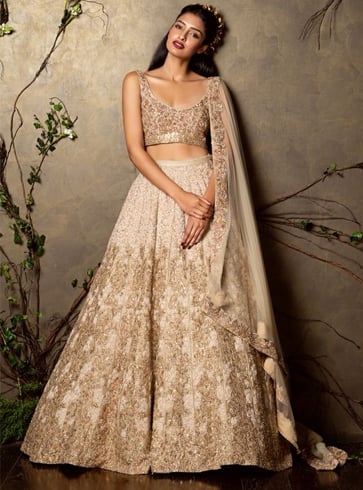 7. Long Patterns
After selecting the style, your next tip on how to look slim in lehenga is to select long patterns. If your blouse or lehenga has long patterns, visually it would make you look slim.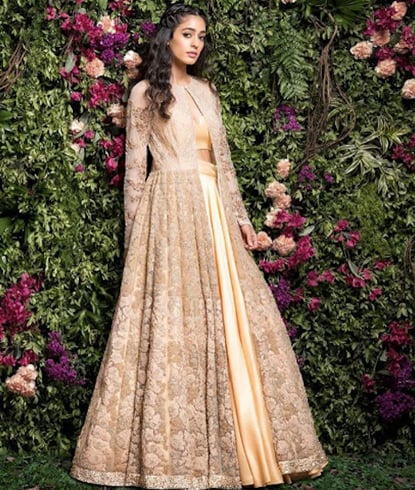 8. Small Or Big Motifs?
We are sure that by now you know how to drape lehenga saree. But did you know that using smaller motifs instead of bigger motifs can make you look slim?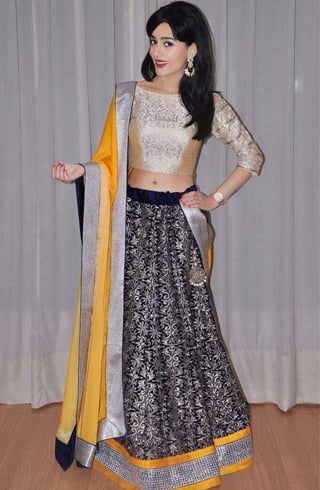 9. Right Accessories
The right accessories can also help you in looking slim in a lehenga. The one rule that you need to remember and follow is to avoid wearing chokers as they can make you look more heavier. Try and wear long necklaces or layered necklaces.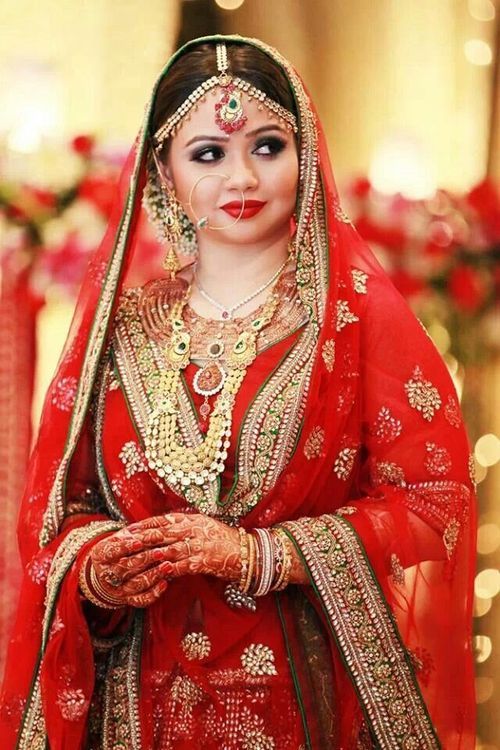 10. Choosing The Can-Can
Wearing a can-can under your lehenga is given. But if the amount of can-can used is not right, then you can say goodbye to your dream of looking slim in a lehenga. If the amount of can-can is more, it will make you look more bulkier.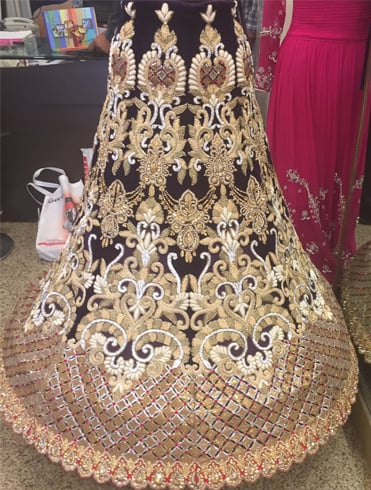 With these tips and tricks on how to look slim in lehenga and how to hide tummy in lehenga, we hope you gain the confidence to wear your favorite lehenga with grace and elegance.
Finally, get your face contoured (refer to our previous posts on bridal make up and how to contour the face the right way) and remember to pick the right footwear too. Pumps, heels and open toed peeps are best options to wear with your lehenga choli, since they create an illusion of slimness and accentuate your height too. However, if you are tall, you can wear chunky mojaris, khussas, kolhapuris or even gladiator Laceups under the lehenga for your feet! We hope you understood how to wear lehenga dupatta in different styles and according to your body frame?
Images Source: pinterest.com