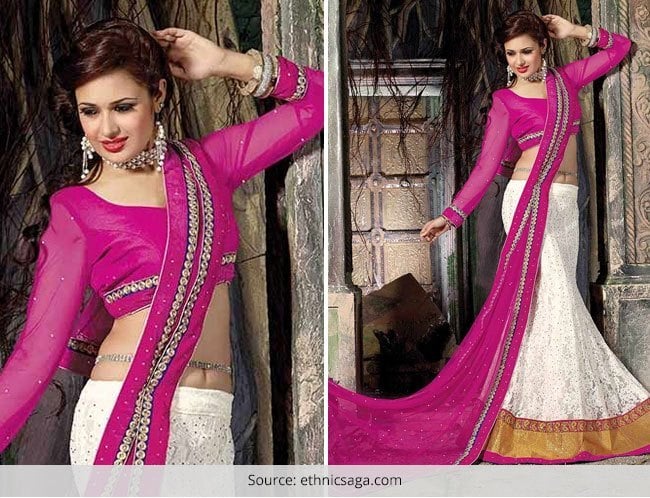 Planning to go shopping for Diwali? How about buying a fish cut lehenga instead of a saree or a regular lehenga? True to its name, a fish cut lehenga has a distinctive fishtail shape to it, with the ends flaring out like fins. It is very flattering for all body types, giving an illusion of a taller and leaner frame.
When you wear a fish cut lehenga, it gives you a beautiful silhouette, almost mermaid-like in shape. It accentuates the curves of your hips, makes your legs look long and flares out at the end to create a visual treat of the perfect feminine posture. It is no wonder then that fish cut lehengas are quite crazy amongst young girls and women alike.
So what should you look out for when buying a fish cut lehenga choli?
The Flare
While the flare at the ends is what gives the fish cut lehenga a unique look in latest lehenga designs, make sure the flare is the right amount to flatter your figure. If you are short and a little heavy on the hips, then too much flare will just make you look even more short and stout. The flare should start at your knees, anywhere higher than that is just a recipe for disaster.
The Fit
Make sure the lehenga fits you perfectly. If it is loose in places, get an experienced tailor to alter it to fit you like second skin. There is nothing quite as unappealing as an ill-fitting fish cut lehenga. If your lehenga is loose, it will make you look flabby and out of shape, and that is a nightmare no woman should go through. So always nick and tuck your lehenga to make it accentuate your curves.
The Material
Another important factor that many people overlook is the material. The lehengas material also affects how well it drapes over your body and how flattering it looks. Heavily worked lehengas need to be handled with care and they may slack with the weight. So make sure they are well-stitched and the cloth used can handle the weight of the stones and chumkis that are used. Avoid satin lehengas as satin tends to lose its shape after a while and also frays easily.
[sc:mediad]
The Quality
Check if the lehenga has been stitched with care. If it's a heavy worked lehenga, check to see if there is an inner lining of cloth to protect the thread work from getting damaged. The problem with lehengas that are cheap is that they more often than not do not have details such as a second stitching to keep the stitches from fraying, carefully done stitches that are not too visible and jarring, and good quality thread and embellishments used to make sure the designs last for many years. So the quality of the lehenga is very important, and more so for a fish cut lehenga as it is very crucial for the lehenga to be impeccable to achieve the desired effect.
Here are some exquisite fish cut lehenga cholis available from online retailers.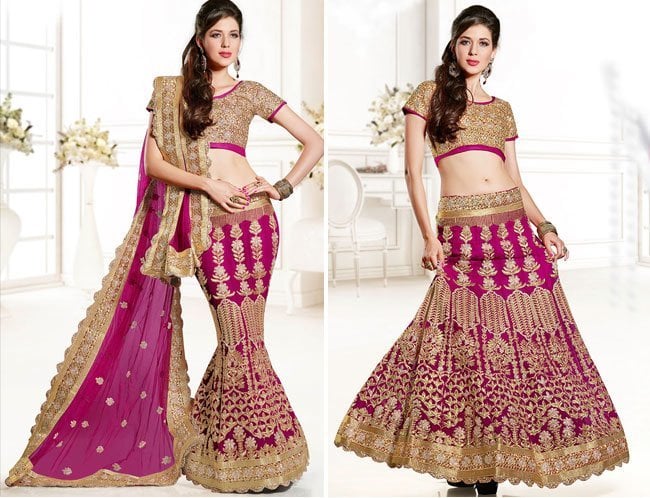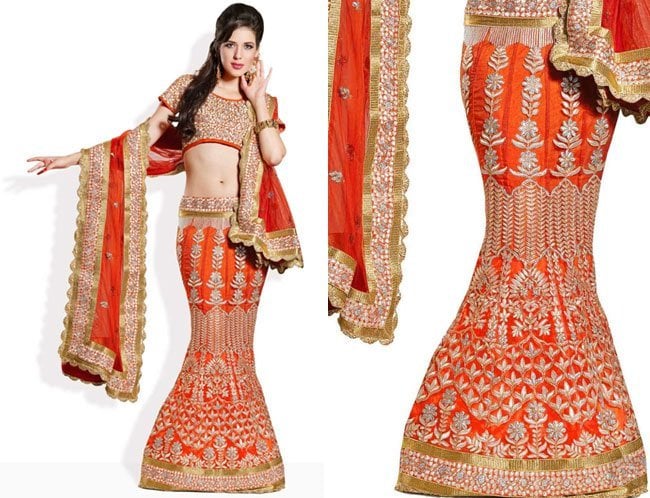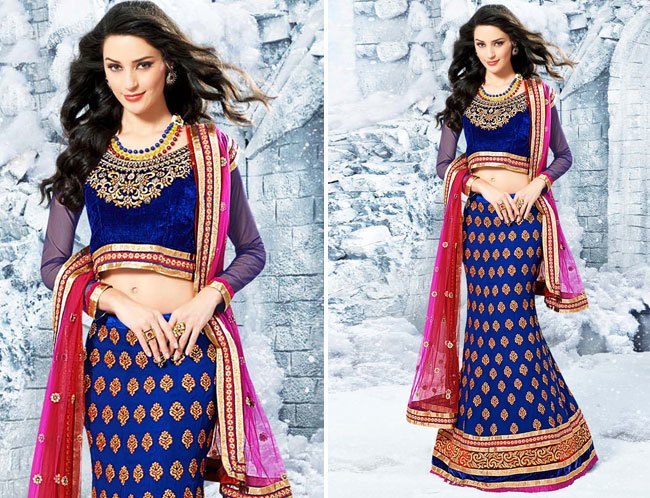 A yellow fish cut lehenga made with net and ruffles would look beautiful. Add a contrast color like red to enhance the outfit.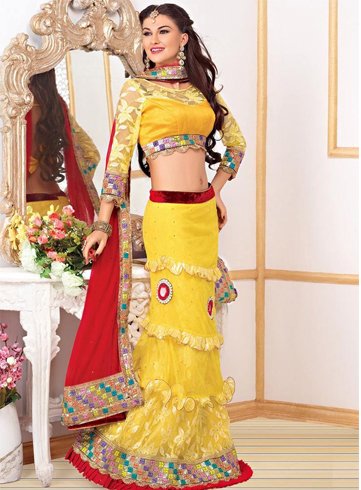 The below fish cut lehenga design is made with Bhagalpuri Silk. This color combination of blue and pink is one of the finest combinations.
Not everybody can carry off a fish cut lehenga pattern with grace and elegance. So make sure that you are comfortable and only the opt for this style.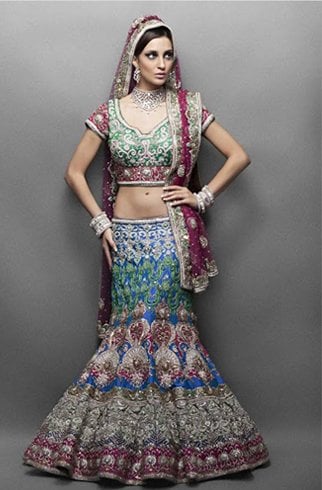 There are different ways to wear a fish cut lehenga style. You can bring about variations by draping the dupatta in different styles.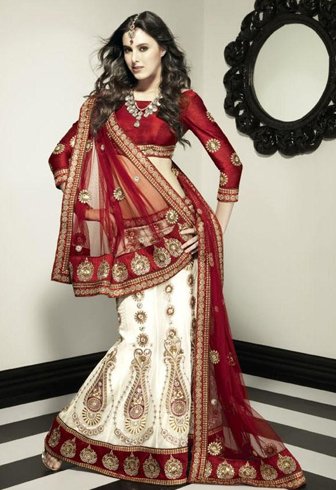 Nowadays you can find a lot of designer fish cut lehenga for girls. Whether you are looking for a simple style or something grand like the below one, there is a perfect fish net lehenga for every girl.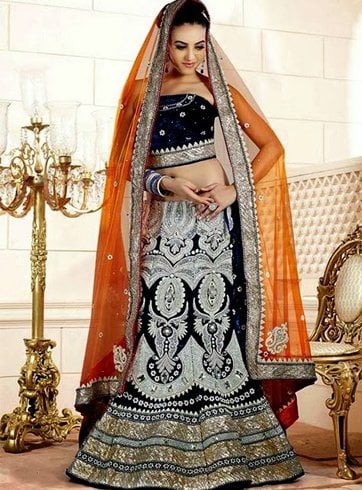 You don't have to limit your choices to just party wear. Bridal fish net lehengas are also gaining popularity. Take a look at some of the fish cut bridal lehenga designs below.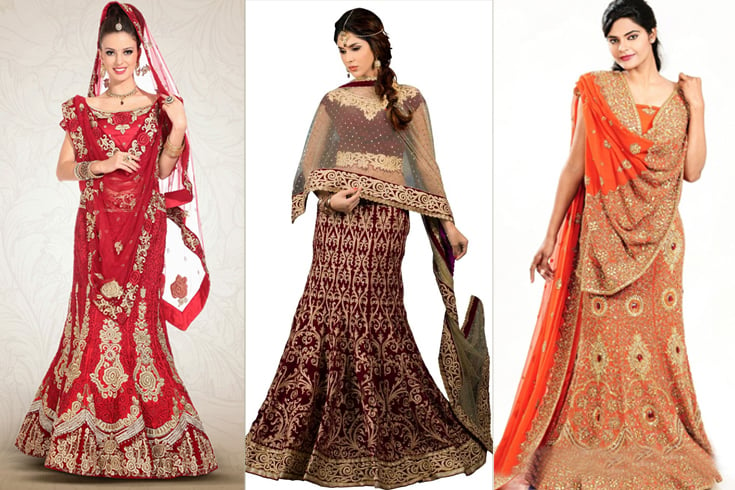 If you are not too fond of wearing a lehenga choli in fish cut, then you could try fish cut lehenga saree.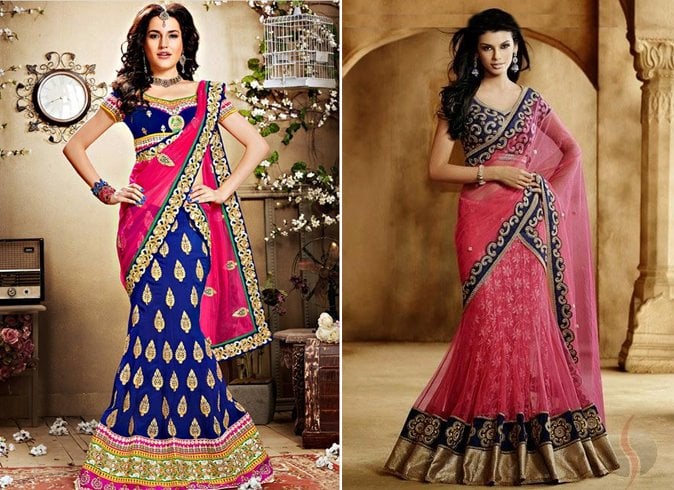 Images Source: pinterest.com