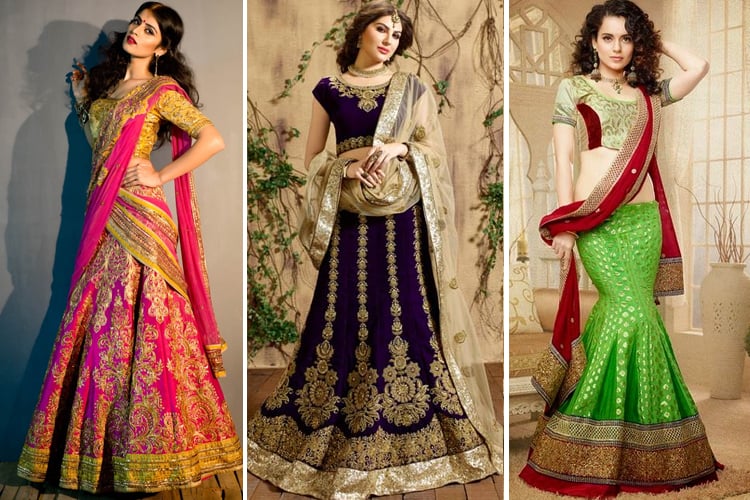 Year after year we celebrate Diwali with much enthusiasm and fun. We look for the latest clothes, latest designer collection outfits, latest anarkali suits, designer sarees, lavish and beautiful lehenga choli designs and so on. We are back again this Diwali 2014 to bring you the latest and most trendy new designs in lehengas.
With festive season winding up with Diwai, it's time to put your best fashion step forward. This Diwali, not only blow the fireworks but blow everyone with your spell binding festive outfit. Since the festive demands you to opt for ethnic wear; it's time to flaunt your vibrant and beautiful demeanour. Even though your wardrobe might be stockpiled with an array of collections, this is the best time to loose bit of your wallet with the festive sales already in the air.
If lehenga is your ethnic choice this year then we have compiled some of our best collections to help fashionista maintain their high-end fashion quotient, whilst fashion enthusiast can surprise their families and friends with their smart purchasing this Diwali. Do have a look!
No matter whatever your choice of color is whether it's red, white or blue, our outstanding designs will just provoke you to immediately forget your favorite shade and grab on the piece to add a glamorous feather to your cherished wardrobe.
[Also Read: Designer Sarees]
Your wardrobe tells it all; your interest towards fashion and taste of course. We offer you some breath-taking latest snapdeal lehenga designs, which can surely make you proud of your wardrobe.
Festive lehenga designs with beautiful colour combinations is what we offer to you this Diwali season from Sanpdeal, Flipkart and Jabong.
Pink Net Embroidered Lehenga Choli
To Buy Click Here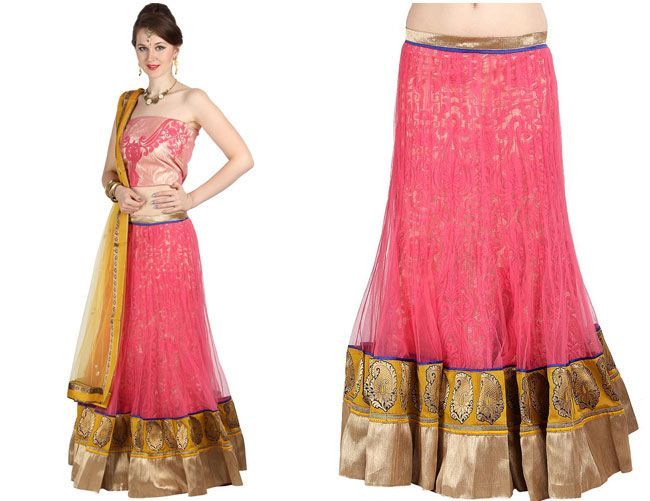 Beige Banarasi Lehenga Choli
To Buy Click Here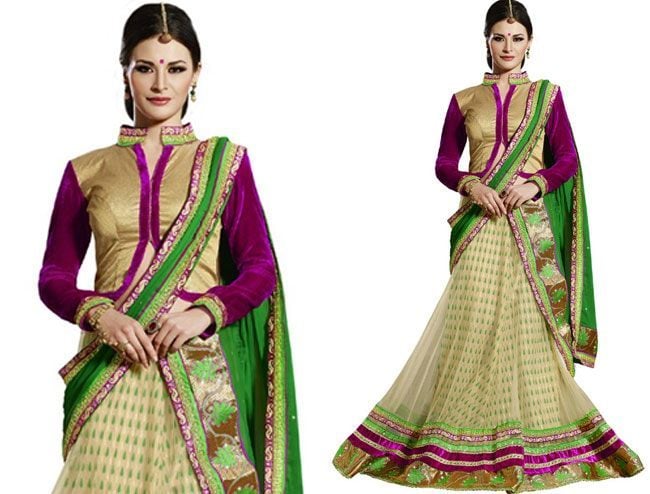 To Buy Click Here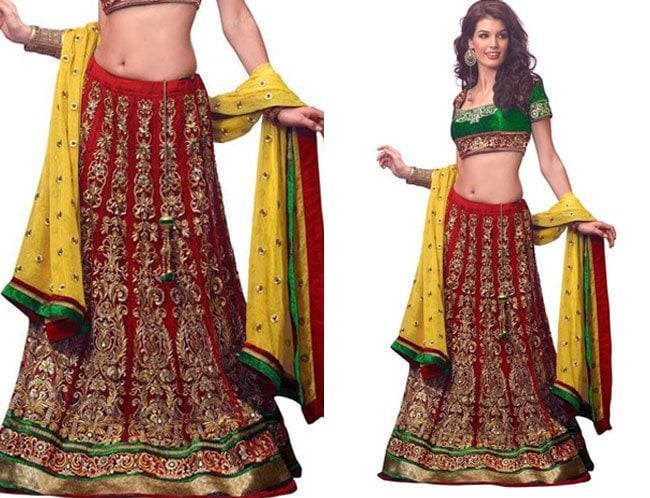 White & Red Embroidered Net Lehenga And Choli
To Buy Click Here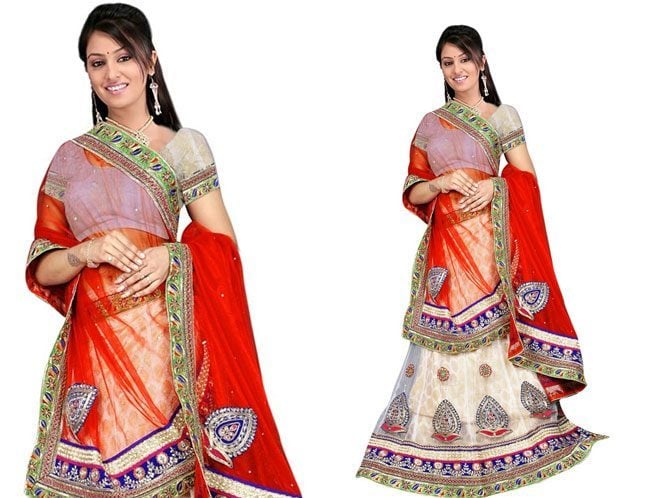 Red Supernet Lehenga Choli
To Buy Click Here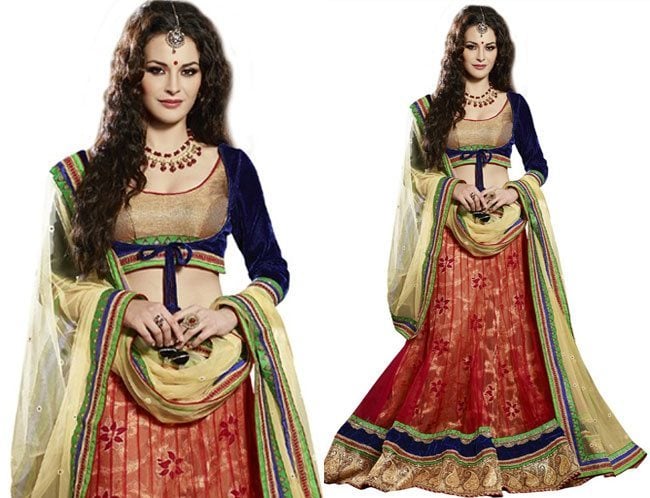 Beige Embroidered Net Lehenga
To Buy Click Here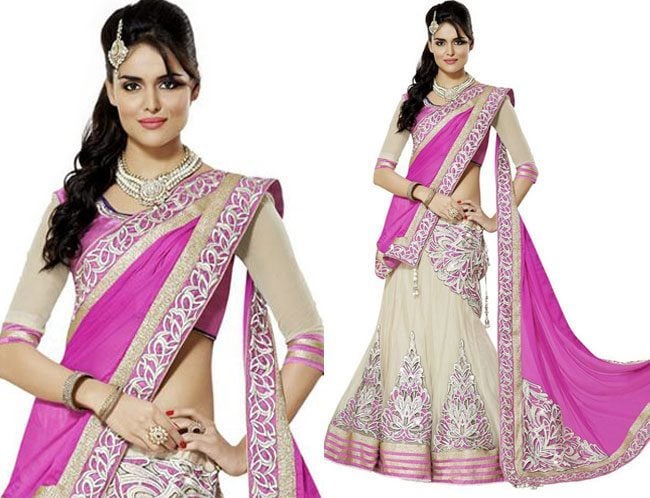 Let's look at few more designs for Diwali 2014.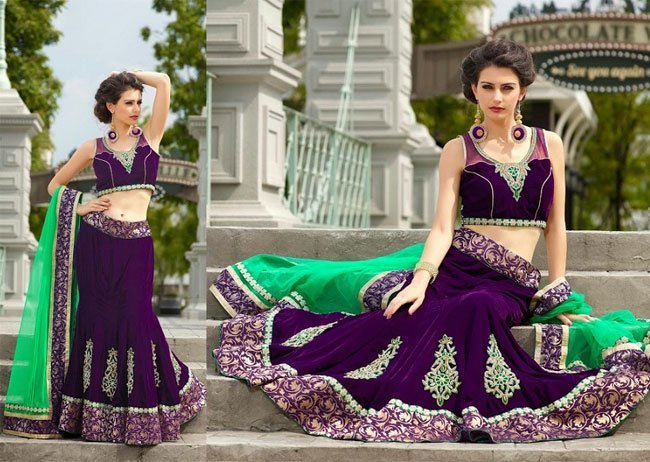 This gorgeous purple velvet lehenga is a showstopper irrespective of any occasion. The graceful design with noticeable motifs on the bodice flanked by broad edging makes the ethnic wear fit for any festive occasion and even a friend's wedding. The royal color is combined with contrasting neon green dupatta to give a modern look. The rich embroidery design keeps the traditional essence intact and the sheer sleeves of the choli maintains your taste high on fashion.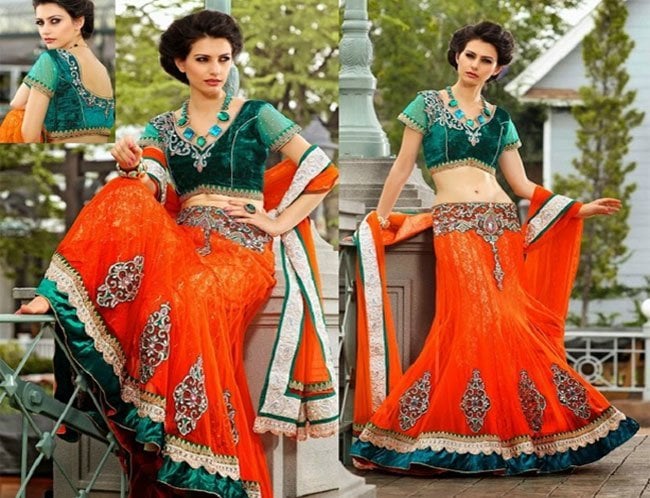 If vibrant colors with a dash of velvet interests you then probably this is the best outfit. The great combination of orange with green reflects the young taste. Even the color combination is mischievous, the rich embroidery patchwork and elaborate sequin work makes this lehenga extremely feminine and ravishing. The intricate motifs on the bodice with a unique waist belt design keeps you away from heavy accessories. Even the partial neck crystal gota work surrounding the entire back neck adds brilliance to this Diwali outfit.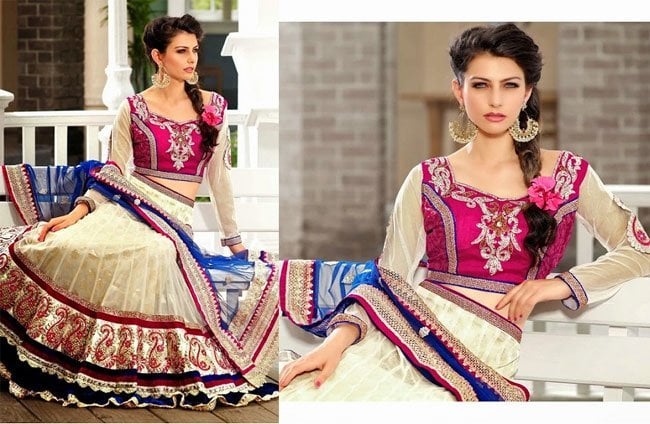 This gorgeous white and pink lehenga is for those, who have a soft corner for the white and neutral shades in their heart. This beautiful ethnic Diwali wear aptly suits the taste of those fashionista, who believe peaceful shades can also create magic. This sheer white lehenga is accentuated with a contrasting blue dupatta adorned with a rich zari border to keep up the festive flavor. The choli is extremely sensual with attractive sequin and zari work on the chest and sheer sleeves flanked by huge motifs on the shoulders. And not to mention the layering on the edging virtually increases your height, thereby enhancing your festive look.
If your choice is yellow then this is a beautiful yellow lehenga for your Diwali outfit. The uniqueness of this ethnic wear lies in its intricate pattern. The outfit is simply not flashed by the yellow shade, but instantly reminds you of beautiful mustard flowers spread evenly against a sheer background. The dress is beautifully decorated with elaborate embroidery border line both on the lehenga and dupatta. To give an edge to the outfit, it is paired with a nautical pink dupatta with matching edging work with random sprinkles of crystal for the glamorous look.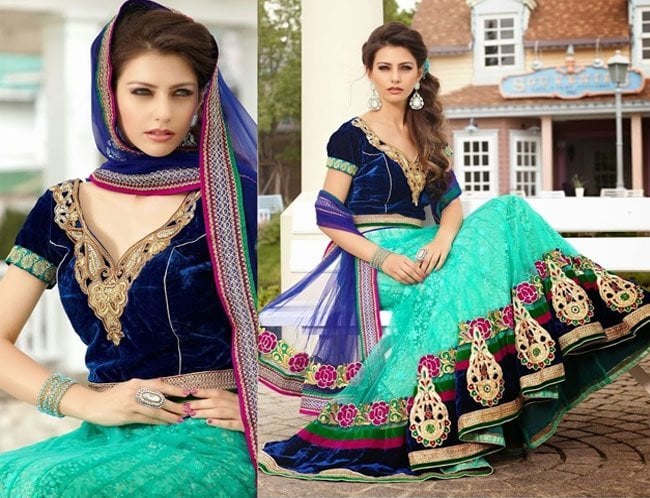 If you're still bound by the neon fever and add a new shade to your neon collection then this neon sea green lehenga with a royal blue velvet choli is the best option. This traditional outfit not only speaks off royalty but high end fashion as well. The fish cut design of this lehenga gives you a modern taste. This floor length lehenga is adorned with huge motifs against the matching velvet background with a dash of green and pink. The golden embroidery work adds dramatic value to this outfit.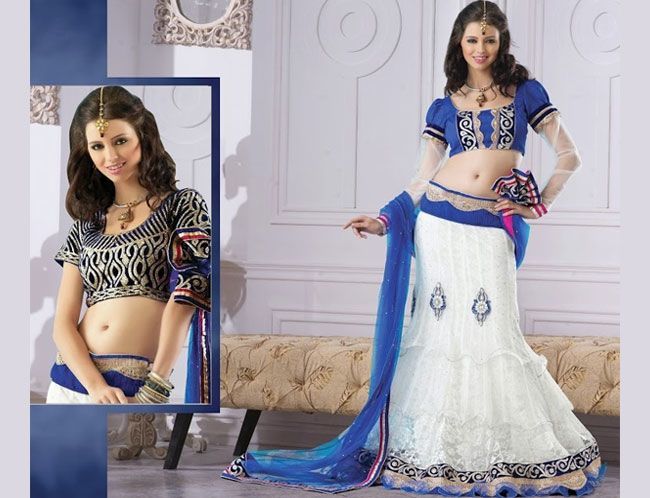 This is a beautiful white and blue lehenga with lastest choli design. The lehenga comes along-with two choli pieces as shown in the image. You can either go for the short sleeved heavily embroidered choli or give a modern edge to to your Diwali outfit by going for the blue choli with sheer sleeves flanked by zari work on the edging and chest. The Bengali sleeve design gives an offbeat flavor to this beautiful ensemble.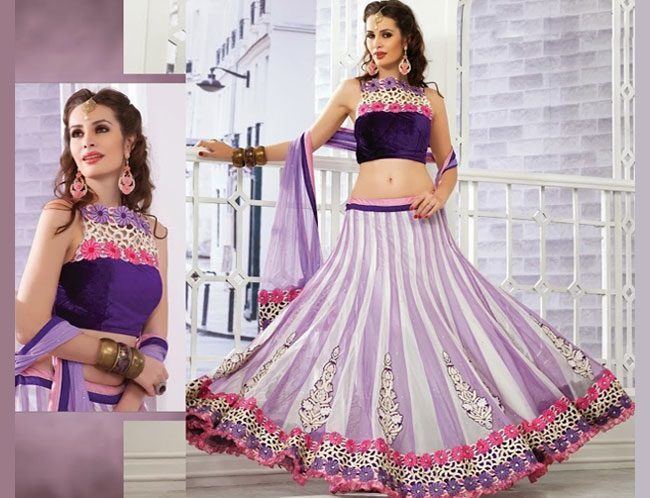 These two lehengas are for the modern fashionista, who prefer to have a dash of fashion in almost every outfit they don. The light purple lehenga with beautiful floral motifs on the edging and a matching floral neck design keeps this ethnic outfit from typical traditional designs. Plus, the stylish sleeveless halter neck design even makes this outfit look more stylish. The lehenga is complimented by a matching dupatta with floral motifs on the edging.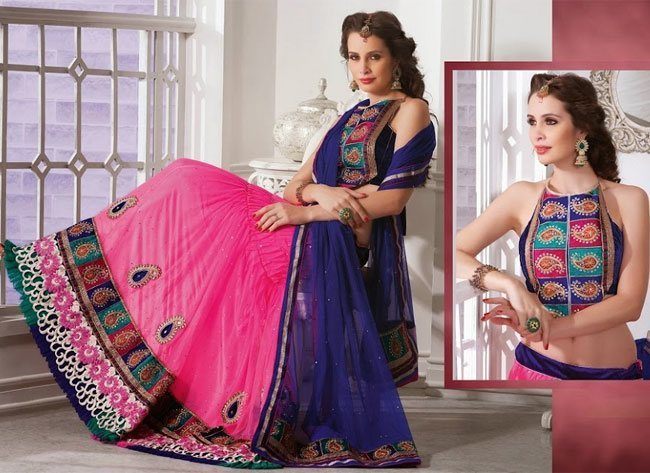 The second piece is another beautiful creation in our catalog, which is a beautiful blend of Indian fusion. While the pink lehenga is adorned with a three different embroidered layering with gota work on the bodice, the choli is the major highlight of this ensemble. The halter neck design choli is adorned with an outer covering with heavy gota work. The koti jacket-style piece of fabric is stitched with the choli thereby maintaining the sophistication of this fashionable lehenga.
To Buy Click Here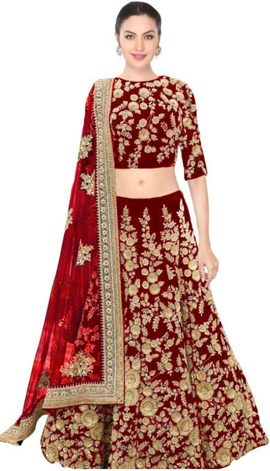 This snapdeal lehenga is one of the most gorgeous lehenga in their vast collection. This maroon colored velvet lehenga with its crop blouse is perfect for a reception party. The golden embroidery work done on the blouse and lehenga further enhances the entire outfit.
To Buy Click Here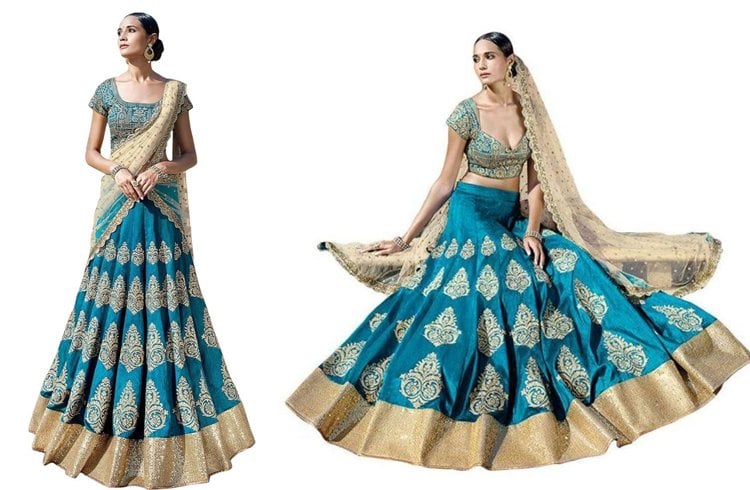 We are completely in love with this snapdeal lehenga choli! The blue pleated lehenga with golden border and embroidery work looks appealing to the eyes. Made of georgette, this semi stitched lehenga deserves a place in your closet.
To Buy Click Here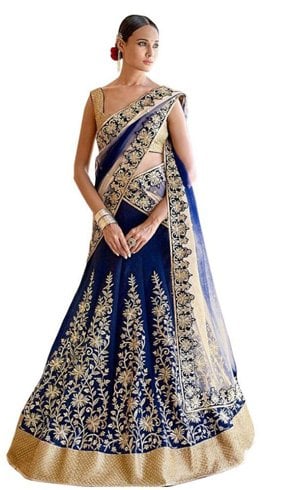 Wear a snapdeal lehenga saree and be the center of attraction at any function or party. This blue silk A-line, semi-stitched lehenga with a golden sleeveless blouse will ensure that all eyes are on you. The net dupatta gives it a subtle yet stunning look.
To Buy Click Here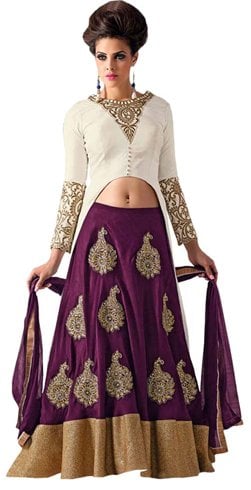 The varieties of lehenga while online shopping is truly spectacular. You are sure to find all the latest designs and styles on snapdeal. Check out this modern-styled lehenga. The unique golden motifs on the purple velvet lehenga and the modern-style blouse is sure to make you want this gorgeous outfit immediately.
To Buy Click Here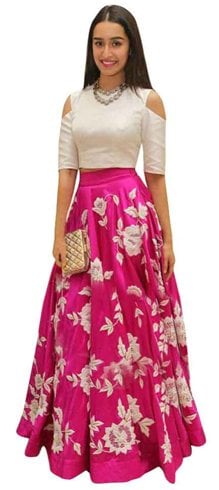 Designer lehenga cholis are always in trend; be it for a wedding or a diwali party. Young girls like to flaunt the designer pieces rather than opting for the same old styles. This white and pink lehenga choli is sure to be a hit with all the PYTs with its pink floral lehenga and white cold shoulder crop blouse.
To Buy Click Here
A lot of girls nowadays are opting to buy the bridal lehenga online. Not only are they relatively cheaper but you can also find some amazing designs. This pink snapdeal lehenga caught our eye for its beautiful color as well as the work done on the lehenga and blouse. Would you like to try this out for your wedding?
To Buy Click Here
If you want to buy lehenga online, then you need to check out the beautiful collection on snapdeal, like this multicolored taffeta circular semi-stitched lehenga. We like how to blouse is kept simple to complement the self-printed, multi-colored lehenga.
Hope you liked our collections! Do go through the complete catalog to find out the lehenga cholis with price.
Source: snapdeal, pinterest