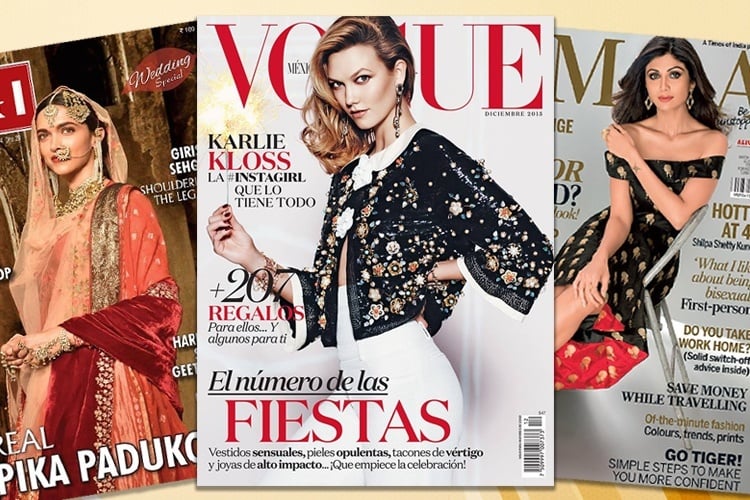 Listen up ladies! December is here! Do you know what it means? It means that Christmas is just 24 days away! New Year is just 30 days away! And new beginnings are just a month away! Literally!
To kick start the celebrations, lets go through some amazing and fabulous magazine covers and get our hearts twisted (out of jealousy) and melted (out of awe)!
Let's start now!
Priyanka on India Today, Dec 2015
Priyanka Chopra made it on India Today in an orange jumpsuit. It's nothing glamorous. That's the suit you wear when you get arrested in the USA! But, did Priyanka made it look glam? Hell YES!
Jacqueline Fernandez on Filmfare Dec 2015
On top of Filmfare was our very own Jacqueline Fernandez. Wearing a sexy beach suit, she looked straight of Baywatch – only, she looked much more glamorous. Well defined eyebrows and hot red lips with windswept hair completed her look!
Jennifer Lopez on Marie Claire, Dec 2015
For Jennifer Lopez it was an all red everything moment for the cover shoot of Marie Claire. They say 2016 is going to be big for her, Marie Claire states reasons!
Deepika Padukone on You and I, Dec 2015
On the cover of our Hyderabadi magazine was Deepika Padukone in her very Mastani outfit. Designed by Anju Modi, it was the same pretty dress that she wore for Blender's Pride Fashion show. She looked good!
[sc:mediad]
Sonam Kapoor on Harper's Bazaar, Dec 2015
Sonam Kapoor made yet another sombre appearance on the cover of Harper Bazaar magazine. Her face was the focal point of the cover and her deep eyes did all the talking! Fantastic is what we say!
[Also Read: Deepika Padukone Magazine Cover]
Tanya Burr on Glamour, Dec 2015
Tanya Burr – a YouTuber turned celebrity appeared on the cover of Glamour magazine. The one thing we love about her is how she is still rooted to the ground and has not let her success get to her head!
Vogue, Dec 2015
On the cover of Vogue were 5 leading ladies from Bollywood who took everyone's heart and soul! Dressed in grand outfits by Manish Malhotra, these ladies joined hands to celebrate Manish's 25 years in Bollywood!
[Also Read: God Of Fashion, Manish Malhotra]
Shilpa Shetty on Femina, Dec 2015
Shilpa Shetty made a sexy appearance on top of Femina in a black and red dress. Heels by Louboutin, smoky deep eyes and glowing body finished her look!
Vogue – Mexico, Dec 2015
While we had a bunch of leading ladies on top of Vogue – India, Vogue – Mexico went with Karlie Kloss on its cover.
With so many magazine cover's, it is definitely very hard to pick a favourite. But our bets are on Jennifer Lopez!