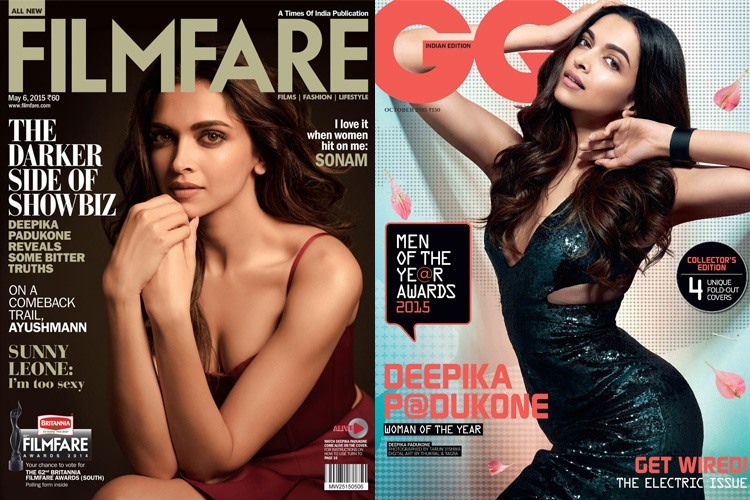 In swimwear or seeti-marne wali saree, in business suit or bikini, DP and her hot bod are things one rarely comes across in the Hindi film industry.
She might have romanced Ranveer (we will not count how many times on and off-screen) to Shah Rukh off and on, but Deepika Padukone magazine cover is something that's here to stay for a long time.
[Also Read: Alia Bhatt Magazine Cover]
Did we hear you saying what a beauty, model and a talented actress Deepika Padukone is? Okay, some of the answers are expected when we talk of Deepika Padukone featuring on magazine covers page. There could be side comments on Deepika Padukoneheight and Deepika Padukone age (or for that matter Deepika Padukone weight) but the one thing that is thrilling domestic and overseas readers is Deepika Padukone photoshoot for magazine.
Let us take a quick look at Deepika Padukone magazine cover and decide for ourselves how we will react when we see the super sexy and sensational Deepika Padukone on magazine covers page.
Filmfare January 27, 2016
Don't you need to clap for us since we have brought you the very latest issue of Filmfare magazine featuring Deepika Padukone who won the Best Actress award for her role in film Piku?
Not only does this Bajirao Mastani girl look super glamorous on the magazine covers page, her dangling earrings make her an oomph figure.
Vogue India June 2014
Her essentials, her style, her secrets all decoded in this Deepika Padukone photoshoot for magazine. Her Tod's shirt, Turquoise and Gold Bottoms and diamond and emerald necklace make her look truly smashing.
Harper's Bazaar March 2014
On this 5th anniversary issue, Harper's Bazaar rolled in Deepika Padukone dressed in a strapless Dior dress.
Vogue India September 2013
Catch Deepika Padukone photoshoot for magazine Vogue India in Vogue India Sept 2013 issue where Padukone is dressed in Fall 2013 Marchesa.
L'Officiel March 2013
Dressed in just a white Christian Dior jacket and nothing else, and with metallic blue eye shadow as the only fashion complement, does Dippy look the golden girl or a mermaid?
GQ Indian Edition August 2012
The only dark side am going to reveal about Deepika Padukone in this GQ cover is that she is drop-dead gorgeous. She looks every bit bold and seductive in this magazine covers page.
[Also Read: Kangana Ranaut Magazine Covers]
Vogue India June 2012
Considering her super hot looks and body, Deepika Padukone can rock a swimsuit as easily as a farsi pajama. She is dressed up in a cut-out suit in '80s pin-up pose making her truly hot.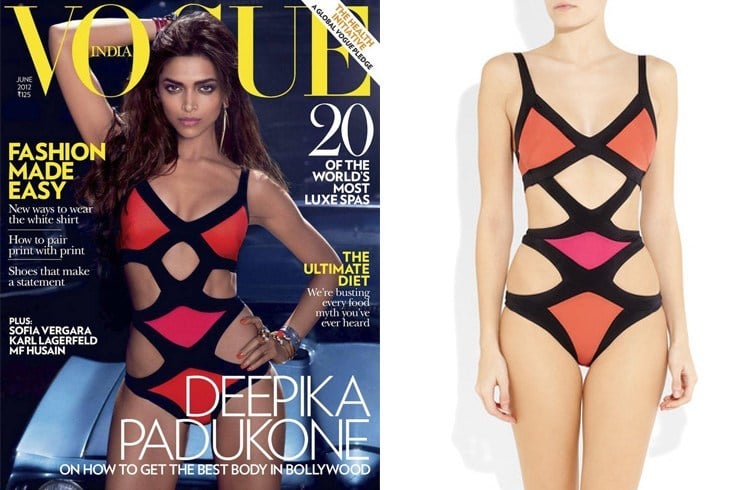 Grazia April 2012
Dressed in Gucci, Deepika Padukone rocks on this white magazine covers page that has a tinge of coral.
Elle July 2011
You can't even blink on seeing Deepika Padukone in Gucci top and Peacock pants. Such is the hotness of this Deepika Padukone photoshoot for magazine Elle.
Verve June 2011
Strapless dress, maroon lips, everything about this dress inspired from Alpana & Neeraj A/W 2011 collection is rocking.
[sc:mediad]
Vogue March 2011
What do you like most – the hot pink cover featuring Deepika Padukone photoshoot for magazine Vogue or her hot butts? This magazine covers page is based on Burberry Spring 2011.
Grazia India February 2011
Catch the edgy looking deepika padukone in Grazia issue of Feb 2011. The picture shown on the left side is Azara by Alpana & Neeraj and the center one is Morphe By Amit Agarwal.
Vogue India July 2009
God, Deepika Padukone looks so romantic in this Spring 2009 Dolce and Gabbana floral gown. The dress version has been worn earlier on by Diana Penty on the cover of L'Officiel India March 2009 issue. Don't you think it's somewhat disappointing seeing a leading fashion magazine use a design already seen before? What are your views on this?
Hope all male readers and females enjoyed feasting and taking inspiration from Deepika Padukone magazine cover.
Let us know which outfit of hers you liked most.