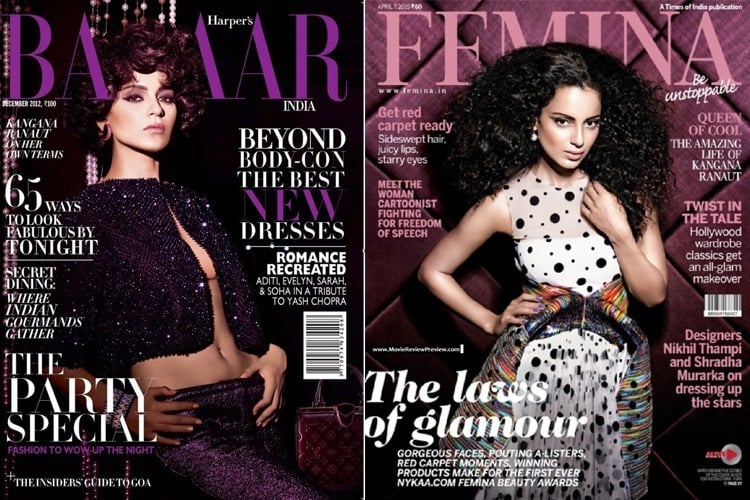 It's difficult to forget her talk, walk, and shauk of delivering hits after hits. This lass from Himachal has rosy cheeks, is stubborn and rebellious by nature and dictates fashion her way. She is the one who has shocked and stunned audiences by her outfits, dress sense, presence in top fashion magazine which is all worth giving a standing ovation to.
Her screen names have made Kangana Ranaut the Rani of Bollywood. She might be all over the place but the easiest way to catch her is magazines for women. Why not do a close check of Kangana Ranaut on the Cover page of magazine and top fashion magazine. It might give you an idea of her next fashion instinct and wardrobe function.
Kangana Ranaut on Harper's Bazaar India November 2015
Kangana knows how to keep everyone glued. After being seen in Verve magazine's October edition, Ms Ranaut graced the cover of Harper's Bazaar India in November featuring Dior Fall 2015.
No doubt she looked fierce and raring to go. Goes to show why her roles have all that punch.
Vogue India June 2015
Ah…know that cool sassy Kangana you saw in Katti Batti in Sept 2015? She brought that same sauciness wearing Gucci on the cover of Vogue India's June edition. Which bracket would you put Kangana Ranaut Vogue Cover in – absolutely raw or hot tamed?
Harper's Bazaar Bride October 2014
October is by and large festive time. So you can expect a new high in costumes and jewellery. Our Datto looked an exuberant Indian plus pseudo Bong bride in the couture designed by Anamika Khanna.
[Also Read: Deepika Padukone Magazine Cover]
To give an edgy uber look, Kangana's arms were full of chunky silver jewellery…you know the ones that girls wear madly with joy to campus or with retro outfits.
GQ India October 2014
Kangana Ranaut in GQ might look way different from the sheer bodysuit worn by Julien Macdonald but surely she is sizzling hot with the oversized Futurology earrings. Meet the woman of the year Kangana Ranaut who looks straight out of ice galaxy.
Grazia India August 2014
Oh my my…how dare you miss out on this hot magazine and super hot Kangana Ranaut dressed in Burberry suit and Dev R Nil shirt? It's super electrifying, and one helluva of a Cover page. Interestingly, this Grazia cover was shot in London, which explains the elegance in magazines for women.
L'Officiel India March 2014
Putting a fierce look, Kangana Ranaut looked (and still looks) fab dressed up in Anand Bhushan separates. The furry bracelet further added an interesting twist to her bare arms. Runway material or Hollywood, Kangana is both!
[sc:mediad]
Vogue India January 2014
Fashion's fiestiest icon, there is no separating Kangana from the ecstasy quotient she gives while wearing Burberry Prorsum separates.
Never knew Kangy baby would stun in all of white! Goes to show how beauty can be minimalistic too.
Filmfare October 2013
Yeah, Kangana Ranaut looks a wild child and diva both. Dressed in structured gown designed by Amit Aggarwal, she was stunningly marvellous as she walked the ramp at Lakme Fashion Week. Can you dare beat this fashionista?
Hi Blitz April 2010
Her dress might remind you of Deepika Padukone's costume in the warrior film Bajirao Mastani but there is every bit of distinction in Kangana Ranaut outfit in Hi Blitz cover.
[Also Read: We Can Prove That Kangana Ranaut Looks Best In High End Couture Outfits]
It is difficult to take one's eyes off the king-like satin turban that Kangana is wearing as much her dagger wrapped in red muslin. Surely takes us to the bygone English era.
Grazia India August 2009
What you will go berserk over is not just the impact Kangana is creating but her Fall 2009 Dolce and Gabbana 'Marilyn Monroe' dress.
Did you see the contrast – the kitschy Marilyn print running all over, hair done in bee-hive style, strong lips, and the hemline surpassing the knees? The shrug looks very dramatic, giving you the edge.
Apart from the ones shown above, Ms Ranaut has been the hottest face gracing Cosmopolitan India magazine and untold magazines for women.
Tell us which of the covers featuring Kangana Ranaut you had a crush on.