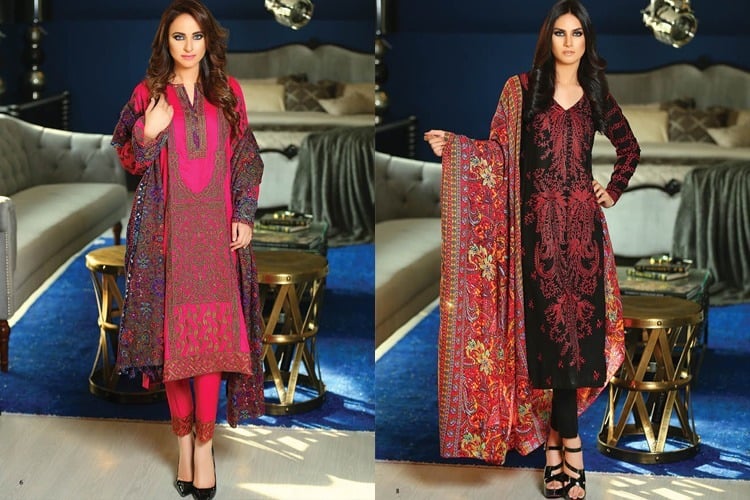 It's luxurious and expensive. Yet it is today the most favoured fabric worn and passed onto generations starting from your mom's mom to your mom.
Come winters and the one thing that makes the fashion-conscious ladies smile and elegantly brave the winter chill is Pashmina Winter Wear.
Pashmina Collection – Pashmina Salwar Suits, Pashmina Salwar Kameez And Pashmina Shawls
The very mention of Pashmina brings to mind three things – luxury, elegance and royalty. That is what you will find in the pashmina collection comprising of pashmina salwar suits, pashmina salwar kameez and pashmina shawls.
[Also Read: How To Wear A Pashmina Scarf Like Pro]
The Legacy And Grandeur Of Pashmina
Since times immemorial, Pashmina Winter Wear has been associated with wealth and class. It's so very fine wool that it is naturally exclusive and rich looking.
This could be one of the reasons why pashmina is used extensively in the making of finest scarves, stoles, suits as well as shawls in India.
Pashmina also known as 'Pashm' is fine cashmere wool that hails from Kashmir. The name finds its source in the Persian word 'Pashmineh' (made from Pashm) where pash means wool in Persia.
It is the Iranians who came to Kashmir via the Ladakh route who are credited on giving the name Pashmina.
What's Chyagra got to do with Pashmina? Chyagra is the Himalayan goat which gives the finest cashmere wool. The wool scouted from the underbelly of the goat is the lightest, warmest and finest of cashmere wool fibres.
The Growing Rage Of Pashmina Suits
The winter season floods the market with various kinds of Pashmina products. What steals the hearts at the very first glance are pashmina salwar suits. In fact, two things – fashion and comfort make pashmina collection an amazing winter wear option.
[Also Read: Pakistani Style Salwar Suits]
On top of it, the Kashmiri craftsmen bring their skill set on Pashmina with mind-blowing work such as Aari work, Kashida, Tilla Work, Mughal Jamawar etc.
Kashida or Kashmiri embroidery used bright and colourful designs, with motifs comprising of floral borders, paisley and chinar leaves. Even inspirational settings of nature are used on wool or silk to give luxurious items of wear.
What finally shapes up is a rich experience that not only keeps you warmest but embraces your soul.
When it comes to the options available, there is plain to checkered, even striped and embroidered versions of pashmina. In these options, Kani or Jamawar art can be used which makes the entire pashmina salwar suits collection worth a glimpse and wear. The colors and patterns of these suits will make you stand out from the crowd for sure.
Going About Styling Pashmina Suits
Magnificent and timeless – pashmina salwar suits is Indian wear that goes for all age groups. It all depends on how well you style it, as per the occasion and the time of the day.
Accessories also play a major role in giving pashmina salwar kameez an appealing look. In fact, you can attempt layering your pashmina collection of salwar kameez with some awesome looking Capes and Stoles that will add volumes of contemporary touch.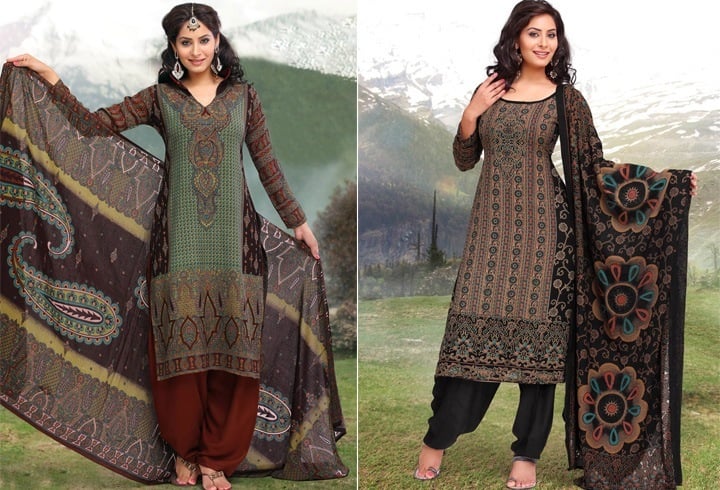 Jewellery also plays a pivotal role in giving your pashmina collection the added flair. The choice of earrings, chokers and danglers bring an interesting fashion twist to the pashmina that you wear.
[sc:mediad]
Maintenance And Care Of Pashmina Suits
Like all precious things in life need some amount of affection and care, same is the case with pashmina salwar suits.
Pashmina as you know can last for years provided proper care is taken. With each and every wash, pashmina tends to get softer and luxurious.
It is always better to dry clean pashmina salwar suits, though you can hand wash it with woollen fabric detergent occasionally too.
In the case of a new pashmina salwar kameez, it is advisable to hand wash it, so that the natural vegetable dyes do not end up bleeding any colour.
Post hand wash of a pashmina outfit, it makes better sense to leave it on a flat surface so that it can dry on its own.
With winters very much in the thick, hope you have bought yourself or for your loved ones Pashmina Winter Wear. Here's hoping we have brought you sufficient warmth by sharing this informative piece on pashmina collection.