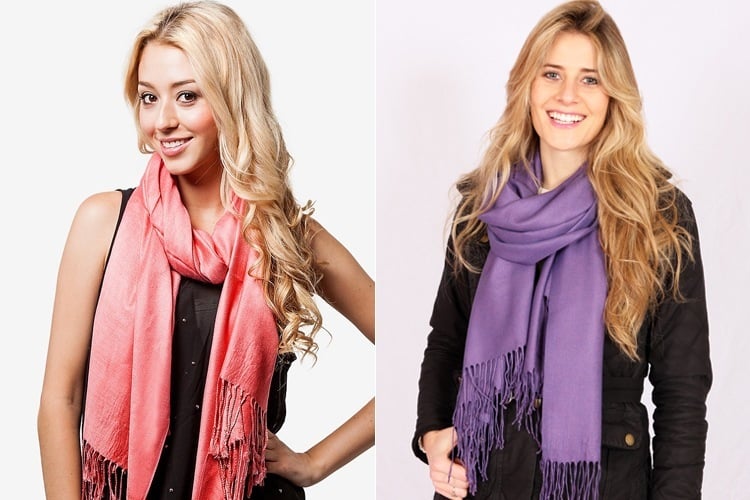 The winter is just through mid-way and there are a lot of places which are suffering the chills. And even when the winters are gone after a couple of weeks, some of us are in regular need of warm clothes, thanks to the centralized ACs at our offices. What you can do in such sticky situations is to keep a Pashmina handy at your drawer and pull it off whenever you feel a little cold. Here is a guide on how to wear a Pashmina Scarf and look stylish
[Also Read: Kashmiri Fashion Statements]
Ways To Wear a Pashmina Scarf
There are many ways to wear a pashmina scarf and it compliments all your looks. Take a look
1. A Casual Shawl Look
Pashmina scarfs are a little lighter than usual shawls. Nevertheless they play greatly to keep you warm. If it is getting a little chilly, you may just drape your pashmina scarf around your shoulders. The ends can hang loosely at your front or you can toss one end over your shoulder. The choice is yours.
2. A Closed Shawl For Warmth
If you are not an except with shawls and the loose hanging ends slipping down even when tossed over the shoulder, you can opt for a different style of wearing it. Just drape the pashmina around, like in the above step, but this time secure the ends in front of your chest in a loose tie. By opting for a tie you cut yourself from the unnecessary interruption of a falling off shawl.
3. European Way Of Draping The Pashmina
To give a more western appeal to your scarf, you will have to fold it in half and wrap it around the neck. Bring the loose ends of the shawl through the hoop at the other ends and pull them over for a warm fit. The ends could be left hanging in front of you or you may tuck them into your jacket or coat.
4. Wear A Scarf With Pashmina
Place the Pashmina piece over your head. Now you may either knot the scarf at the nape of your neck or you may wrap the loose ends over your shoulders of neck. Another way of wearing pashmina scarf is tying as a head accessory is to roll it in ¼ of its width and tie it over your head as a hair band. With these different ways to wear scarf, you can easily fight the chill by covering your ear and let the hair float across it.
5. Wear It like A Poncho
You can take your favorite piece of pashmina fabric and throw it around your shoulders. The ends should be spread on you and a portion may cover a part of your arms. Now take an accessorizing belt and tie it over the flowing pashmina. The waist will keep the shawl settled at your well defined waist.
[sc:mediad]
6. Wearing A Pashmina As A Sarong
There are also a few ways to wear a pashmina scarf as a sarong. Drape you Pashmina scarf around your waist and take the ends together to tie them at the hip. This works great as a decorative belt over a well-fitting pant, a skirt or a plain dress. You may also use this style as a bikini cover up if you aren't too comfortable with the skin show outside the pool water.
7. Wear It With Jeans
If you wonder how to wear a pashmina scarf a little casually, do note that though the Pashmina has its roots in the Indian mystic mountains of Kashmir, it goes perfectly with a casual Jeans and a T-shirt too. In fact you can drape it over like a shawl and it gives a great feel of fusion to your entire look. Or just tie the loose ends at the front. Pick up a bright pashmina with preferable vibrant colors while teaming it up with your denims.
[Also Read: Stylish Winter Office Wear For Women In India]
8. Wear It With Indian Outfits
A pashmina scarf can replace your regular dupatta. It can be left on one shoulder, or worn across both the shoulders covering up your chest area. This way the temperature is maintained and the purpose of a dupattas is met too. Pashminas make for great accessories with sarees. We have seen generations layering up the saree with a pashmina shawl.
9.Wear It Like A Hijab
If you wish to wear a pashmina with a dress, you can opt to wear it like a hijab. If you are wondering how to wear a pashmina hijab, read along for these cool tips.Throw a pashmina scarf over the head and push the right end over the left shoulder and vice-versa. Adjust the sides and pin the scarf at appropriate points to hold it in place.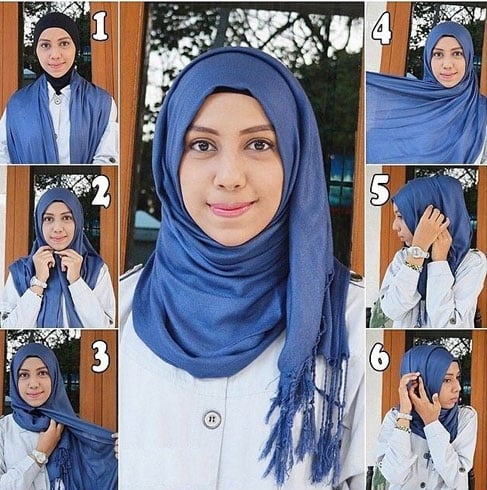 10.Wear It Like A Cape
If you are still aren't satiated with the options on how to wear a pashmina shawl, we assure you that this style will win your heart. Simple, easy and chic is the cape style. Fold the scarf to the width that you are comfortable with and drape it around the shoulder. This gives the ultra cool look ever and goes great with denim style paired with boots.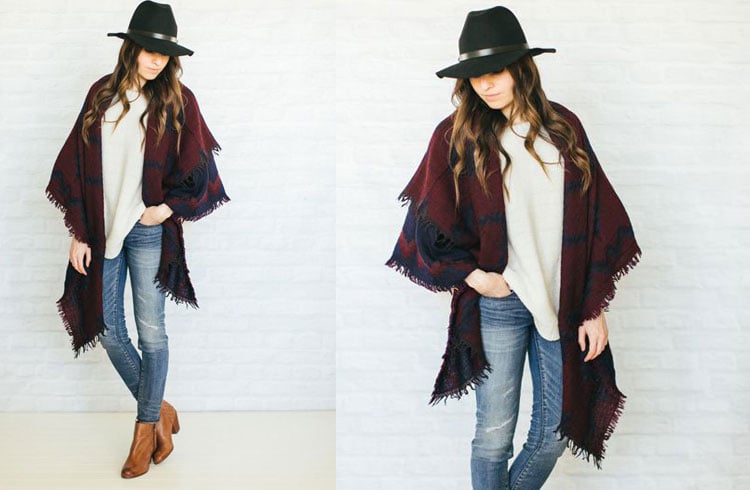 11.Wear It Like A Ruffled Scarf
We have presented a general scarf style for you which is pretty common. But a ruffled scarf pattern is something that will alter the look with great style and attitude. Fold a pashmina scarf into a triangular form. Pull it together and wrap it around the neck. Pull the ends across from behind the neck and let it loose in the front. That gives a ruffled look. It can be worn on a dress or on denims.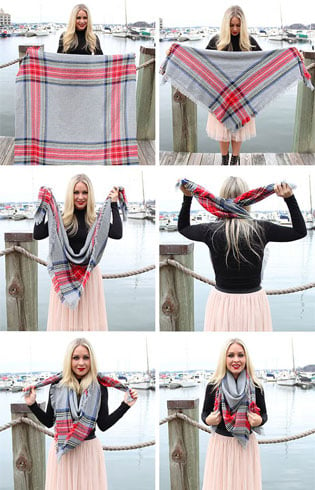 12. Wear It Like A One-Shouldered Top
Layering is in trend and what best way than to use the pashmina scarf to work this magic. On a shirt or a tank top, wrap the pashmina scarf from one side and tie the two loose ends on the shoulder making it a one-shouldered top. Isn't it great?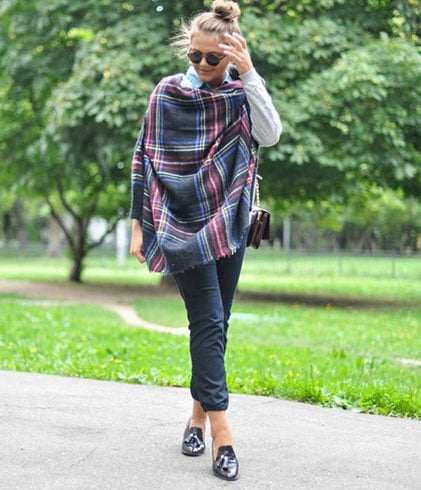 Pashminas were traditionally worn by Indian kings and queens, but with trade spreading globally during mid 1600 it found a place in the western wardrobe as well. So today, you will not have to limit your pashmina to any particular style of clothing. Now that you just read how to wear a pashmina scarf in multiple ways, you have to figure out which of all these styles suit you the best and rock it along.