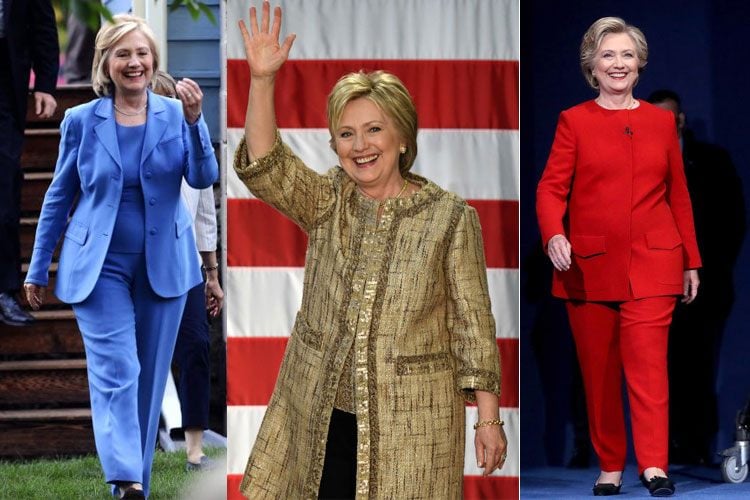 President or not, over the years Hillary Clinton has got the buzz going on. Oh that debate – that was pure entertainment. But what caught my attention was the red suit. Clearly red is the new color of power. Now, Hillary, unlike the present FLOTUS or Melenia Trump is not famous for her wardrobe choices. But if you look at her past record she has rocked some classy numbers too, too bad for her, it all went unnoticed. But now we are digging up all her best dressed moments for you.
The Hillary Clinton Style Statements
[Also Read: Hillary Clinton Pant Suits That Make Her A Power Figure]
Before we even start with the evolution of Hillary Clinton, can we all just grab a glass of water? Prepare yourself, this Giorgio Armani jacket Hillary picked for New York primary victory speech back in April, came for a whopping price of $12, 495. That's impressive for someone who claims to have left the White house dead broke in 2001.
Now if you have recovered the shock, let's take you down memory lane.
So many many years ago, this happened. The then President Clinton, here, dances with his first lady at the Arkansas ball on January 20th, 1993. Mrs Clinton was a matter of fairy tale that evening in her violet lace ball gown tailored by New York Theatrical costume designer Barbera Matera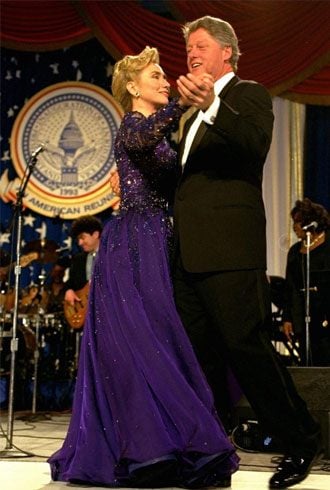 In 1997, Hillary Clinton arrived at the Grammys in a gorgeous gown with a sparkling top and an A-line skirt in moss green. Just that we are not a huge fan of that matronly bob.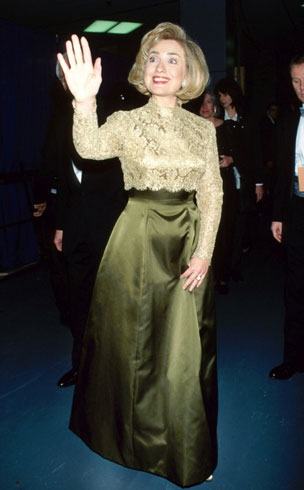 For Nelson Mandela's 85th birthday, along with husband, Bill Clinton, Hillary rolled up in a leopard print silk dress, No, I didn't make a typo there – she actually had a leopard print on.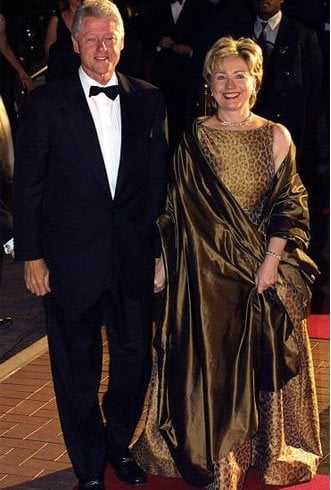 The next best show came from the may-be-may-not-be, US president on her daughter Chelsea's wedding in 2010, in a floral floor length ombre number. The fuchsia Oscar de la Renta gown complete with splendid shoulder flounces made for a lot of look for the ex FLOTUS.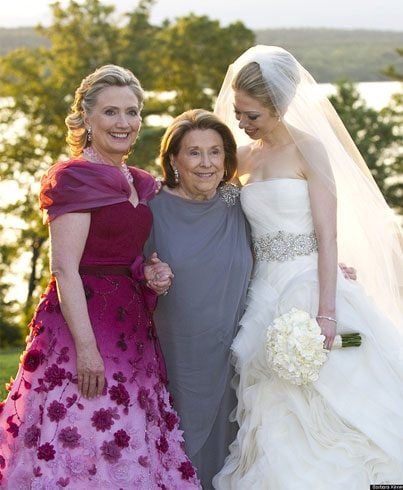 Now just because she aims at holding the highest office in the US, you can't really take away her feminity from her – can you? A beautiful woman she is, with a wholesome sex appeal. As Secretary of State. Washington, DC, she hosted the Kennedy Center Honors Gala in 2010 in a peplum floral dress in the palest shade of peach. But what we are talking about is that décolletage.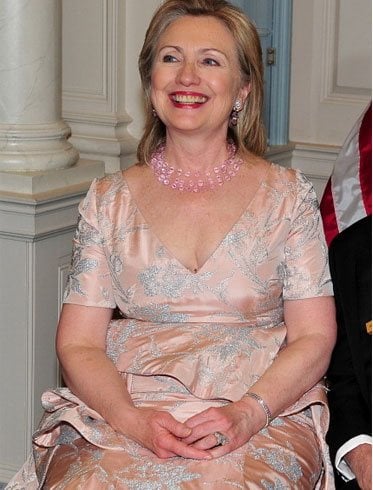 She covered up a completely in the same event the next year. Hillary looked gorgeous in her ice blue sequined number with a jacket to honor her modesty. A little granny-esque for my liking, but given her stature, it was certainly occasion appropriate.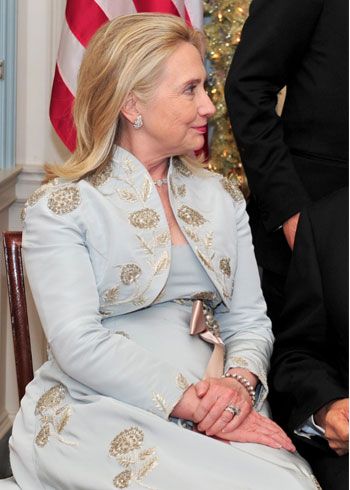 Now time for some throwback into Hillary's girlhood so you know what got Billy all captivated.
[sc:mediad]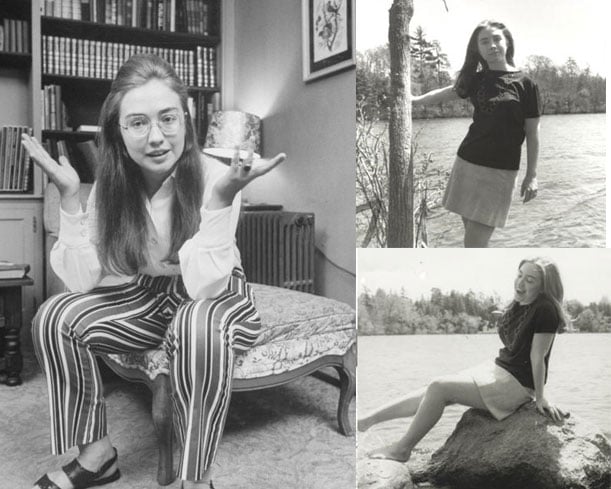 Stepping back to the present again, here is a snippet into the presidential candidate's work wardrobe. The first ever female nominee to run for President in the US was spotted in dozens of powerful suits and she kept all her dainty gowns aside. The latest to the list was her red suit she wore to the first presidential debate to take down Trump.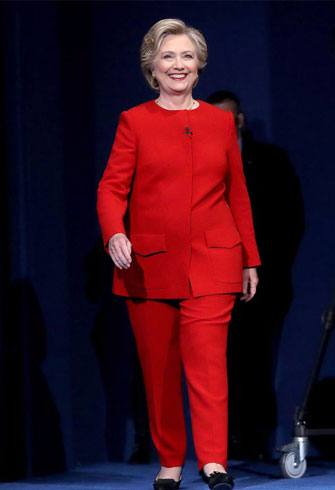 In an event in Baldwin, Iowa Secretary Clinton showed up in Susanna Beverly Hills jacket in a similar style that rounded up to a cost of $4000.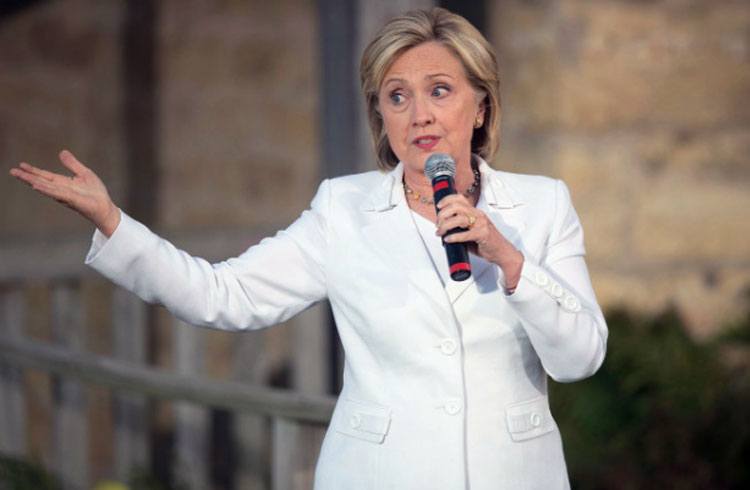 She picked Armani again for a debate in Las Vegas. Keeping her style quite a signature, the navy Collezioni jacket was charged for $1200. She does have a taste for extravagant outfit but this one was humble as compared to her earlier choices. Here are a few more of her pantsuit collection.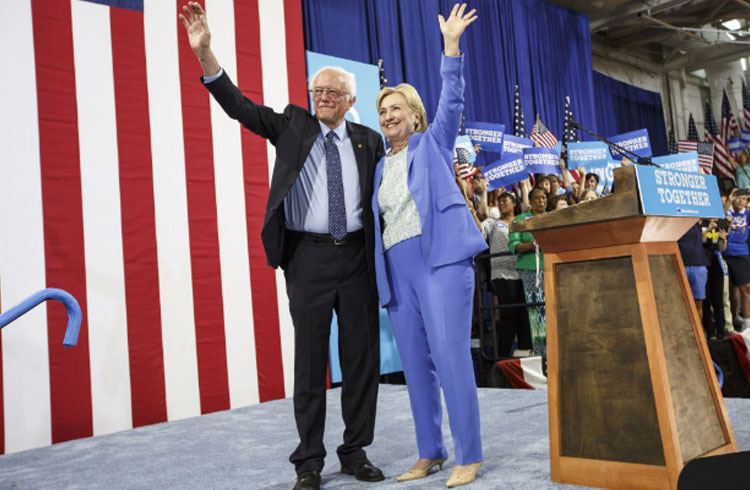 This was pretty similar to the red suit she threw on to the presidential debate – guess this is what they call power dressing.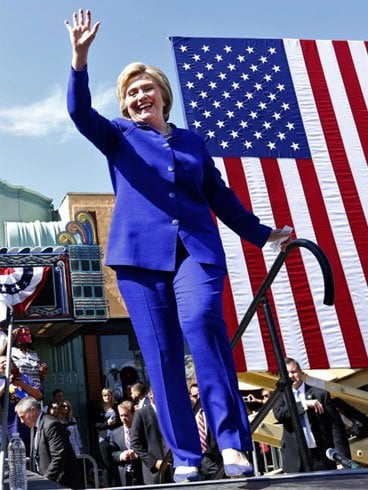 In a little relaxed mood, Hillary shows off her casual side.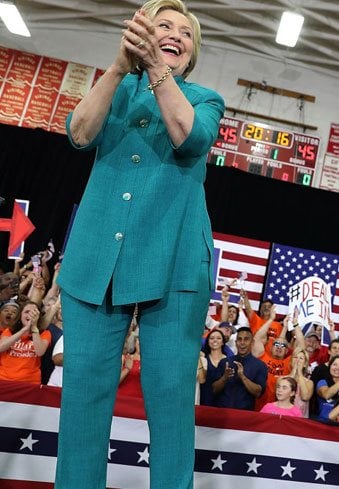 Even leaders know some basic fashion essentials – like you can never go wrong teaming a bright orange with dark navy blues.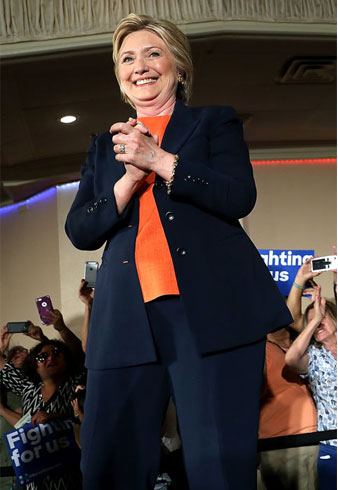 This brocade jacket in multiple shades that she was spotted in, during one of her April appearances pleasantly breaks out of the official monotony.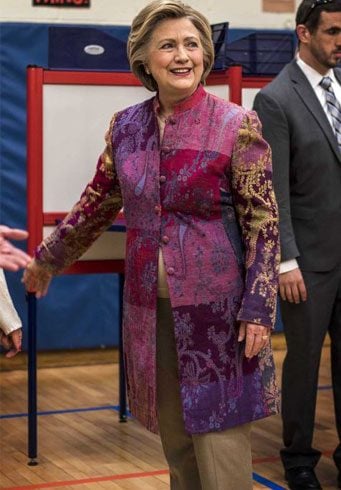 We are also a fan of this beige number she teamed with plain black trousers. Her wardrobe choices during April were very interesting, don't you think?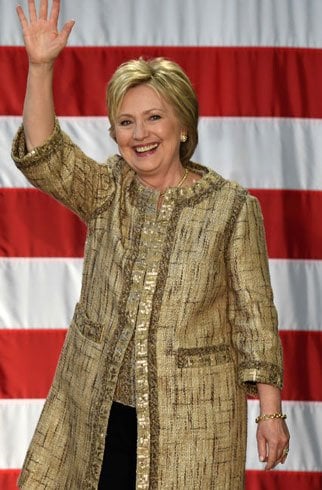 While the clock is ticking, people worldwide are speculating on the fate of the US. We will keep our ears opened for all those entertaining debates and eyes glued to the presidential fashion.