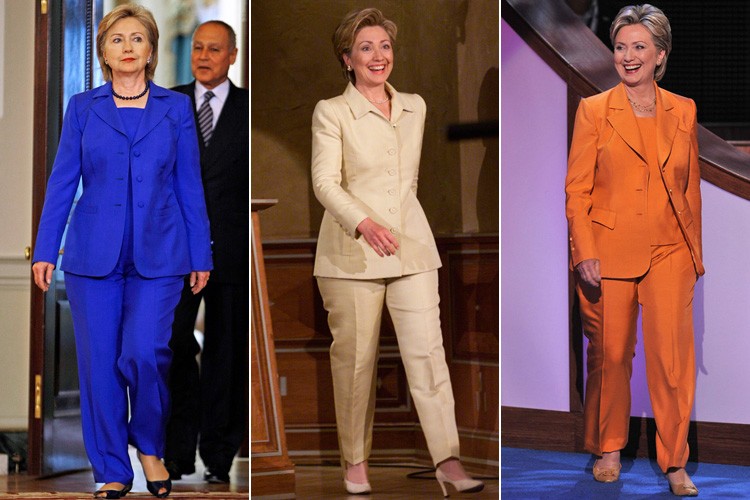 "More than a few times, I've had to pick myself up and get back in the game." Wow! One can well imagine what makes her click as she emerges as the 2016 presidential Democratic candidate of the United States.
First of all, congratulations to Hillary Clinton. There is so much hard work and toil that she must have put into it. But it's her awesome wardrobe of pantsuits that I think supported her through thick and thin. In the Hillary Clinton presidential campaign 2016 that you know of, she chose none other than white pant suit to accept her presidential nomination.
[Also Read: Famous Celebs Wearing Women's Pants Suits And Rocking Their Edgy Style At Events]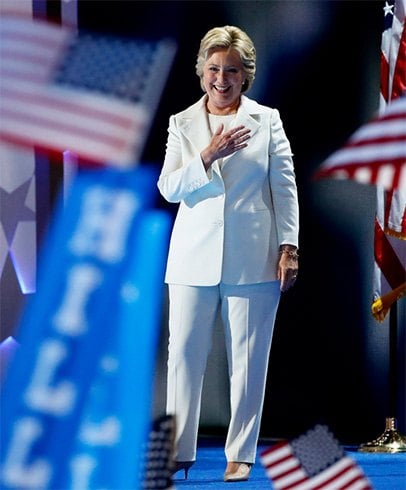 Since the '90s, Hillary Clinton pant suits have been an eternal support and glam system for her when she was the First Lady. The colour-coordinated suits of Hillary Clinton most admired woman have been just as popular as her monochrome ones. And I guess they are the ones that will set her apart during her run for the presidential post in the Oval Office.
But do you know the favourite fashion designer of Hillary Clinton? The designer couturier is Susanna Beverly Hills.
Having said that, I have rounded up Hillary Clinton fashion and Hillary Clinton's most fashionable looks, from 1995 till the present day. You will love them for sure.
Guess what colour of pant suit Hillary Clinton wore while launching her 2016 presidential campaign? It was striking cobalt blue separates by Ralph Lauren. Doesn't she look absolutely royal?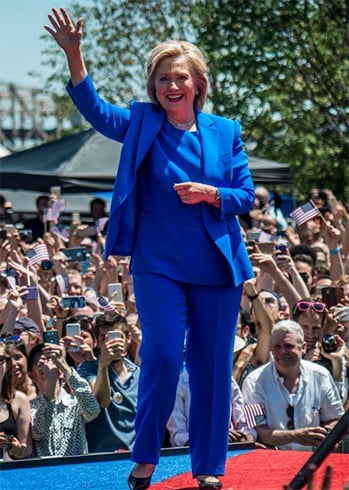 The former U.S. Secretary of State Hillary Clinton wore a vibrant looking violet suit at EMILY's List 30th Anniversary Gala. As for the styling, she chose a coordinated top and beaded jewelry.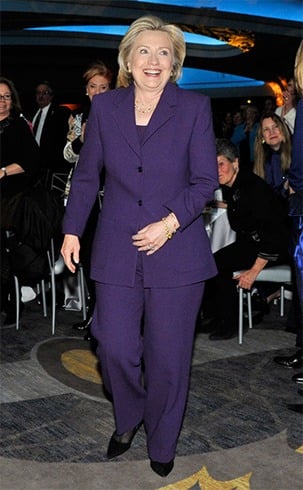 Smile is her best accessory apart from her pant suits and Hillary Clinton fashion has proved that.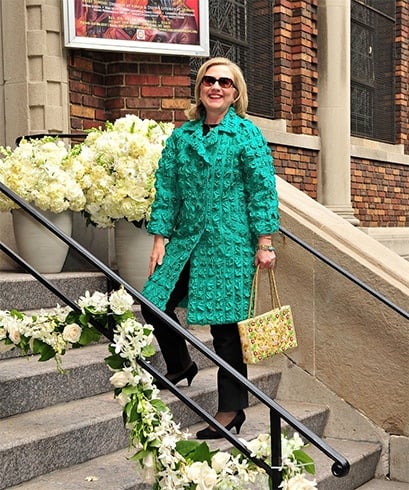 Hillary Clinton pant suits belong to the red carpet. And there is no disputing that considering the frills she is wearing in this picture.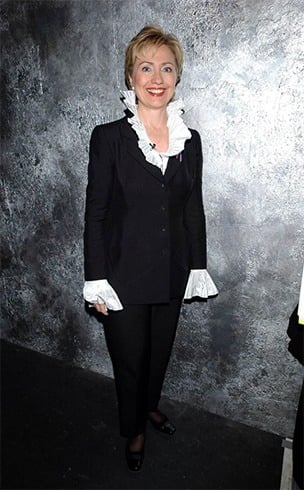 Black uniform from head to toe is a far cry from basic. Doesn't it prove Hillary Clinton most admired woman?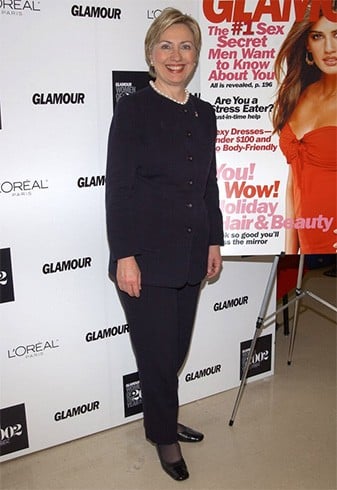 Hold on. Hillary Clinton fashion is also about wearing a bit of colour. Check out the pop of colour in the chic and trendy printed scarf which Hillary wears complementing her otherwise dark pant suit.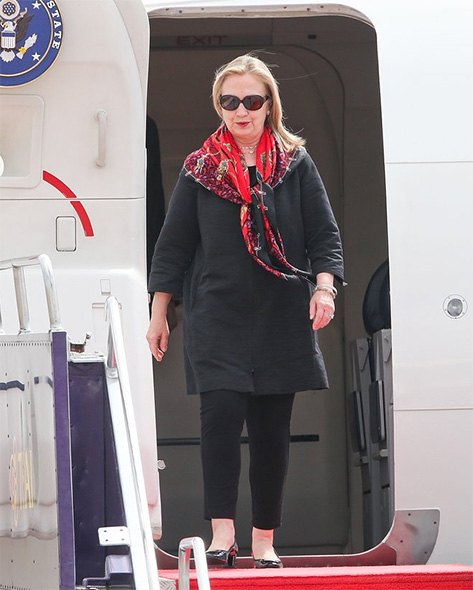 This image will make you turn green with envy. Saw Hillary Clinton's most fashionable looks in this gorgeous looking green coat which she wore at the Clinton Global Initiative University at the University of Miami.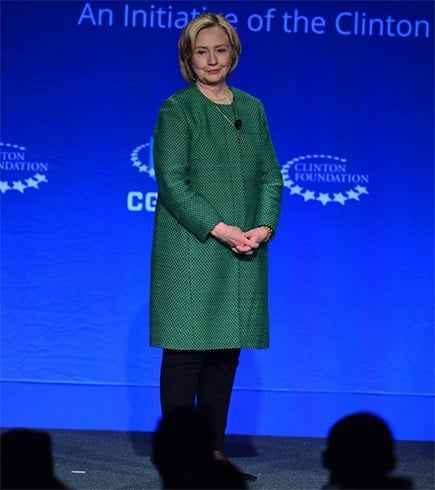 Metallics are in. And the pant suits worn by Hillary Clinton make her prove her fashion forward image.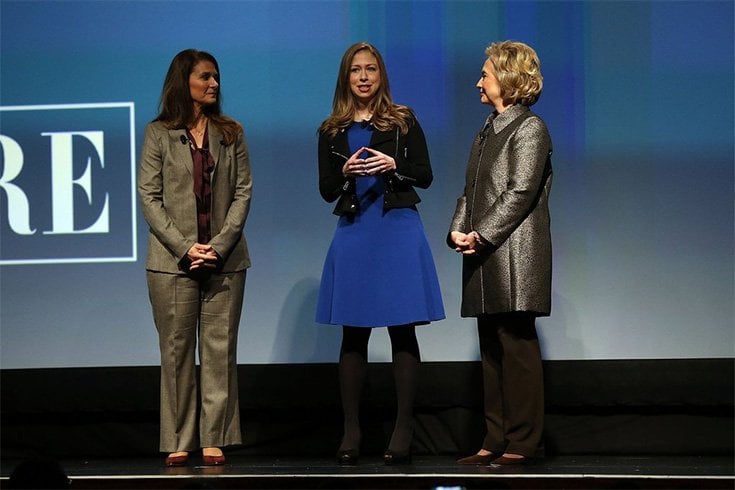 [sc:mediad]
Monochrome is also one of the loves of Hillary Clinton. Her sporting a monochrome rather than a full-on power suit makes her absolutely stage ready. And then her matching shoes are something that no bare eye can miss.
[Also Read: How to Wear Pant Suits]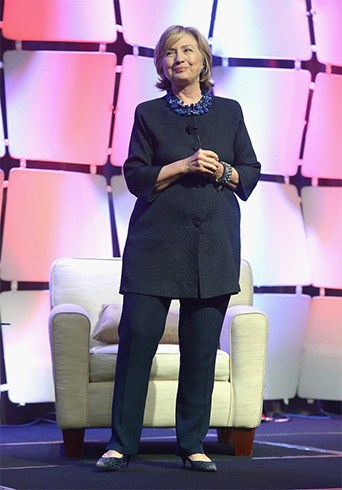 Dressed to kill in emerald green pantsuit, Hillary Clinton wowed all at a launch event held in Des Moines.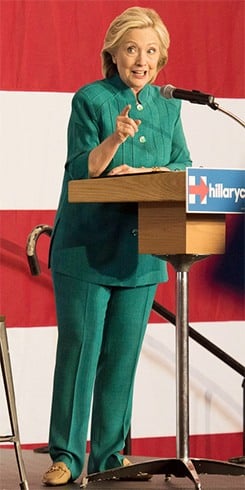 In the year 2008, Hillary Clinton's wore bright orange separates at the 2008 Democratic National Convention in Denver wherein she showed support for Barack Obama's nomination for president.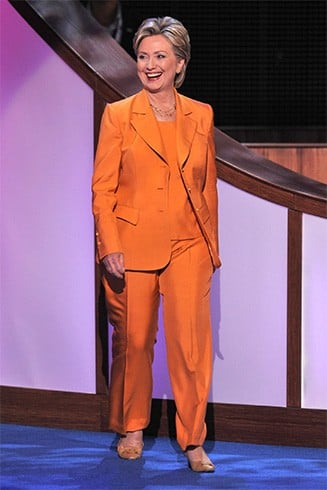 Yellow mellow is Hillary Clinton fashion during a meeting which she attended in Greenville, South Carolina. Her strand of pearls was a perfect accessory to complete the outfit.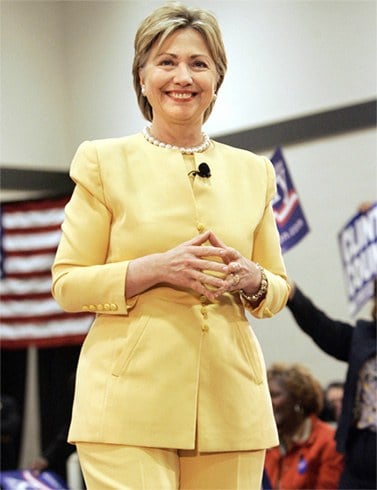 On The Tonight Show with Jay Leno, Hillary Clinton's most fashionable looks were a thing to admire as she opted for an ivory hue.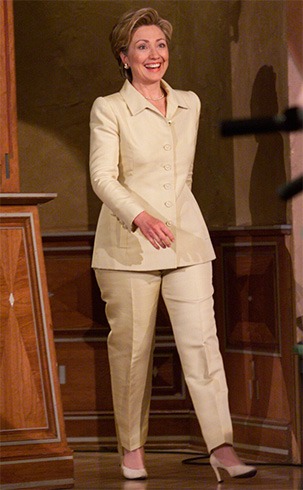 Hillary Clinton most admired woman comes out in full bloom as we see the absolutely gorgeous Madame Clinton in mint green pant suit getting off the plane in N.Y.C with pearls and nude pumps.

How did you find Hillary Clinton pant suits – classics, statement pieces, or chic? Tell us in the comments section.
Images Source: popsugar.com, pinterest.com, instyle.com