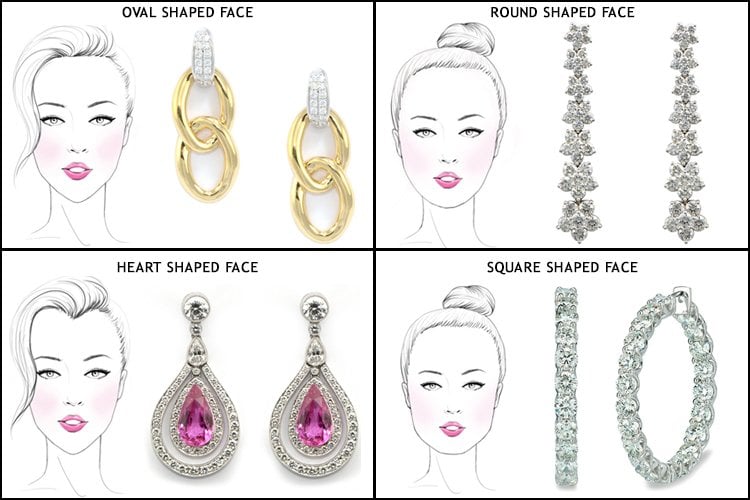 "Earrings aren't my thing" said no pretty lass ever. Be it diamonds, rubies, emeralds or just fashion accessories, ear rings have been a must-to-do accessory for the fairer sex since they learnt to neaten and polish their appearance.  However, ear-rings can either be your best friend or your worst enemies on any occasion and any time. If you wear a pair that disagrees with your facial structure, it's a definite fashion disaster. This is why if we have mirrors at jewelry shops, so that you check out the earrings for your face shape on display, and then judge if it suits you or not.
Remember that time when you were rushing to the first date and you had your dress sorted out, your makeup so pretty and your shoes so chic, but what about the statement earrings? They just didn't match up to what you were wearing or your face structure.
Earrings To Suit Your Face
Now how do we know which are the best types of earrings for round face, or maybe how to choose the chicest type of earrings for oval face? Would Chaandbalis and jhumkas be the best earrings for square face or studs are best type of earrings for oval face? Let's take a look and solve these queries once and for all by first understanding the face shape and types.
Yes, just as we have the right fits for clothing and shoes, the same would be with earrings for your face shape as well. Here are a few tips to benefit the mass to understand how their facial contours and what ear-rings would be suitable for you:
For The Pretty Round Face Lass
If your face is widest at the cheekbones and has no visible tapering towards the chin, you have a round face. Based on this fact, you're best advised to opt for long drops or the dangle ear-rings. This would help to elongate your face. However, stay away from dangle rings with round discs.   Model to follow would be Kate Bosworth.
[Also Read: 90's Hoop Earrings]
[sc:mediad]
For The Gorgeous Oblong Face Girl
If your forehead is elongated and your cheekbones are broad with a narrow width, you have an oblong face.  You can go for studs or clustered ear-rings or short dangles or rings with hoops that are medium to large in size.  Follow super model Joan Smalls as well; let her be your guide.
For The Sensual Square Face Lady
If your forehead and jaw are of similar length, then you have a square face. You can sport oval rings or circular rings, medium to long ones with a round edge or hoop ear-rings. Follow Miranda Kerr if you must.
[Also Read: Types of Earrings]
For The Cute Heart Shape Face PYT
If your forehead is wider than the cheekbones and the lower half of your face is similar to a heart, well, you've a heart shaped face.  Get the chandelier shaped rings or tear drop like rings or those that are wider at the bottom than the top.  Follow celebrities like Michelle Pfeiffer, Jennifer Love Hewitt, Claudia Schiffer, and Naomi Campbell to seek guidance.
For The Sassy Oval Shape Face Woman
The gods were happy when they sculpted you they gave you a face for ear-rings of all sorts and shapes and kinds. However if the fashion consultants be considered, triangular ear-rings or simple studs be best for you! Model to be followed would be Rose Byrne.
[Also Read: Bollywood Earrings]
Do let us know what you thought about our mini guide on earrings for your face shape. If you also would like to share your experiences when picking up earrings to suit your face, we welcome you to send us your thoughts.