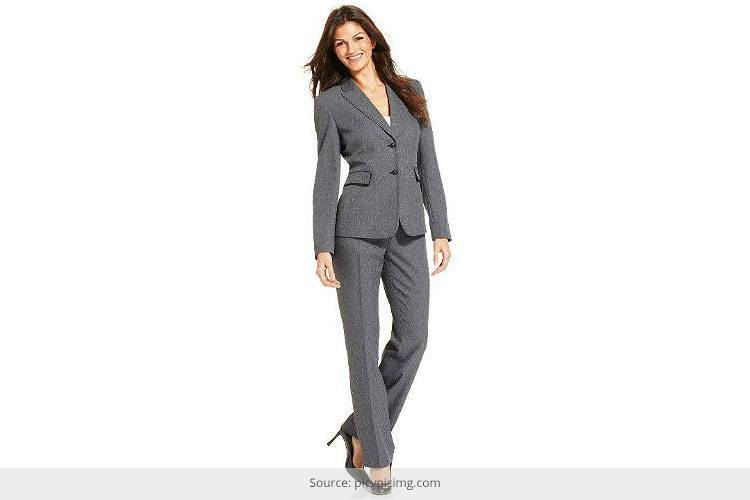 Pant suit or trouser suit is a classic attire for women in which a pair of trousers is teamed up with a matching jacket or blazer. If you are a working woman, a pair of high-grade and finely tailored pant suit should be considered as one of the wardrobe essentials. It is not only a timeless attire, but also adds up some trendy spice to your closet.
[Also Read: Here's How to Look Sophisticated and Classy in a Business Suit]
Different Types of Women Pantsuits
From getting a professional look at workplaces to appearing simple yet classy at special occasions, pant suits are considered as a chic and comfy attire choice for a number of purposes. The variety of pant suits available in the market is also quite impressive. We have shortlisted them below:
Formal / business pant suits
Casual pant suits
Dressy pant suits
Designer pant suits
Linen pant suits
Denim pant suits
Summer pant suits
Capri pant suits
Velour pant suits
Duster pant suits
Pinstripe pant suits
Occasion-specific pant suits
As you can see, pant suits are available in a wide range of styles. However, formal or business pant suits are the most common ones among them. Let's dig into business pant suits and know a bit more about them:
[Also Read: Summer Dressing Styles for Office]
Traditional Business Pant Suits: These are classic business attire in which the well-fitted blouses are matched appropriately with the pants and the jackets. The pant suits might be pinstriped, but the color choice should be limited to black, brown and gray.
General Business Pant Suits: One can go a little less formal with these pant suits. Even though a perfectly fit blouse and a traditional pair of slacks are essential, the style and shade of the jacket can be different from the rest of the attire. Also, the color choice for these pant suits is not limited.
Business Casual Pant Suits: As the name suggest, these pant suits are more casual than formal. So, the jacket is not a must for it. However, if you opt for a jacket, pick something very stylish and dressy.
Factors To Consider Before Buying Women Pant Suits
As pant suit is not an everyday outfit, one must consider all important factors prior to purchasing it and take a wise decision based on them. Whether you buy this novelty clothing item from your local specialty shop or visit a high-end departmental store for getting the best possible options, you should always keep the following points in mind:
[sc:mediad]
1.Find Out The Purpose
With so many choices available in the market, it is important to find out the purpose of wearing pant suits before purchasing. If you are looking for something to wear to your office or attend a corporate meeting, a business suit will be the perfect pick. Conversely, nothing will be better than a stunning designer pant suit for an after-five event. So, know the occasion first.
[Also Read: A Fresher's Office Wardrobe: A Guide to All the Essentials]
2.Where to Wear
Make sure that you keep in mind the location, where you will be wearing the pant suit, and also the weather, while buying a pair. If the meeting is going to be held at a beach, go for something light and airy while choosing a theme will be great for a ranch or city event. If the apparel doesn't fit the environment, you will never feel comfortable in it.
3.Decode the 'Dress Code'
Knowing the dress code for a business meeting or corporate summit is crucial, especially if you are planning to buy a new pair of pant suit for it. Once you are able to crack the dress code for your next event, it will be much easier for you to decide on whether to get a business casual attire or a traditional pant suit.
4.Budget Matters a Lot
When it comes to investing in a sophisticated pair of pant suit, budget plays a key role. There is no dearth of choices in the market and you are always free to choose what you can afford. An easy way to figure out your budget is to decide on the purpose of your purchase and the occasion you are going to wear it on.
5.Know Your Figure
You should know your body type before putting money in a new pair of pant suit. It will help you find the right piece of attire that will make your body look well-proportioned. Following are a few tricks for you:
Short Height: Go monochromatic by selecting blouse, pants and jacket all in same shade.
Smaller Torso: Keep your blouse un-tucked and pair it with a longer jacket and slacks without waistband.
Thicker Waist: A boxy jacket nipped around the waistline and a narrow belt is all you need.
Narrow Waist with Wide Hip: Team up a jacket with (3/4) length sleeves with pencil slacks of high waistline and trouser cut.
Now, you have all vital information regarding pant suits with you. So, make a professional choice and get the most suitable pant suits to look flattering even at your workplace.