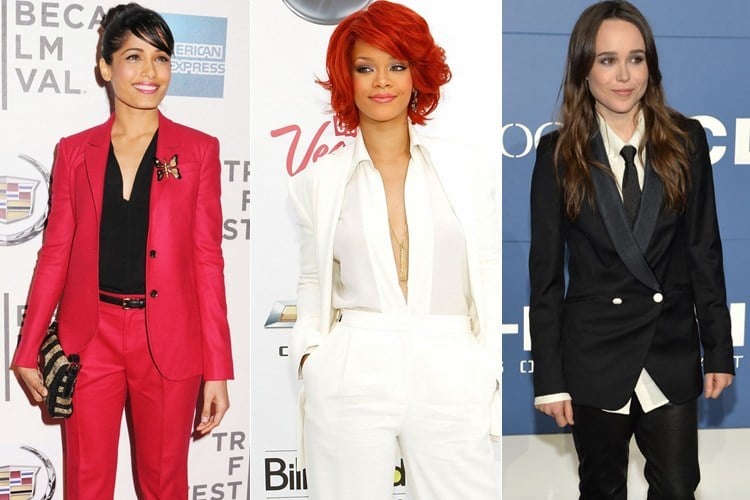 Not every time our wonderful celebrities dress up in chic cocktail gowns to grace the red carpet events and occasions; there are some in womens pants suits rocking the scene out there. And if you thought it was only the long trails and layers that graced the femininity of a woman at such occasions, you were wrong.
[Also Read: How to Wear Pant Suits]
Celebrities In Pant Suits
The trend has shifted to women's pants suits sans the loss of feminine charms we say, and here are some of the well-known celebrities in pant suits that taught us a thing or two on how to look haute and chic.
1. Quite bright and colorful, we simply adore the matte rainbow hues with stars on the coat, sleek cut pants and the quirky pink boots for the feet. The large green shade makes a cut too, so does the long hair on celebrity Jenny Lewis. What say? Would you like to dress up in these tones for a party night out- be a little quirky and daring!
2. Talking about celebrities in pant suits, taking it to another level wearing an all-black ensemble we find the jodhpuri pants being combined with the sleek black tuxedo. And who would wear it like a rock star other than the swaggy Angel Haze; check the polka printed shoes she sports with the statement neckpiece in gold- quite the girl from the hood in all swag style!
3. Celebrity Charli XCX shows us how to bring more of a feminine touch to the pants suits worn by women, and this time she throws a fashion spell in faux pink fur coats along with an all white number for the pants suits she wears. Topping the look with a cute pink bow tie, and chunky peep-toed heels, Charli steals our breath away!
[Also Read: What To Wear With Green Pants]
4. Ellen Page recently came out of the closet with her orientation, but more than that she showed us how to dress androgyny in sleek black Power Pantsuits. Need we say more?
5. An all white number by Miley Cyrus (singer and actress), we fell in love with the chunky safety-pins worn on the hemlines of the coat!
[sc:mediad]
6. Red haired and all in white, song writer and singer, Rihanna never fails to stun us again with her sassy and wild sense of fashion, just like she did at the Billboard Music Awards this time.
7. Lovely velvets and as a one-piece that too, Jessica Biel is a celebrity who wears her fashion just as she wants it; minimal yet starky. Sleek and well-cut, the special occasion pant suits worn is a figure hugging number and when worn with heels, accentuates the contours of the body pretty well.
8. Futuristic we say, when Cate Blanchett (Hollywood celeb) walks the red carpets in a sleek and very sexy shiny gray pantsuit. The TONY AWARDS show could not have asked for a touch of shine and shimmer, more than what Cate had to offer it seems.
9. Fearless and sassy, sister of singer Beyonce Knowles, Solange Knowles with an identity of her own makes a mark in an electric vibrant yellow pant suit. Completing the look with afro hair and nude open heels, Solange's style is reminiscent of the late 80s!
10. Who's that Lady In Red- It is FREIDA PINTO. The Slumdog Millionaire actress is all over the world and attending various red carpet events too. We have mostly seen in dressed in cocktail attire for most events, but this time in an all-red number, Freida stole many hearts wearing a red GUCCI pantsuit.
Those were the ten chic women in hautest of pantsuits worn for various occasions and events. But if you are looking for women's pant suits for weddings or wedding pant suits, may we show you the likes of Ellen De Generes!
And to accessorize the look, you could have a Victorian hat and a bouquet to hold.
Shilpa Shetty
Parineeti Chopra
Sonam Kapoor
We hope you had fun reading this post? Love to all, wear those pant suits and rock the stage!