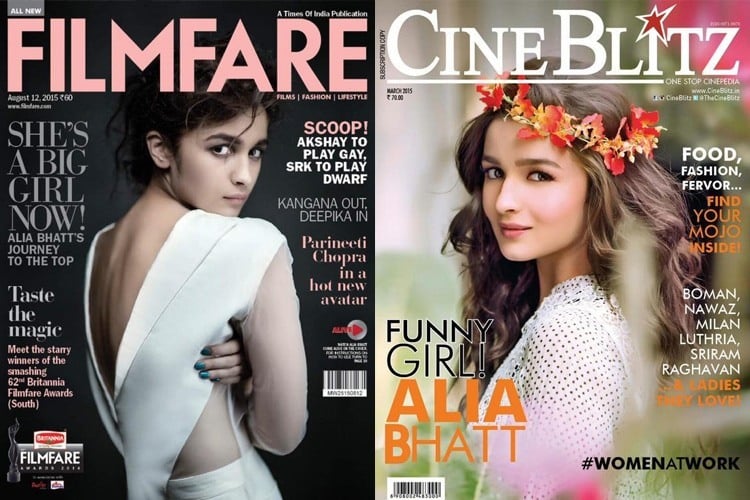 She is the progeny of the famous film director Mahesh Bhatt. She tasted stardom in her tender age. She has had the privilege to work with some of the finest actors and directors in some of the plum roles.
[Also Read: Kangana Ranaut Magazine Covers]
Meet Alia Bhatt, whose 'Ishq Wala Love' song in Karan Johar's film 'Student Of The Year' catapulted her into success. Grab Alia Bhatt magazine cover to find out how she looked every bit a diva in magazine covers page over the years.
Cosmopolitan – October 2015
There have been so many brand collaborations in the past but this one featuring Balmain for H&M collection which was yet to hit stores was in the spotlight.
For the simple reason that first it was Elle, and now it was Cosmopolitan with Alia Bhatt as its cover girl dressed up in much hyped collection of Balmain.
Harper's Bazaar Bride – September 2015
Guess what? Monisha Jaising's sequin gown worn by Alia Bhatt had so much of a pull that it became popular even before it had hit the runway. Can't miss Alia's burgundy look from head to toe, not even the Gucci Dionysus bag that is lying next to her.
On top of it, Alia Bhatt height and the styling done by Mohit Rai and Ayesha Amin Nigam and Photography by Prasad Nail happen to be nail-biting.
Grazia – April 2015
Floral looks are always in demand and Alia looks so mod and trendy in this floral dress done by Tod's. The mesh boots from Dior and a Malvika Wasvani cuff all add up to Alia's haute and contemporary looks.
Hello! – March 2015
Riding high on her acting and stardom is Alia Bhatt who put up a daring combination of hat, chain bracelet, and watch in the Hello! cover. Way to go Bhatt babe!
Verve – August 2014
Ooh laa la…what a stunning piece of headgear she is wearing in the form of Alia Bhatt magazine cover Aug 2014 issue of Verve. Besides the jewellery, it's her eyes that are doing the maximum talking.
India Today Woman – June 2014
We all know Alia's impish charm that makes her so approachable. But she looks cuteness personified in this pink checked shirt, rouge pants and black bow scarf. Perhaps it is things like these that make her look so awesome.
Vogue India – July 2014
This happens to be Alia's second solo cover where she is seen wearing Narciso Rodriguez. Though her short necklace is there, but it could have been given a miss, what say?
Elle India – January 2014
You can't miss out on Alia Bhatt magazine cover of January 2014 and her all-mint minimalist dress with a retro feel which gives it an arresting feel.
To cut the long story short, her Turquoise and Gold top and trousers, complemented with a Louis Vuitton scarf in the form of headwrap and jewellery from Isharya are sure stunners.
The folds on Alia's pants even stood out which explains the smooth composition of the Elle cover.
[sc:mediad]
Marie Claire – August 2013
This time again, Alia is dressed in Tod's booties and Just Cavalli dress. Alia Bhatt surely knows how to kill hearts with her costumes and playful nature.
Harper's Bazaar July-August 2013
Yeah, Alia steps up into an awesome look with her awesome looking leopard stilettos. Her belt and hairstyle are sure take-aways as far as her looks are concerned.
Femina – January 2013
Hot, sizzling, ravishing, Alia is all this and much more as she gears up in her backless dual tone dress. What further makes her look elegant and desirable are her metallic earrings and bracelet.
Grazia – December 2012
Bollywood sweetheart Alia Bhatt is happily wearing a tulle gown designed by Amit GT. She looks the perfect balance between the girl-next-door to hot siren.
Vogue India – September 2012
Gucci is on her mind and curves. Catch Alia dressed in rich berry tones in the Sept Vogue issue of the year 2012 where she gives young and refreshing vibes.
What's surprising is Vogue having taken the decision to feature the debutant Alia on the cover of September issue, when everybody knows the importance of September covers and how established actresses are largely preferred for the cover.
But I guess luck favours the bravest. Vogue's decision to feature the young and raw Alia on the September cover didn't disappoint their sales. Today, they must be proud of the decision they took.
Gossip mongers might have said a lot about Alia Bhatt weight and Alia Bhatt age but let us put these behind and weight Alia in terms of the performance she brings to the movies.
Tell us which Alia Bhatt photoshoot for magazine is something you loved.