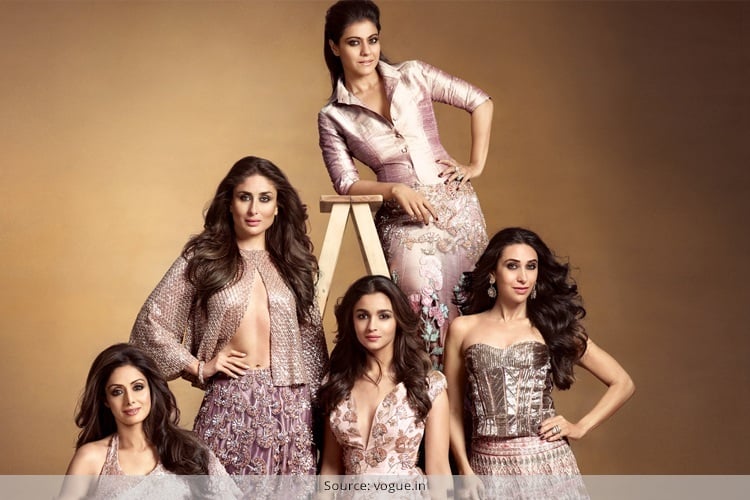 If there is one thing in Bollywood that gets us hooked and keeps things very interesting, then it is our love for style and fashion. And if there is one man whom we can give all the credit to – for starting this trend – then it has to be Manish Malhotra!
Of course there was fashion and style before Manish Malhotra, but this man redefined it, glorified it and glamorised it! It was just what the industry needed at that point! At the young age of 23, Manish started his journey in Bollywood by helping Sridevi doll up and after that rest is history.
[Also Read: Manish Malhotra Bridal Collection]
As he completes 25 years in the industry today, Vogue celebrates with him and five of his favourite and most worked with leading ladies – Sridevi, Kajol, Karisma Kapoor, Kareena Kapoor and Alia Bhatt.
These five women trusted him and gave him a blind reign to dress them up. Today, not a single person can fault his looks!
Here's a video of behind the scenes at the Vogue photo-shoot –
You will pretty much be dazzled by the video (exactly like how we were dazzled) and marvel at the beauty of his outfits and the elegance displayed by the ladies. Their hair, makeup and costumes are all taken care of by Manish and in the end, he puts together a spectacular show for the December 2015 issue of Vogue.
[sc:mediad]
Take a look at the magazine cover –
Styled by Anaita Shroff Adajania, these ladies took our breath away!
Did you know, Manish started out as a model while he was 19 and soon started working his way through? It was his determination, hard-work and passion that got him where he is today. Another remarkable thing about Manish is that he is very open to the idea of change and he loves connecting with his fans. Today, he has about 1.1 Million likes on Facebook, about 407K followers of Instagram and a kitty of at least 1000 movies on his CV. Hell, he doesn't need a CV at all!
From helping out in a small boutique at the tender age of 19 to becoming an household name within 25 years, Manish has come a long way! And we honestly believe that he will go further and become an epitome of style and fashion.
Congratulation Manish!
If you are reading this, we would love a silver jubilee selfie with you!
Lots of love!
Team FashionLady!