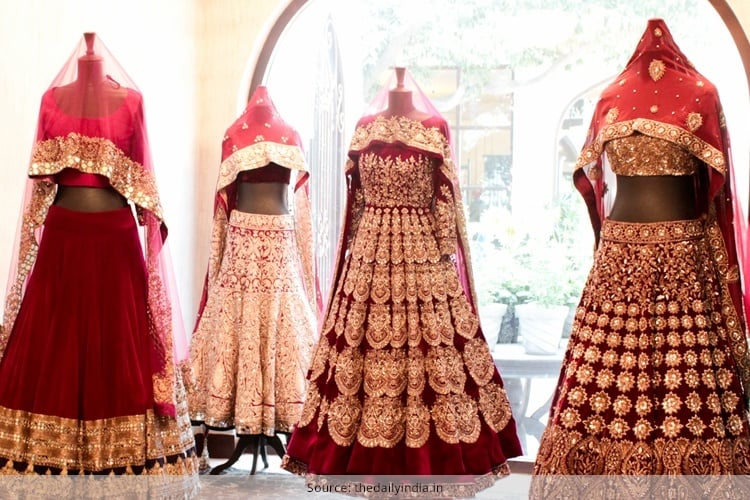 He is the one who has made Urmila, Madhuri, Juhi, Sridevi, Katrina, Priyanka, Aishwarya, Sonakshi, Deepika, Alia and many more leading ladies of Bollywood look beautiful and sensuous. He is the one who has personally designed bridal ensembles for the Kapoor ladies Kareena and Karisma for their wedding.
[Also Read: Manish Malhotra Tells Us Why He's The God Of Designers]
He is also the one who has dressed Hollywood celebrities such as Demi Moore, Naomi Campbell, Kate Moss, Kylie Minogue and many more.
He has experimented and explored endless fabrics, contemporary and futuristic colours with utmost ease. He has made cinema a beauty in itself that leaves you asking for more. He is the Pied Piper in Indian fashion – Manish Malhotra. The man whose bridal workmanship is as elegant and stunning as his designer costumes for the movies.
An icon in India and overseas, Manish has brought sheer glam in the mundane saree, anarkali, salwar kameez and lehnga. But there is no way you can surpass the magic of Manish Malhotra bridal collection. It is actually outstanding.
Whether it is unusual colour palettes, broad borders on voluminous lehngas or anarkalis or plain sarees with thin border, his creations have the stamp of glamour and femininity. Neon colours, lace and prints are his trademarks that make his creations easily identifiable.
Bridal Lehenga By Manish Malhotra
Let us go through a visual odyssey of bridal lehenga by Manish Malhotra.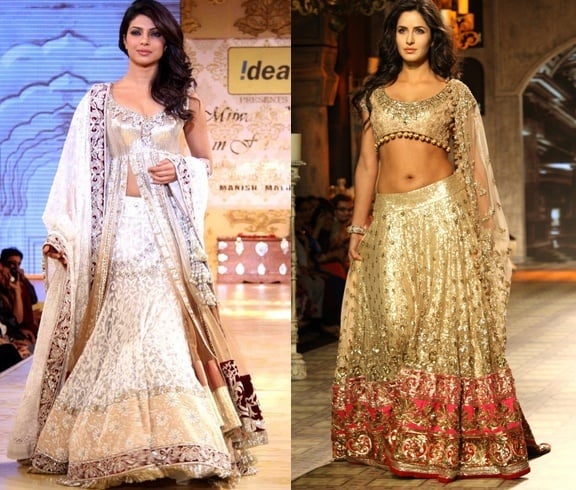 1. Pink Gold Anarkali Lehnga
Both ways, it will ignite a flame in your heart – Nargis Fakhri who wore this gorgeous lehnga while walking the ramp in celebration of 100 years of Bollywood fashion show, and the bridal wear by Manish Malhotra. Immerse yourself in this pink, orange and gold wedding lehengas by manish malhotra. This Anarkali lehnga top looks beautiful in its flares and volume.
[sc:mediad]
2. Red Bridal Lehnga
Wearing a stunning traditional outfit on the day of wedding has its own charm. Check out this red velvet lehnga from Manish Malhotra bridal collection that has Kashmiri zari embroidery, small choli blouse, fully embellished sleeves, scoop neck and tie-up at the back. The dupatta is net and golden and a bit of details at the borders.
[Also Read: Manish Malhotra]
3. Gold/White With Red
Meet hair-raising elegance shining out in this beautiful bridal couture designed by Manish Malhotra.
4. Pops Of Colour
With brand Manish around, colours in bridal lehenga come up on their own in part subtle and part glam way. Never for a minute would you feel the camera shying away from you when you are dressed in bridal wear by Manish Malhotra.
[Also Read: Manish Malhotra At The Indian Couture Week 2015!]
When Choosing Your Bridal Outfit
Bridal colours may be dime a dozen but the most suitable ones that fit in the Indian context are red, pink and maroon. Try and adopt one of these colours when you are buying Manish Malhotra bridal collection.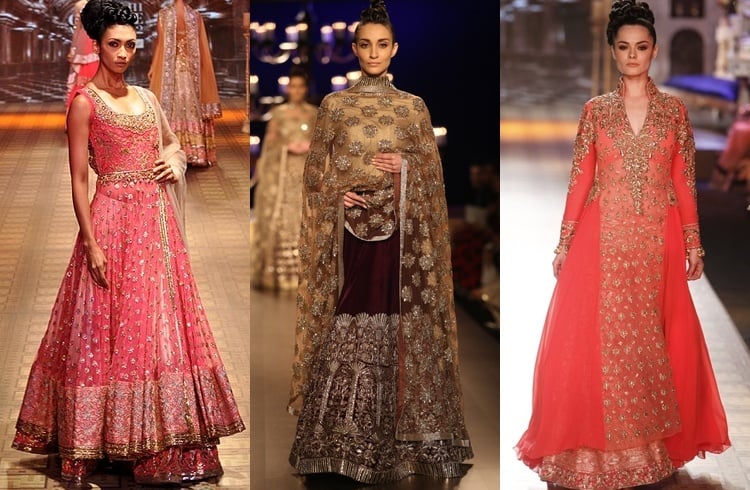 For each bridal function that involves you and your family, you can experiment with different colours. There are shades like orange, ink blue and mauve that can look equally good and ceremonial.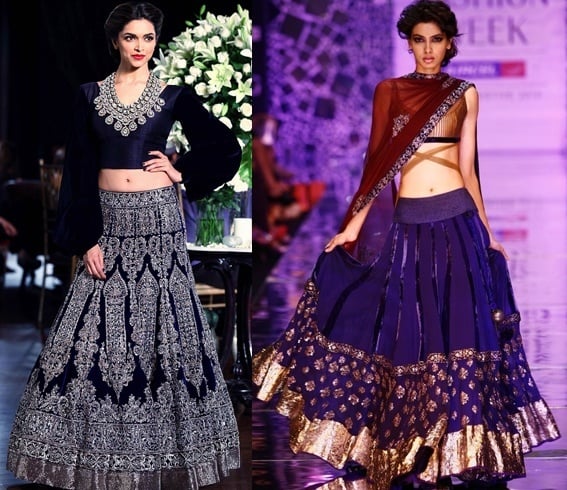 Never choose clothes that look temporary in fashion. Thankfully, wedding lehengas by Manish Malhotra are evergreen, so you can relax on this front.
So this was a microscopic view of bridal collection by Manish Malhotra. A sought-after name, this very famous couture designer knows how to combine traditional elegance into contemporary style. This is what precisely makes him the ultimate aspiration for brides-to-be who wish to have a true Bollywood-style wedding.
[Also Read: Tunics by Manish Malhotra]
If you have madly fallen for any one of his creations, drop a line and let us know. We will be glad to get your comments in the hope that someday the baadshah of couture designing himself reads your replies and drops in his word of thanks and love.