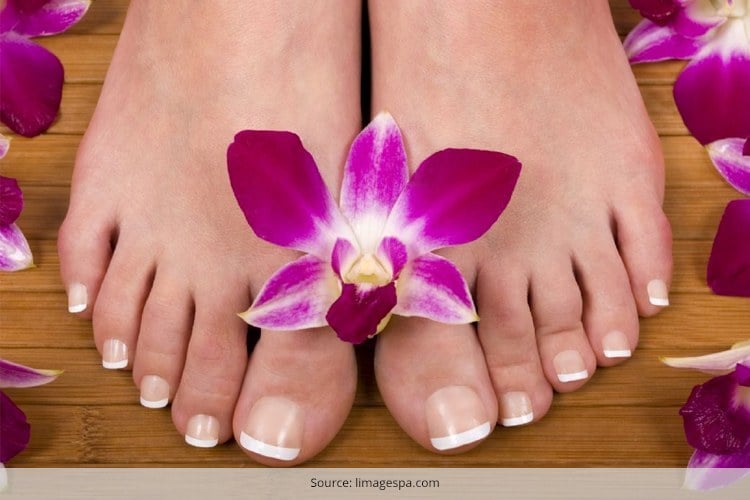 Coming from the land of artisans, the French pedicure is an art itself. The beauty of French pedicure lies in its unique technique and great finesse. With the beauty and grooming industry pacing up, various techniques and treatments have been developed to enhance and beautify both men and women.
[Also Read: DIY Pedicures Recipes]
Having long, well-shaped and shiny toe nails is something every woman wishes to have. But maintaining them can become a task, if we ignore them till the 11th hour. So to help you pamper your toe nails with some great French pedicure ideas, we have listed the best tips for you. Have a look and gift your feet all that happiness again.
How To Do French Pedicure?
A French pedicure is absolutely beautiful and a terrific way to pamper your toes. The French are known for their elegant style, and they have incorporated the same in their pedicure techniques as well. Most of us are hesitant to visit the salon for a pedicure as it can be time taking. So to ease it up for all our lovely ladies, we have listed some time tested French pedicure ideas and techniques for a great pedicure that you can totally DIY! Let's begin your French Pedicure at home. Here's how to do french pedicure.
Things You Need:
A big tumbler
Body Oil
Pumice Stone
Epsom Salt
Nail Polish Remover
Filer
Concealer Brush
Nail Polish (Translucent and White)
Toe Spacers
Towel
[Also Read: Pedicure Tools]
Follow these steps for a great salon style French pedicure at home:
1. Soaking Your Feet
The first and the most important thing to do are soaking your feet in warm water. Add some Epsom salt in the water as it helps the dead skin to hydrate and loosen up, thus helping us to remove the scales easily. Dip them for some time and relax. Once you feel the dead skin loosen up, use a pumice stone to scrub the dead skin away from the heels.
2. Moisturising Your Feet
Take some intense moisturising lotion or body oil and apply it all over your feet. Massage it gently and spread it evenly all over your feet. Apply some Vaseline on your heels and leave it for 5-10 minutes. Your feet will be soft by now and your toes rejuvenated.
3. Removing Nail Paint
The next thing you should do is, remove the previous nail paint. Dab the cotton ball in the nail polish remover and remove the paint. Let your nails dry for a few minutes, before you proceed to the next step.
[Also Read: French Manicure Ideas For Perfect Lady-Like Nails!]
4. Filing Your Toe Nails
Filing your toe nails is important to give them the right shape and length. File them the shape you want them to be. Square toe nails look spectacular.
[sc:mediad]
5. Applying Nail Paint
Use the translucent nail paint as the neutral base for your toe nails. Apply it evenly on your toe nails and let it dry. Use the concealer (acetone) to remove excess nail paint from the sides. Dip your feet in cold water for a few minutes. This helps the nail paint to last longer and shine brighter.
6. Applying White Nail Paint On Tip Of The Toe Nail
Once the nail paint has dried up, use white nail paint on the tip of the toe nail just above the bed of the fingertip. Apply a fine line of the nail paint and leave it to dry..
7. Lock The Colour
Once dried, apply a thin coat of the neutral nail paint over the toe nails. This will lock the colour and will keep it long lasting. Always use nail paint from renowned brands. They last long and don't chip off.
These 7 French pedicure ideas and tips will sparkle up your toe nails and make your feet look flawless.
So once you have followed this procedure, you will have pedicure perfect nails to flaunt. A French pedicure will exfoliate your feet and make them soft. It is advisable to do a pedicure twice a month. If your skin tends to dry up, moisturise with olive oil every day before you go off to bed. It will make your pedicure last long and make your feet look fabulous.
I hope these easy to do French pedicure ideas and tips, help your toes get that shine and shimmer you are craving for.
A very happy pedicure to you!