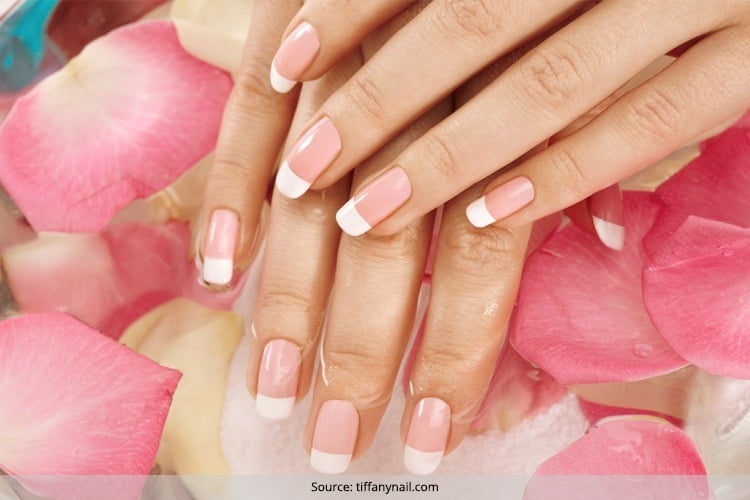 The seemingly innocuous French manicure can, infact, be quite tricky. While you can always go to the salon to get it done, you can save a lot of money if you master the DIY perfect French manicure. In this article we have listed some awesome french manicure ideas. Read on and learn!
[Also Read: Manicure Tutorial for Beginners]
Let's Take a Look At How To Do a French Manicure Like a Pro!
If you love sporting a French manicure and are often doing it, then it makes sense to invest in a French manicure kit. It has pretty much everything you'll need and will help you get salon quality results. So let's get started with how to do a french manicure fand get salon like results
Step One
Completely remove any old nail polish with some acetone. Get into all the nooks and corners to ensure there is no trace of any old nail polish. Next, trim your nails and use a nail file to shape it to a nice oval or square shape, according to your preference. One of the signature features that really makes the French manicure special is the shape. So take extra care to shape your nails precisely.
Step Two
Use a cuticle cream to soften the cuticles and then push them in using a cuticle pusher. Once the cuticles have been taken care of, use a buffer to smooth out the nail surface. The base coat comes next. This is a very crucial step as the base coat is what will take your French manicure from looking amateurish to looking professionally done.
[Also Read: Dry Skin Around Nails]
[sc:mediad]
Step Three
Pick a pale pink or clear nail polish and apply two thin coats. Once that dries, you can go ahead and paint horizontal lines along your nail tips. This can be done in two ways. You can either use those thin nail art strips to guide you to make the perfect french manicure tips, or you can do it freehand. If you opt to go the freehand route, then you might want to use a brush dipped in acetone to clean up the lines and make them perfect.
[Also Read: How To Grow Long Nails]
Step Four
The final step is the top coat. Two thin coats will help protect your French manicure and give it a nice glossy finish. Needless to say, refrain from indulging in any tasks that will involve you having to use your fingers. Chipping and streaking are two of the most common and highly annoying issues DIY-ers face, so take extra care to keep your manicure safe.
[Also Read: 25 Types of Manicures for You to Try]
French Manicure Tips and Tricks
The idea behind the French manicure is to make your nails look healthy and clean. So if your nails are stained or have a yellow tint to them, then it is a good idea to opt for pale pink shades instead of clear nail polish.
Get creative and give your French manicure a modern twist. Use colors for your nail tips instead of the trademark white tips for a refreshing new look.
Persevere; know that it takes time and practice to nail the perfect French manicure.
French manicures work best on long nails. So if your nails are too short, then you might want to consider opting for a regular manicure instead of a French manicure.
Practice it on your friends! The more you practice the better you will get at it. So rope in your friends and family to act as your guinea pig.
Do try to protect your hands while doing chores. For instance, if you're going to wash some utensils, wearing gloves to cover your hands will help keep your manicure intact.
For an easy French manicure, buy some nail guide strips to make the whole process so much simpler and easier.
[Also Read: Perfect Manicure]
Has this article helped give you some new insights on how to do a perfect French manicure, all by yourself?