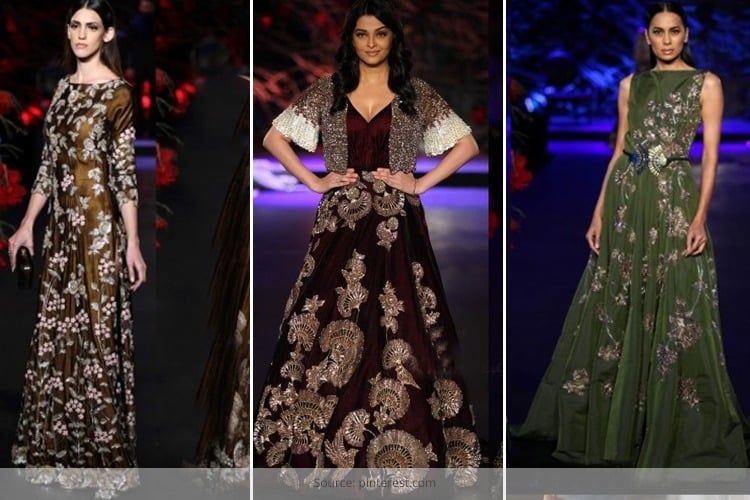 This just gets better and better every day. Perhaps, fashion is just like old wine. The older it gets, the better it tastes.
The Amazon Indian Couture Week 2015 started off with Sabyasachi Mukherjee displaying his fantastic skills! Added to his antique collection was Christian Louboutin's sexy heels. Simply fantastic!
We thought life couldn't get any better, but many designers displayed their designs and uff, we kinda died every single time.
Manish Malhotra at ICW 2015
But things hit the roof when we saw what Manish Malhotra had to present. At the Indian Couture Week, Manish did a fan-tas-tic job! His collection was mostly wedding wear/bridal-esque, called 'The Empress Story" Something which we don't mind at all!!
While he played with deep traditional colours like green, reds, browns and gold, the designs and fittings of his outfits were anything but traditional!
That's not it though. When his showstopper walked down the ramp, time stilled and everyone gaped at her beauty. Any guesses to who it was?
Well, here's a picture of her
Here's the collection!
The Reds
Don't we just love the deep maroon and the bright chilly red?
The Greens
We are absolutely in love with the lehenga!! Just look at how well it flairs at the bottom!
[sc:mediad]
The Browns
And not to forget the browns! The rich, coffee coloured shades of brown with embroidery.
The Masquerade
And then, here's the masquerade ball collection! Not literally, but we would like to wear it for a masquerade ball. We are digging the eye masks!
We love, what about you guys? Do you have a favourite?