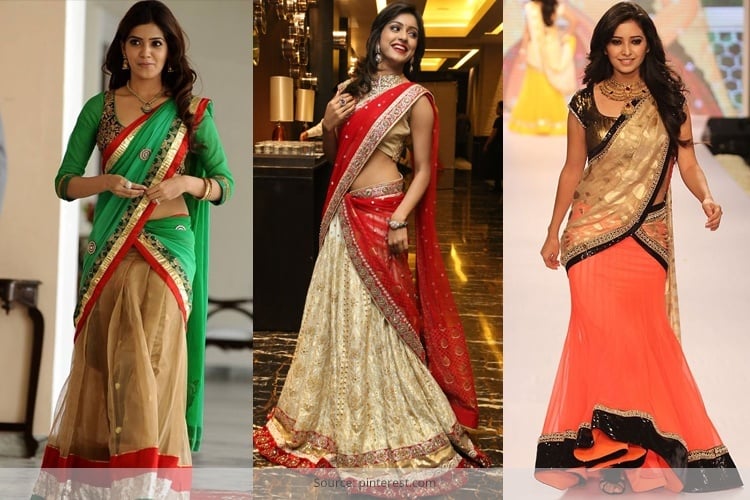 There is a traditional lehnga and a traditional saree. Combine both of them and you get an awesome hybrid in the form of lehnga saree popularly known as 'half saree'.
[Also Read: Celebrity Sarees]
Here Are Few Designer Half Sarees
Half sarees have been gaining popularity of late replacing the traditional lehnga and saree. More and more brides of today are switching over to the resplendent looking Designer Half Saree. Remember, Alia Bhatt looking gorgeous in 2 States and Deepika Padukone's innocent sweet look winning over in Chennai Express? Their half sarees almost catapulted into our nations favourite. Today, the types of half sarees available are so vivid, interesting, and worth grabbing, you would only wish you slept in a half saree!
Half Sarees – Simplicity, Colour, Extravaganza
In South India, half saree is a traditional costume which is addressed as 'Langa Voni'. It is a costume that depicts a lady's transitional phase between childhood to puberty. Instead of draping a saree in the conventional way, a skirt and a blouse is worn with a dupatta which almost looks similar to a saree.
However, special occasions down South demand silk to be worn. So you will see umpteen women getting dressed in Kanjeevaram silk which is a riot of colour considering the reds, greens, blues, yellows and golds. The skirt is invariably wide and has a flare which facilitates smooth movement. The blouse as you can see is short and the chunni covers up whatever little bit of midriff that can be seen in a lady.
[Also Read: Problem Every Girl Wearing a Saree Faces]
Fabrics Used In A Half Saree
The designer half sarees collection has various looks and interpretations – heavy embroidery and embellishments for the party look.
In order to glamorize your half saree, fabrics you choose play an instrumental role. While silks, satins and tulle are going trendy these days in a half saree, the dupatta is stealing the show with heavily embroidered tassels and borders. Evergreen colour combinations include yellow and pink or red and yellow.
[Also Read: How to Wear Saree in Different Styles]
Now check out this dazzling half saree in yellow with silver blouse designed by India's most loved and celebrated fashion designer Manish Malhotra. The scoop neck silver choli is drool-worthy as much as the tulle yellow skirt with silver motifs and stripes.
[sc:mediad]
How to Wear A Half Saree
No rocket science or formal training is involved in wearing a half saree. Unlike tying a sari the traditional way, you don't have to pleat a half saree in a similar way. Just take one end of the chunni, bring it to the front and hang it over your left shoulder to the back. The chunni's end that you tuck in at your hip should form a triangular shape on your left side and back. Now adjust your dupatta's pleats to cover or reveal your navel. You are now ready to charm in this chic looking Designer Half Saree.
Secondly, you can mix and match your Designer Half Saree with contrasting dupattas. There is no official thumb rule which makes it mandatory for the dupatta colour to match with the half saree. With a half saree, there is always room to experiment with combination shades.
There might be different styles of draping half saree but the best part is that you can wear the three pieces in contrasting colours. Just to give you an example, the blouse worn can be in green, the duppatta can be of yellow colour and the lehnga in red. Check out Bollywood actress and celebrity Dia Mirza, who looked a queen at Riteish-Genelia pre-wedding functions.
[Also Read: Bollywood Sarees for Upcoming Festivals]
Genelia D'Souza looked a gorgeous beauty in this lehenga half saree for her wedding reception.
Now start draping yourself in this new found fashion statement of designer half sarees collection in your party wear and celebrations. Feel free to tell us what you think of half saree – yay or nay? For us, it is not just yay, it's thumbs up!