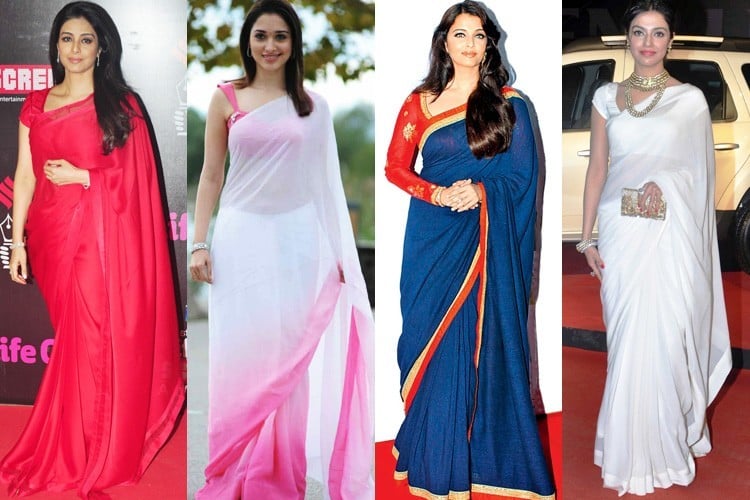 When it comes to fashion and style, we take a lot of our inspiration from celebrities. When we see a Bollywood actress in saree, we take note of which designer they're wearing, what colour and what kind of accessories they have opted for and other such details. Celebrity sarees are the current rage these days. Read on…
[Also Read: Indian Handloom Sarees]
Plain Sarees Are a Favourite Among Bollywood Celebrities. Take a Look
With observing the Bollywood celebrity fashion so closely, we've realized that when it comes to saree trends, plain sarees are on the forefront right now.
The Red Siren
Of course our Bollywood divas love wearing plain red saree. There is no color like red to make a bold statement and these celebrities prove it. Who needs zari and beading when you can look like a million bucks in plain designer sarees? While Kareena and Vidya Balan wore their saree with a matching red blouse, Deepika opted to wear hers with a magenta colored blouse, giving it a twist.
[Also Read: How To Style Black Saree]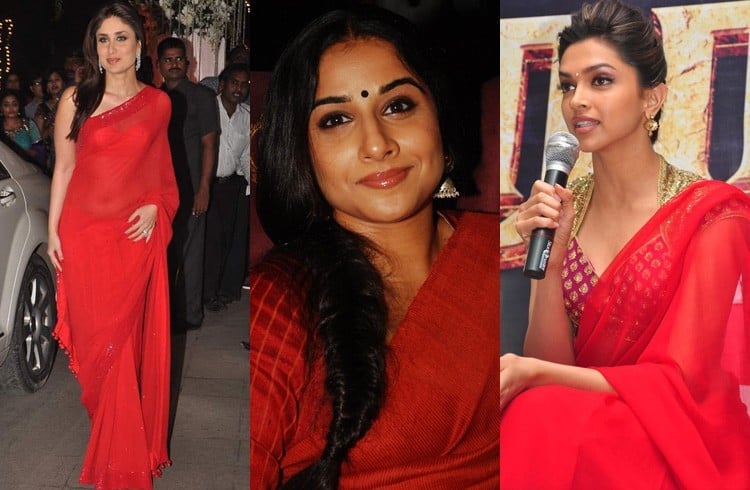 The Black Beauty
How can we not list the black saree here! When it comes to celebrity sarees, the black saree is an absolute favorite. Just like the trusted LBD, the black saree is another trusted outfit. Pretty much every actress in Bollywood has worn a black saree at some point in time. Here are a few variations of it. Celina Jetley and Shilpa Shetty have worn plain black sarees while Madhuri and Bipasha chose to wear a plain black saree with a vibrant border.
[Also Read: South Indian Wedding Sarees]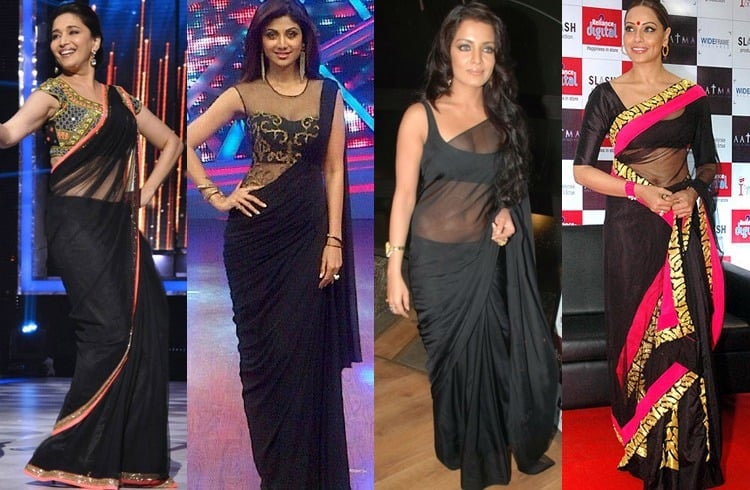 [sc:mediad]
Bold Borders
When it comes to plain saree designs, most celebrities seem to love having contrasting borders in their plain sarees. White saree with a black border, bright neon green paired with a pink border and a red saree with a black border all seem to be favorites in celebrity sarees.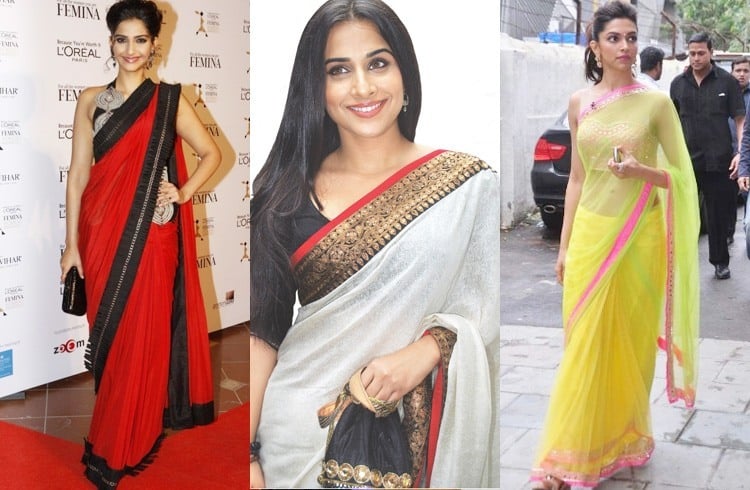 The Solids
While see-through plain sarees are quite popular among our Bollywood celebrities, opaque fabrics such as raw silk seem to be equally liked. Check out how gorgeous Vidya Balan and Kangana look in solid plain sarees.
[Also Read: Manish Malhotra Sarees]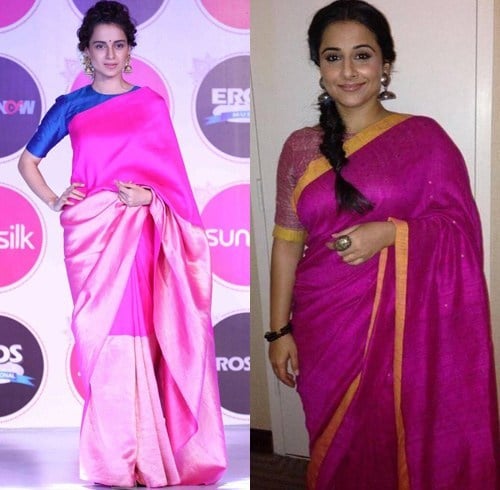 Why Do Celebrities Love The Plain Saree Trend?
We've tried to figure out what exactly is it about the plain sarees trend that celebrities love? And why is it so popular?
Well for starters, you can't really go wrong with it. A plain saree in a nice color looks really pretty. So this trend is relatively safe.
It gives you more room to experiment with accessories. You can wear heavy jewellery and not have to worry about over-doing it. The plain saree provides the perfect backdrop for your accessories. And you can make it dressier by pairing it with a heavily worked blouse.
[Also Read: Statement Necklaces with Sarees]
It's a classic look. The plain sarees have been around forever. It is one of those trends that just never goes away. It just goes through phases where it is either in the forefront or not, and right now it is.
Celebrity sarees need to look really good in photograph and that is another big reason as to why this trend is so popular. Plain sarees look so good in photographs, which is why more and more celebrities are opting to wear them to red carpet events.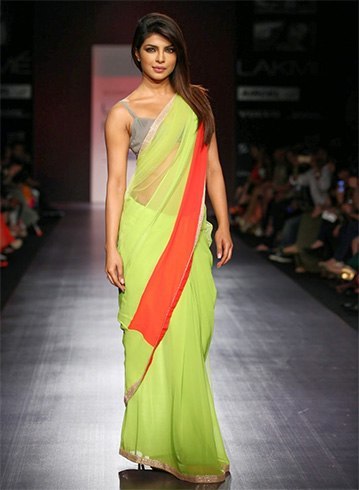 So what about you? Do you love this trend as much as our celebrities seem to? Would you wear a plain saree to a wedding or other such function or do you think it would look too simple?