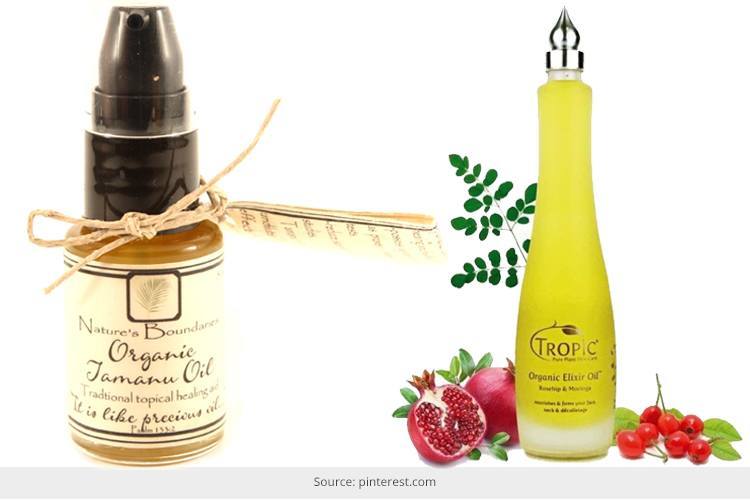 Are you down with headache, have a hard time sleeping or have a skin problem? No point losing your sleep. There's an essential oil for all of these problem areas and skin blemishes that will make you sit back and admire your skin.
We present you seven essential oils in combating skin conditions such as acne, aging, oiliness and dryness. No more scouting the ingredients before you purchase the oil and no more toxic ingredients such as petrochemicals, parabens or fragrance. Only natural and pure bliss it is! Read on and give these oils a try.
Tamanu
Latin name: Calophyllum inophyllum
This type of oil is absolutely soothing and how. Well, it offers considerable relief from irritations of the skin such as skin rashes, sunburn, inflammation and eczema.
[Also Read: Traditional Skin Care]
Tamanu oil has compounds that help restore and regenerate the skin tissue. Since it has antioxidant and antimicrobial properties, it is a wonderful oil to treat skin breakouts.
Golden Jojoba
Latin name: Simmondsia Chinesis
Though Golden jojoba (ho-ho-ba) looks like an oil but from a technical point of view it is a liquid wax which is made from jojoba seeds.
Composition wise, it is very close to our own sebum secreted from our skin and creates a fast absorbing, lightweight moisturizer. Golden Jojoba is good for all skin types and is known to penetrate deeply into the skin.
[Also Read: Argan Oil For Hair]
If you are struggling with oily skin, use a jojoba blend as it will dissolve excess sebum and allow the skin pores to breathe.
Argan Oil
Latin name: Argania spinosa
Argan oil traces its roots back to traditional Morocco. As oil, it absorbs superbly into the skin, leaving behind a satin finish without any oily residue.
[Also Read:Ten Argan Oil Benefits for Skin, Hair and Body ]
This is why Argan oil comes up to be excellent for anti-aging treatment. As per research findings, regular application of argan oil replenishes the water-lipid layer (the moisturizing factor of the skin) and increases the oxygen supply and nutrient levels in skin cells.
Black Cumin Seed Oil
Latin name: Nigella sativa
Black Cumin Seed oil is high in antioxidants and fatty acids. This makes it as a great topical treatment for problems related to inflamed skin such as eczema, dermatitis, and acne.
[sc:mediad]
Rosehip Oil
Latin name: Rosa rubiginosa
Rosehip oil is known for its skin hydrating and moisturising properties. Those of you who are facing environmental stress on your skin in the form of dry air or wind will greatly benefit from rosehip oil. It improves skin elasticity owing to its anti-aging properties, boosts skin cell regeneration, and reduces scarring.
[Also Read: Natural Oils For Hair Growth]
Moringa Oil
Latin name: Moringa Oleifera
[Also Read: Argan Oil For Wrinkles]
This particular type of oil has been used by ancient Hindus as well as Egyptians as early as 2000 B.C.
Moringa oil is full of antioxidants, which protects your skin from sun damage and aging, reduces wrinkles, lightens skin tone, and moisturizes your skin.
Monoi Oil
Latin name: Cocos Nucifera and Gardenia Tahitensis
This is a sacred oil of the Polynesians and hails from the native Maori tribe of New Zealand. It was spotted out by the European explorer James Cook as being used by the Maori people for beauty purpose, medicines and religious rituals.
Monoi oil is suitable for all skin types and gets successfully absorbed into the skin without leaving behind any greasy residue. Many Monoi oils available in the market today are cheap imitations of the original oil. This is why they lack in delivering powerful skincare properties of the authentic oil.
[Also Read: Natural Beauty Oils for Your Skin that come with a Price Tag]
So get ready to put a few drops of these precious natural oils on your face and be prepared to look gorgeous.