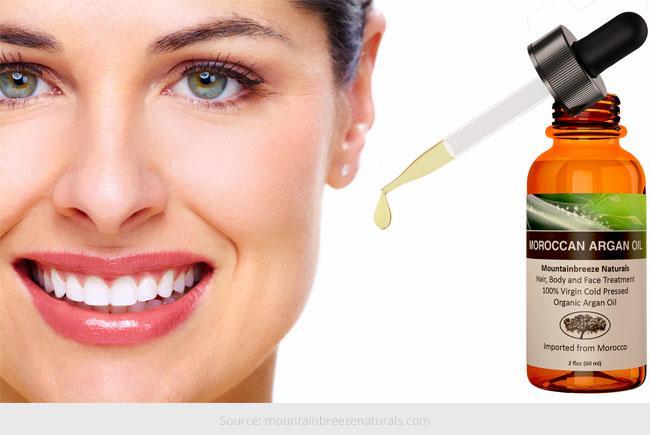 It is the 'liquid gold' when it comes to nourishing skin, hair, scalp, body, face, and hands. Argan Oil is a native oil of Morocco that is increasingly becoming a choice of celebrities and the common man the world over. Guess why? Extracted from the kernels of the Argan Tree, it is a powerhouse of Vitamin E, fatty acids, and antioxidants that make it nature's best ingredient for a healthy body and glowing skin. One of the rarest oils in the world owing to the limited areas where the tree is grown, Argan Oil is increasingly gaining impetus and recognition in beauty products as well as cosmetics.
Call it the elixir of beauty, the increasing popularity of Argan Oil has encouraged the Government of Morocco to step up its annual production from 2,500 tonnes to 4,000 tonnes by the year 2020. Let us take a look at the benefits of this miracle oil that is the passport to getting luminously soft locks and skin.
[Also Read: What Is Moroccan Oil]
1. Skin Moisturising
"In cosmetics, Argan Oil is advocated as moisturising oil, against juvenile acne and flaking of the skin as well as nourishing the hair. This oil has also medicinal uses against rheumatism and the healing of burns…"
Since Argan Oil has high Vitamin A, D, and E, carotenes, and 80% unsaturated fatty acid content, it is super beneficial for hair and skin. Depending on your skin quality, you can apply Argan Oil two or three times a day and during the night to get the required moisturizing and skin rejuvenation impact. Moreover, there are no fears of feeling any oil residue on the skin. If by chance you feel the rush of excess of Argan Oil on your face, then rub it off with a face towel or a cotton ball. In case of scars, dry skin, and wrinkles, Argan Oil works well to cure scars.
2. Hair & Scalp Conditioning
Argan Oil is an excellent hair conditioner and helps put dry and frizzy hair to smoothness and bounce. Dry scalps can be brought to a soft, silky, and smooth look by applying few drops of oil onto a cotton ball and dabbing the scalp with this nourishing oil. Makes even the dried split ends smooth and manageable like never before. If you wish to flaunt your hair to a social invitation or late-night date with that somebody, then Argan Oil will happily help you do it to the best of results.
3. Face Glow
Often we get conscious about the impact a small blob of oil would leave on our face. That is not the case with Argan oil whose fast and easy absorption leaves no trace of grease. An excellent moisturizer, Argan Oil gives your face the much-needed youthful glow leading to a smooth, radiant, and clear complexion. Use it every morning after bath or mix 2-3 drops in your BB cream to make your face do the talking.
4. Anti-Ageing
With passing years, the biggest fear a woman has is of wrinkles developing on the face. Though the market is flooded with anti-ageing creams, Argan Oil makes the ideal anti-ageing cosmetic since it restores elasticity and leaves the skin feeling plump. All you need to do is simply massage a few drops of this heavenly oil on your face and neck for a good 5 minutes before you go off to sleep. It works as a good overnight cream as well in reducing fine lines and preventing wrinkles.
[Also Read: Argan Oil Benefits]
5. Fighting Acne
[sc:mediad]
Acne is one skin ailment that troubles teenage and adolescent years. Since it is a reflection of oily skin, it needs mature handling so that it doesn't stay on. Argan Oil, owing to its non-greasy and anti-inflammatory properties, helps heal damaged skin cells, thereby soothing affected skin. Just pat the face dry after cleansing and apply Argan Oil gently to help clear up the troubling acne.
6. Hand and Cracked Heel Softener
For ladies facing dry and chapped skin on hands and heels, Argan oil proves to be the best remedy. All you need to do is moisturize your hands, nail cuticles, and feet with a drop of this oil in order to get soft, nourished, and baby soft hands and feet.
[Also Read: Argan Oil For Hair]
7. Pregnancy
Giving birth to a bonny baby is the biggest joy a woman has. However, pregnant women often face the nagging problem of stretch marks. Argan oil comes of great help in protecting against sagging skin. Since it has loads of Vitamin E, the oil works wonders when rubbed onto the stomach, bottom, breasts as well as thighs during the pregnancy period. When done, it reduces the chances of getting stretch marks and helps keep the skin soft and hydrated.
8. Body Glow
Our tender, soft and sensitive bodies need nature's oil in order to combat dryness. Argan oil completes the gap by posing as an excellent medium to restore skin suppleness. Use this oil after taking a shower or bath and you will be surprised at the skin nutrition in terms of the softness and elasticity that you get. A moderate amount of it can be mixed with rose oil and sweet almond oil to further increase the replenishment of the skin.
[Also Read: Argan Oil For Pregnancy]
9. Skin Nutrition
a. Vitamin E: A powerful antioxidant, Argan Oil has twice the Vitamin E as compared to Olive Oil. What you therefore get is a phenomenally nourished skin and the benefit of UV protection.
b. Vitamin F: Packed with Omega 6 and Linoleic acid, Argan Oil ensures healthy nails and skin and prevents moisture loss and skin dryness.
c. Vitamin A: The vitamin A component in Argan Oil helps fight acne and wrinkles.
d. Fatty Acids: Triple benefits of Omega 3, 6 and 9 help prevent premature aging.
e. Phenols: The powerful phenols have the potency to fight skin cancer and reduce inflammation.
[Also Read: Moringa Oil Benefits ]
10. Massage Oil
The king of oils, Argan Oil has increasingly become popular in spas and state-of-the-art massage salons for the relaxation experience it gives after a shower or warm bath. Owing to its non-greasy property, Argan Oil is known to relieve joint pain, spine and soothe tensed muscles. Moisturising and revitalizing the skin is one of its core health care qualities that lead to bouncy and happy skin.
Include Argan Oil in your beauty regimen and see how glowing and healthy you become the talk of the town.