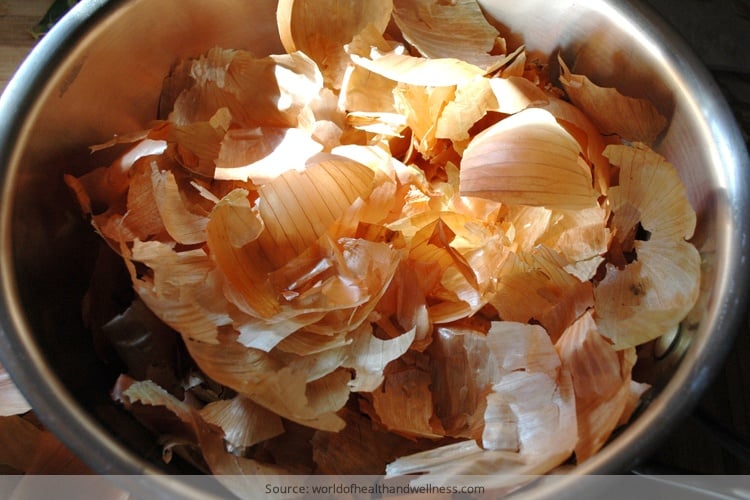 What do you always do with the skins, after the onions have been, sliced and cooked? Aim at the garbage bag and dump them right? Did you know that you could create your own compost with onion skins for your kitchen garden? You can use it for your wellness and beauty needs too! Take a look:
Benefits Of Onion Skins
We bet you didn't know that onions and their skins are pretty useful for our bodies. They have QUERCETIN- an antioxidant, which is an agent that helps beat allergies and hence is an important substance for the body. Onion skins when consumed, can help the cardiovascular system stay strong and reduce the risk of brain diseases. In addition to this, onion skins are known to help with bringing down bad cholesterol and blood pressure, fight inflammation, strengthen muscle, treat depression and kill some forms of cancerous cells. Let us take a good look at the wide range of benefits:
When you cook with onion skins, the micro nutrients and elements found in it would amplify the taste of the dish apart from helping in cleaning the digestive tract.
If your skin has redness and insect bite marks, onion skins can be rubbed over them gently, twice or thrice a day and the inflammation would be arrested. What you could also do is prepare an infusion by boiling the skins in water and draining the liquid. Wash the affected area with the same, and in no time results shall be seen.
Most of us suffer from muscular cramps. For a remedy to cure this, use a teaspoon of onion skins in a cup of warm water and allow it to soak. Drink this water before dinner every night and watch how the muscle cramps leave you for good.
If you fancy coloring your hair purple-red, and don't want to pre-lighten the hair with chemicals, what you could do is make a paste of the onion skins and apply them on the hair. This would be a temporary hair coloring technique to get the hue you wanted, without having to worry about hair damage later.
Healthy bread baking can be done at home with the use of onion skins in the bread dough. The skins when baked, go into the body and helps fight allergies and diseases from within.
For anyone who suffers from pustules, papules, boils, pus and skin disorders of the second stage, you can use a mix of onion skin paste and olive oil (1:1) and apply the same on the affected zone. This works like an ointment and should be kept on the skin for five minutes before washing it off with cold water. Follow this twice a day.
Anyone with skin issues such as scabies and other third stage skin disorders can use a mix of onion skin paste and coconut oil to dry up the area and help heal the skin.
Prepare onion broth by mixing a cup of warm water with onion skins. Wash the face and hair with the same broth once a day, and rinse with rosewater. We bet you wouldn't need powerful hair conditioners and skin conditioners for softness. But first wash your hair normally as you do, and then use the broth. The same would apply for your skin too.
DIY Onion Skin And Hair Treatments At Home!
Don't waste money on expensive skin care products anymore, not when you can use a pack at home made from scratch. A tablespoon of gramflour and onion skins each along with a teaspoon of yogurt should be made into a paste. Apply it on your skin and then wait for ten minutes. Wash off with warm water and then pat dry. It is safe to follow this everyday.
[Also Read: Onion Juice for Hair Growth]
What if the topical treatments you have spent a bomb on do not work in your favour? Let us use onion skins instead, with neem oil and tomato. A drop of neem oil with half a tablespoon of tomato paste and onion skin paste should be mixed and applied on the breakouts. Keep it for half an hour and then wash off gently. Do this before you sleep at night, it helps cleanse the pores and tighten the skin.
If you are fed up of the hair thinning saga, here is what you can do. Make a paste using onion skins and honey. Mix well and apply directly onto the roots and massage gently into the scalp. Leave it on for an hour or more- overnight is best. The sulphur in the skin with the vitamins nourishes the hair follicles, whilst the honey component hydrates the scalp and feeds the hair follicles too. Wash off afterwards and watch how in a months time your hair is reborn!
[sc:mediad]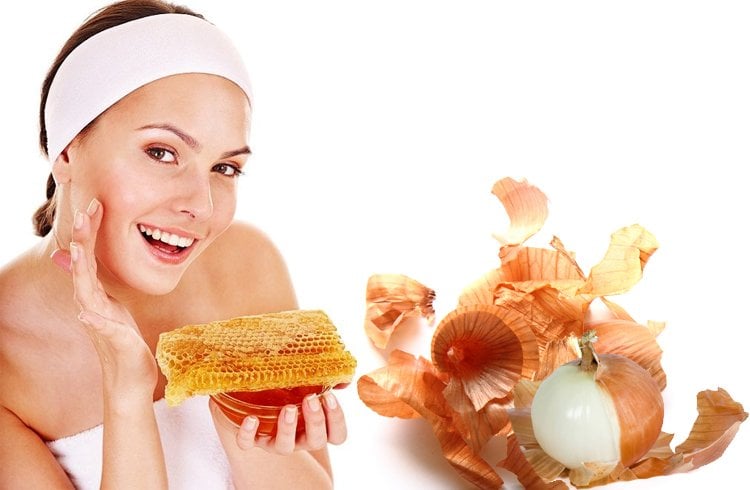 Now would you throw away onion skins? We don't think so!